Eight years after it had lost the crown to Apple, Microsoft has once again become the most valuable company in the world.
Microsoft's market capitalization reached $812.93 billion last night after a surge in its stock price. At that point, Apple was valued at $812.6 billion, which meant that Microsoft had leaped past its longtime rival to become the most valuable company in the world. Apple and Microsoft kept swapping places between number 1 and number 2 for the rest of the trading day, and by the time trading closed, Apple had once again pulled ahead of Microsoft by around $10 billion.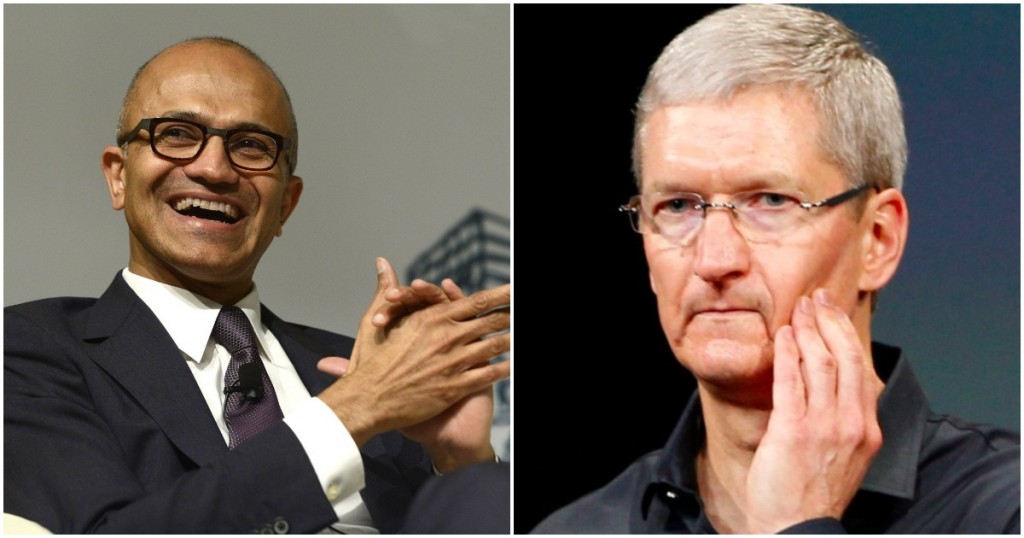 But Microsoft's takeover of the top spot –however briefly — is a stunning reversal in the fortunes of the company, which had been widely seen to have missed the bus as the world have moved to the internet and then to mobile phone. Microsoft, which had been the world's most valuable company in the PC era, had tried to keep up with acquisitions like those of phonemaker Nokia and chat program Skype, but had found it hard to compete with internet-first businesses like Amazon, Alphabet and Apple. In fact, the current popular list of tech stocks, commonly called FAANG — only lists out Facebook, Amazon, Apple, Netflix and Google, with Microsoft failing to find a mention.
Microsoft, though, has been gradually rising up the ranks. In June this year, it had gone past Google-parent Alphabet to become the third most valuable company in the world. In October, after a bit of a crash in Amazon's stock, it had gone past it to become the second most valuable company in the world. And just a month later, it's gone ahead and briefly taken the top spot.
Microsoft commands a fraction of the attention that Apple, Google and Amazon do, and a fraction of the press coverage, but it's been quietly making moves that have seen it slowly gain ground in several diverse tech verticals. CEO Satya Nadella's focus on its cloud computing capabilities, for instance, has made Microsoft Azure a popular alternative to Amazon AWS. As of January 2018, Azure had seen its market share in the cloud competing segment rise from 16% to 20%, while Amazon AWS's share fell from 68% to 62%. Microsoft also leads Google in the cloud computing stakes, with Google Cloud commanding a market share of just 12%.
Even on the consumer products front, Microsoft is slowly making a comeback. Its acquisition of LinkedIn has given it an entry into the consumer business, and LinkedIn also fits in nicely with its suite of Office products. Since LinkedIn's acquisition in 2016, it's been contributing 2.5% to the company's overall revenues. And mergers and acquisitions rarely work well in tech, but its takeovers of companies like GitHub have also been seen to be relatively smooth and controversy-free.
Microsoft's turnaround has roughly coincided with the ascension of Satya Nadella, a longtime Microsoft employee, to the CEO spot in 2014. Since taking over, Nadella has largely stayed out of the limelight, while helping drive Microsoft's businesses in the cloud, and also futuristic fields like Machine Learning and AI. And thus far, it seems to be working — from being seen as a tech dinosaur whose best days were behind it, Microsoft is once again at the top of tech pack, and appears to want to stay there for a while.