There's been no fanfare, no over-the-top product launches, and no proclamations of changing the world, but Microsoft has quietly edged past Amazon to become the second most valuable company in the world.
Microsoft, valued at $821 billion, is now the second most valuable company in the world. Amazon, which had been at the second position since early this year, saw its stock fall 7.8% yesterday after it reported disappointing earnings for the last quarter. This trimmed Amazon's valuation to $803 billion, allowing Microsoft to leapfrog it into the second spot. Apple, of course, is the most valuable company with a market cap of $1004 billion. It is now followed by Microsoft, Amazon, and Google-parent Alphabet, which has a market cap of $751 billion.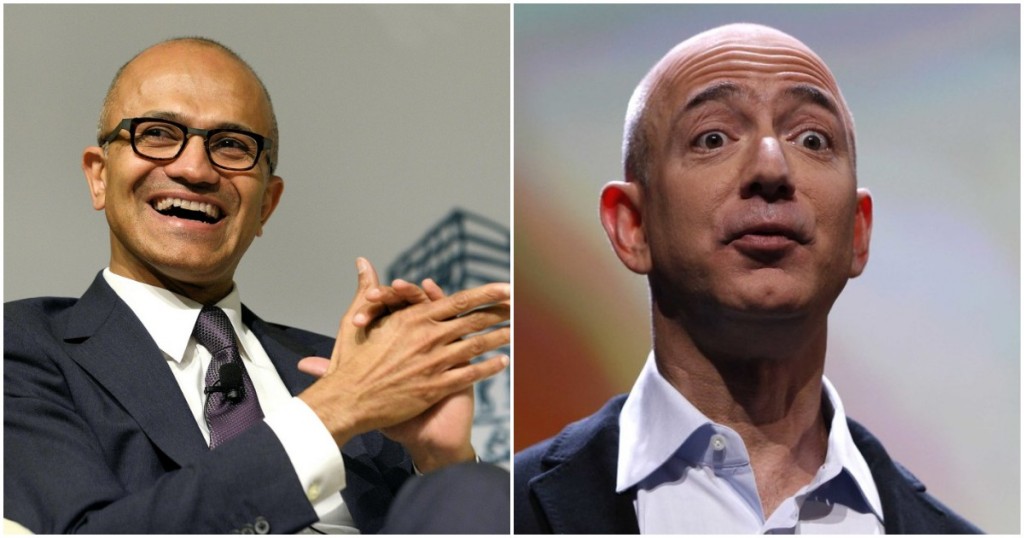 This has been a dramatic turnaround for Microsoft, which until five months ago was only the 4th most valuable company in the world. In June, it had gone past Alphabet to become the world's third most valuable company. Microsoft's stock has been steadily rising through the year, starting off from levels of Rs. 80, and now trading at Rs. 106. Other tech stocks saw similar rises this year — Amazon's stock rose enough for it to briefly touch the $1 trillion market cap — but have fallen dramatically in the past month, partly on concerns that these companies will be unable to sustain the growth rates that they've enjoyed so far.
Microsoft, though, has silently been building a formidable product portfolio for itself. It commands a fraction of the attention that Apple, Google and Amazon do, and a fraction of the press coverage, but it's been quietly making moves that have seen it slowly gain ground in several diverse tech verticals. CEO Satya Nadella's focus on its cloud computing capabilities, for instance, has made Microsoft Azure a popular alternative to Amazon AWS. As of January 2018, Azure had seen its market share in the cloud competing segment rise from 16% to 20%, while Amazon AWS's share fell from 68% to 62%. Microsoft also leads Google in the cloud computing stakes, with Google Cloud commanding a market share of just 12%.
Even on the consumer products front, Microsoft is slowly making a comeback. Its acquisition of LinkedIn has given it an entry into the consumer business, and LinkedIn also fits in nicely with its suite of Office products. Since LinkedIn's acquisition in 2016, it's been contributing 2.5% to the company's overall revenues.
Microsoft has also been lucky to stay out of the controversies that have dogged tech companies this year. It has faced none of the public scrutiny that Facebook has been subject to for letting hackers steal users' data, it and hasn't been subject to billions of dollars in anti-competitive fines like Google. By staying under the radar, it's managed to slowly eat into its competitors' market shares, while staying clear of events that could negatively impact its stock price.
And it's shown remarkable longevity while doing so. In an era when tech companies come and go, Microsoft now has been going strong for over four decades. While it had seen its heyday in the 90s and 2000s, it looks as though it's slowly making a comeback to the top of the tech pack.