Earlier this year, Ola had begun operations in a former British territory by launching its services in Australia. Now it's all set to hit British shores directly.
Ola has said that it's obtained licenses to operate in the UK, and will launch operations within the next month. Ola will start off its operations in South Wales, and will soon extend its services to Greater Manchester. Ola said it's working with local authorities to expand operations to the whole of the United Kingdom by the end of 2018. Starting today, Ola is inviting drivers in Cardiff, Newport and Vale of Glamorgan to register with the company, and says it is offering low introductory commission rates.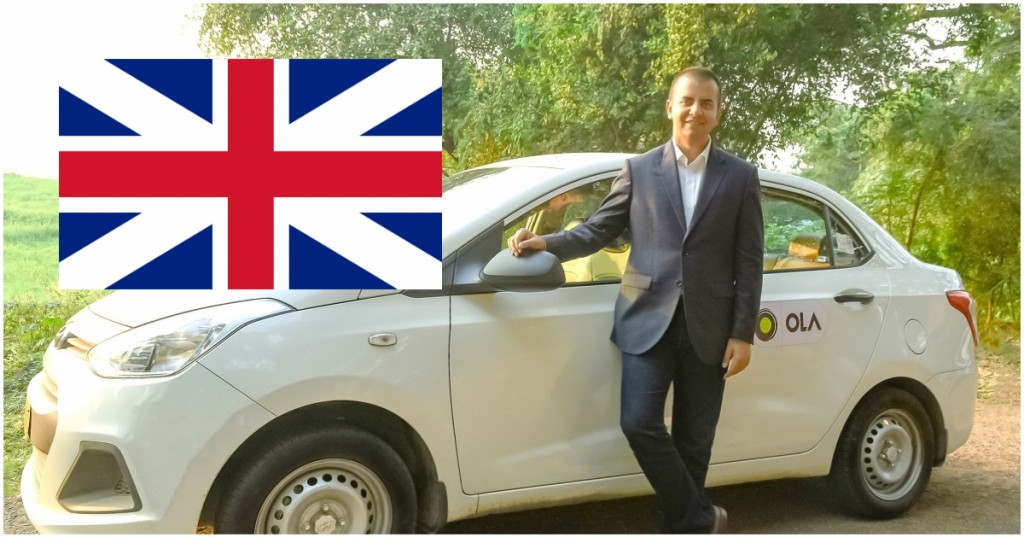 "Ola is excited to announce its plans for the UK, one of the world's most evolved transportation markets," Ola CEO Bhavish Aggarwal in a statement. "The UK is a fantastic place to do business and we look forward to providing a responsible, compelling, new service that can help the country meet its ever demanding mobility needs. We look forward to our continued engagement with policymakers and regulators as we expand across the country and build a company embedded in the UK."
Aggarwal might say that the UK is a fanstatic place to do business, but other cab hailing operators haven't had it so easy in the region. Arch-rival Uber maintains a frosty relationship with the authorities in the country, and was even banned from operating in London in September last year for bending a few rules too many. Uber had to make hectic presentations before the authorities, including mayor Sadiq Khan, before the ban was revoked. Uber has also had to deal with frequent strikes by its driver partners in the UK.
Ola will look to capitalize on Uber's missteps while growing its presence in the UK. Regulators will likely welcome a new operator, especially if it plays by the rules — having more players in the market will reduce Uber's monopoly over the cab-hailing business. Ola has also said that it will include traditional Black cabs within its platform, which usually operate separately from ride-hailing taxis, and could thus provide a more comprehensive transportation experience compared to rivals.
But Ola's launch in UK indicates that it's happy with the results of its Australia launch. In February this year, Ola had launched operations in Australia, and now operates in 7 cities and has 40,000 drivers registered on its platform in the country. Ola had been using clever marketing tricks to grow in Australia — at one point, it had incentivized Uber drivers to hand out Ola flyers to customers, and they'd gladly done so, given the lower commissions Ola was charging. Ola was also playing up its Indian roots in getting drivers of Indian origin to register on its platform, and it's likely it'll follow a similar approach in the UK, which again has a large Indian diaspora.
Ola's recent moves are also in sharp contrast to those of its biggest rival, Uber. Over the last few years, Uber has been slowly pulling out of international markets, starting with Russia, then selling its Chinese business to Didi, and its South East Asia business to Grab. Ola, on the other hand, is rapidly expanding its footprint. Starting from being a local Indian player, it now challenges Uber in Australia, and will soon renew their rivalry in the UK.
All this could prove crucial when Uber and Ola inevitably merge their operations in India. Their biggest common investor, Softbank, is reportedly pushing for them to join forces, but the two companies are unable to agree on which company will take over the other. Ola, with its international moves, its acquisition of Foodpanda, and other programs like Ola Play, is positioning itself as a solid stand-alone company. It will likely stand it in good stead when talks to merge finally begin.
And Ola's UK entry also harks back at some history. A few centuries ago, British companies had come over to India, and run operations for a few hundred years. Things have changed since then — Indian companies are not only purchasing British firms, like Tata's acquisition of Land Rover and Tetley, but are also expanding into the country, such as with Ola. As Indian companies find their feet in an increasingly globalized world, they're not only growing their own operations — they're taking on foreign firms in their own backyards.