Until three days ago, Patanjali was thought be an FMCG company — an FMCG company that had grown at an astonishing rate over the last few years, and an FMCG company that made no bones about the fact that it wanted to control the space in India. But as of today, Patanjali has made it clear that it wants to be so much more.
After launching its own SIM card on Monday which would allow users to get a 10% discount on Patanjali products, Patanjali has just launched its own messaging app. The app is called Kimbho, and Patanjali is billing it as a swadeshi competitor to WhatsApp.  "Now Bharat will speak. After launching SIM cards, Baba Ramdev has launched a new messaging application called Kimbho. Now Whats App will be given competition. Our own #SwadeshiMessagingplatform. Download it directly from Google Play store," Patanjali's spokesperson SK Tijarawala tweeted.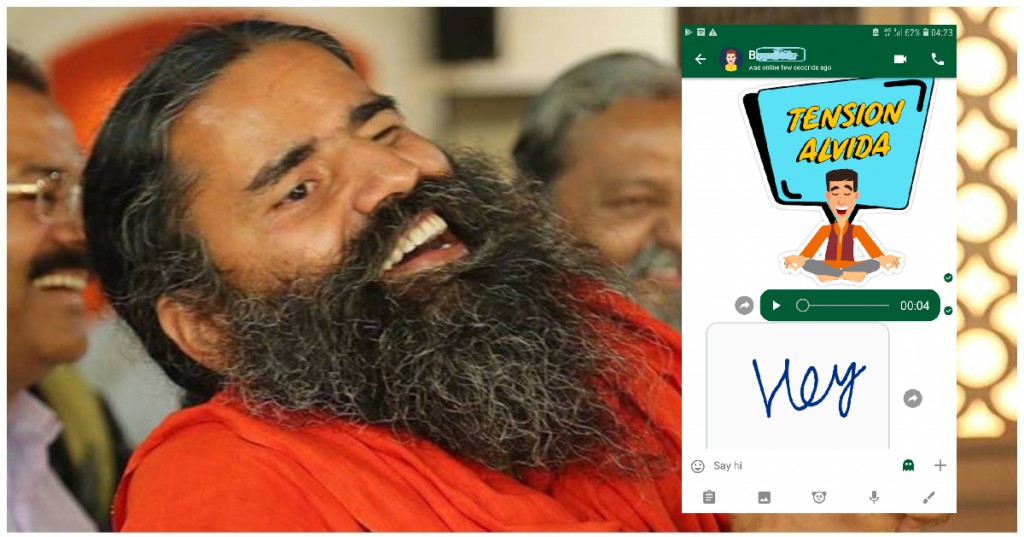 The Kimbho App
From selling desi ghee to creating messaging apps is quite the pivot, but Kimbho is indeed live on the Play Store. Hours after its launch, it has managed to already rack up more than 10,000 downloads, and is rated a solid 4 stars at the moment. Kimbho's sign up is pretty straightforward — you download it on your phone, punch in your phone number, and it sends over an OTP for confirmation. As lots of Google Play store reviews suggest, Kimbho seems to be having trouble dealing with the sudden influx of users, and while the OTP landed up immediately on the first phone we tried the app on, it never showed up on the other. But we were able to get the OTP through a voice call instead, and we were ready for our first look at what Patanjali calls India's Swadeshi messaging platform.
The first thing that hits you about Kimbho is how similar it is to WhatsApp. It has the same green theme, and the same layout, with three tabs on the opening screen. There's a handy Contact tab, which lets you pick out the contact you'd like to send messages to — Kimbho claims that it will send free SMS to users who don't have the app downloaded as yet.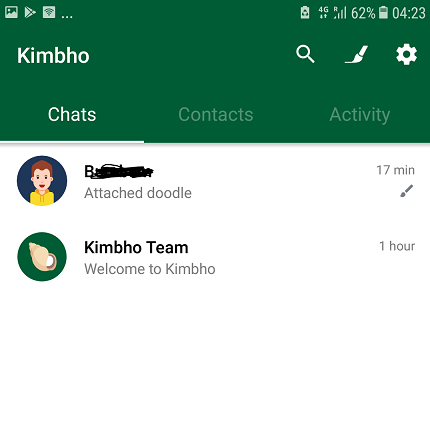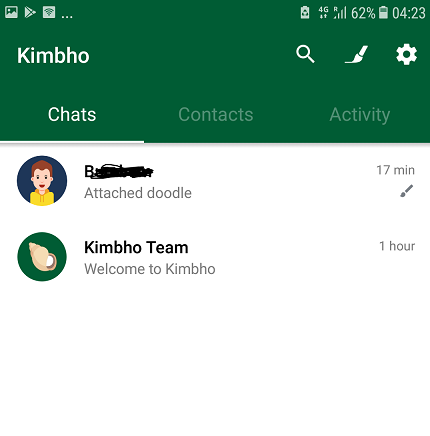 For users who have the app, the chat itself is pretty much the same as WhatApp's, but with more bells and whistles. Apart from having features that WhatsApp does, such as sharing photos, voice messages, and even user locations, Kimbho has preset messages which means that users can send common messages through a single tap of a button (there's namaste, ram ram, and What's up?, among others). It also lets users send stickers, which was once a feature that Hike was betting heavily on. And perhaps most interestingly, it has a doodle option, through which users can scribble text or images, and send them over to their contacts.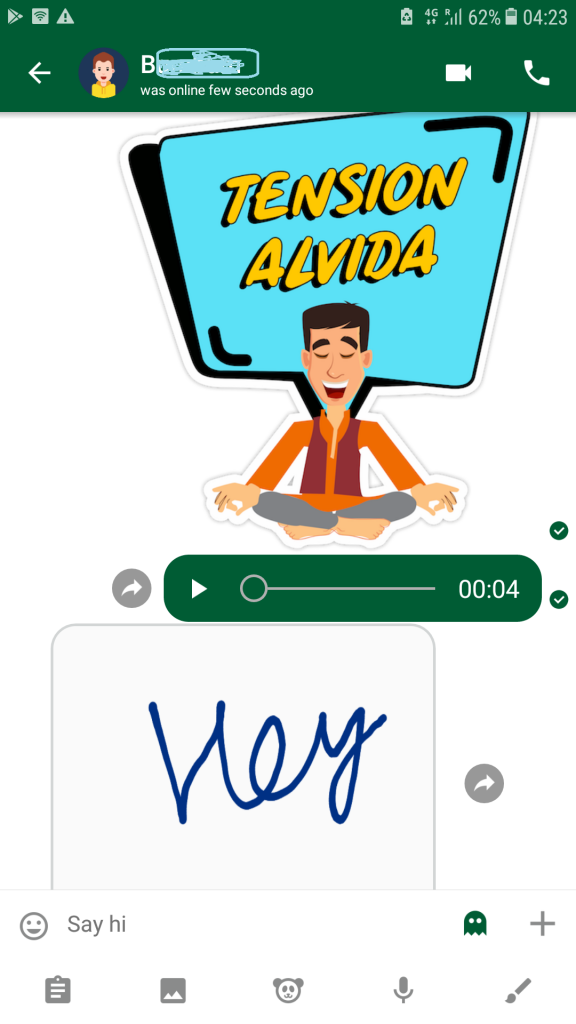 The chat by itself works okay — the features work pretty much as advertised, but notifications seemed a bit temperamental when we tested, not showing up at times, or showing up with a bit of a lag. Like WhatsApp, Kimbho has the option to create groups and broadcast lists. And there are hints within the product that indicate that it eventually wants to be a mini social network as well — while it doesn't seem to work at the moment, there's an option to "Follow celebrities", and even an Activity tab.
Kimbho is a pretty impressive foray into messaging for a company that as far removed from tech as could be thought possible. While there's the odd bug to iron out, Kimbho looks like a complete product that could provide its users the same functionality as WhatsApp. But simply rolling out a messaging app might just be the very first step in attempting to win the space. Like Hike and many others before it, Kimbho will have to contend with WhatsApp's enormous network effects in India — WhatsApp has 200 million active users in the country, and any other messaging app will have to convince people to switch over in large numbers to become a viable alternative.
That's where the Patanjali's branding skills might come in handy. Baba Ramdev's fanbase in India will likely download and start using the app based off the Patanjali name alone, and Kimbho shouldn't have trouble getting an initial set of users. Kimbho also has timing on its side — over the last few months, WhatsApp's parent company, Facebook, has been embroiled in a series of privacy scandals, which could make Kimbho's swadeshi alternative compelling. Instead of worrying about a foreign company stealing their data, some users could find Kimbho's Indian roots more comforting.
But Baba Ramdev is also a polarising figure, and there exists a section of users, especially in the metros, who wouldn't necessarily be enthused about using an app endorsed by him. While Patanjali is going all-in with its branding at the moment — the app icon is a conch nestling inside what a WhatsApp-like speech bubble — it'll probably have to have to tone it down if it wants to have mass adoption with Kimbho. 
Patanjali 2.0
But Kimbho's release shows that Patanjali is eyeing far more than India's FMCG space as it looks to chart the next phase of its journey. Patanjali last two product announcements sound very much like Patanjali 2.0 — it's moving beyond its FMCG roots, and has clearly zeroed in on mobile phones as the next market it seeks to capture. With the Patanjali SIM that it had announced on Monday, Patanjali will have access to the digital identities of the people who use it, and will thus be able create one of India's most ambitious loyalty programs — Patanjali SIM users will get discounts up to 10% on Patanjali products. With Kimbho, Patanjali hopes to become the first stop for these users to communicate with one another.
Patanjali's moves seem to mirror another company that's made a splash in the space — Reliance Jio. Like Jio, Patanjali's realized that there's much value to be unlocked from having a footprint in people's digital lives — through a combination of the Patanjali SIM and Kimbho, Patanjali will have access to treasure trove of user data, which can be either used to target users for ads, or even feed back insights into its core FMCG business. 
But making inroads into the digital world isn't going to be easy — Patanjali deals with established incumbents in both the spaces it's tried to target. With its SIM, it'll pit itself against the likes of Airtel, Vodafone, and Jio, and with Kimbho, it'll have to take on WhatsApp. Other startups have come and gone, but WhatsApp has stood firm in India — Hike hasn't been able to make a dent in its usage in spite of its millions of dollars in funding and swish product managers, and WeChat wasn't quite able to translate its success in China.
Now Baba Ramdev has thrown in his hat in attempting to breach the WhatsApp fortress. He'll take solace from the fact that he's been there, done it — few could've predicted Patanjali's meteoric rise in the FMCG sector, which saw him turn a small startup in Haridwar into a Rs. 10,000 crore behemoth in less than a decade. If it can bring its magic touch with Kimbho, Patanjali might just end up upending India's digital space as well.
Update: Kimbho now seems to have been pulled from the Play Store. "We are facing extremely high traffic on Kimbho," said a statement on its website. "We are in the process of upgrading our servers and will be back shortly," it adds.