The Ambanis are famously close to Bolywood stars, and they seem to be converting some of those personal relationships into professional ones.
Reliance Retail has acquired a 51% stake in Alia Bhatt's kids and maternity brand Ed-a-Mamma. The partnership will see the brand grow into new categories such as personal care and baby furniture, children's story books and an animated series. Reliance didn't disclose the financial details of the transaction.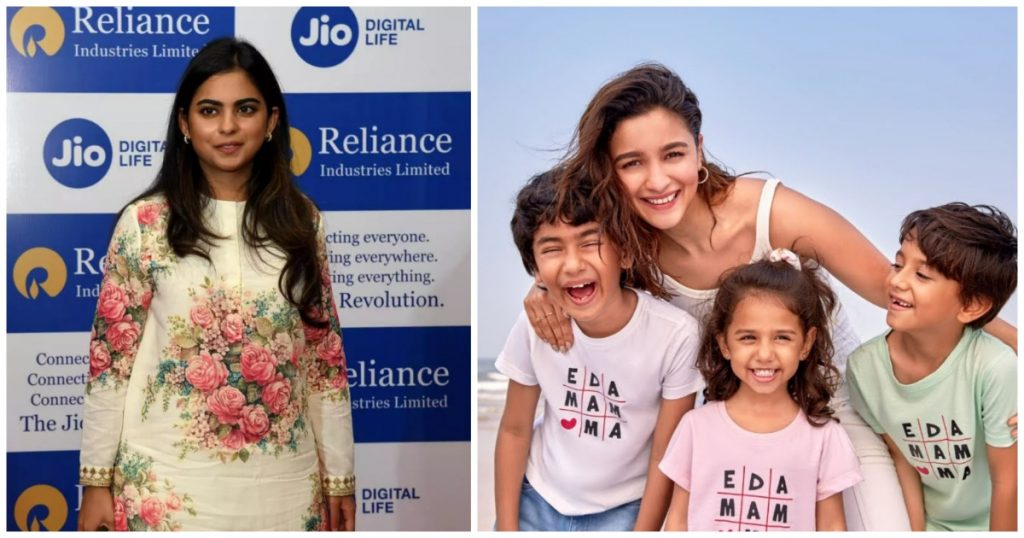 "At Reliance, we have always admired brands that lead with a strong purpose and embody a unique design ethos exemplified perfectly by Ed-a-Mamma and its founder Alia Bhatt," said Reliance Retail Director Isha Ambani. "With sustainability as its core proposition the brand has garnered acclaim for its meticulous attention to detail, using ethically sourced materials and eco-conscious production processes. This aligns seamlessly with Reliance Brands' vision of fostering a more responsible future for the fashion industry," she added.
"Ed-a-Mamma is a bootstrapped venture with a big heart," wrote Alia Bhatt on Instagram. "Reliance Retail is India's largest retailer. What we have in common is our dream to continue the work of building a homegrown, vocal-for-local brand of children's products that are safe, parent-friendly and planet-friendly," she said. "On a more personal note, for Isha and me, this is also about two moms coming together. That just makes it so much more special," she added.
Ed-a-mamma had been founded in 2020 as an online apparel brand for kids aged between 2 and 12 years. It had later expanded its offline presence with the opening of physical stores. Founder Alia Bhatt had been the face of the brand, and had played a big part in popularizing it among young parents.
Ed-a-mamma isn't the only fashion brand that Reliance Retail has picked up stakes in. Reliance has also partnered with fashion designers Manish Malhotra and Ritu Kumar, acquiring a 40% and 52% stake in their businesses respectively. Reliance Brands has previously invested in Indian luxury brand Satya Paul, and menswear ethnic label Raghavendra Rathore. The company also has investments in lingerie makers Clovia and Zivame. Reliance has also, through joint ventures and strategic partnerships, brought several international and luxury brands to India including Burberry, Bottega Veneta, Armani, Kate Spade, Tiffany & Co, Steve Madden, Diesel, Burberry, Hugo Boss and several others.
Reliance is already India's largest retailer, and is present in the affordable fashion space through Reliance Trends with several of its own brands. But increasingly, Reliance seems to be betting on initiatives that cater to a higher-end consumer. This could be a heartening sign for India's business environment — Reliance through its vast array of businesses has its finger on the pulse of India's economy, and it seems to be betting on a consumption boom in India in the coming years.