A lot of career advice seems to indicate that it's best not stay at one company for too long, and to keep jumping jobs if you're offered a higher salary. But every once in a while, sticking at one company for decades can yield some pretty spectacular results too.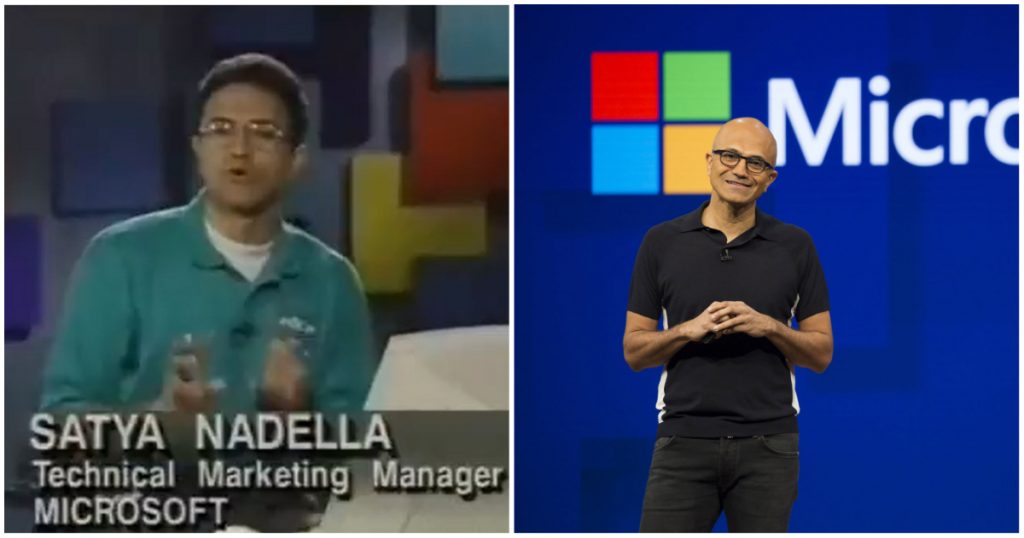 In 1993, a young Technical Marketing Manager for Microsoft had given a brief demo on how to use Windows NT. Gawky and bespectacled, he'd methodically walked customers through how to move data from an AS 400 mainframe to Excel, before handing off to his colleague. 29 years later, man is still giving demos for Microsoft — but now as the company's Chairman and CEO.
Satya Nadella had joined Microsoft in 1992. Prior to that, he'd studied at the prestigious Hyderabad Public School in India, and had then completed his engineering from Manipal Institute of Technology. He'd then moved to the US, and completed an M.S. in computer science at the University of Wisconsin–Milwaukee. After briefly working at Sun, he'd joined Microsoft, where as a fresh-faced employee, he was tasked with explaining how Excel worked.
Tech demos back in the day worked pretty much how they do today — company executives stepped out, spoke about a part of the product, and then handed things over to their colleagues. There are some quaint differences though — Nadella uses a quaint CRT monitor, which are now nearly obsolete. This was also filmed before the internet had become commonplace, so Microsoft had helpfully shared phone numbers on the screen so that customers could order their software. Nadella, for his part, had considerably hair than he sports now.
After 1993, Nadella quickly rose through the ranks. By 1999, he had become the Vice President of Microsoft's small business service. In 2001, he had become the corporate Vice President of Microsoft Business Solutions. In 2007, he was elevated to the senior Vice President of Research and Development for Microsoft's online services division, and in 2011, he became the President of Microsoft's server and tools business. In 2014, he was appointed Microsoft's CEO, becoming the only third person to hold the title after Bill Gates and Steve Ballmer.
And he's had a spectacular run as Microsoft's CEO. He's overseen several high-profile acquisitions, including Microsoft's acquisition of LinkedIn, and its acquisition of GitHub. Under his leadership, Microsoft has also embarked on several cutting-edge projects, including an investment in OpenAI, which runs ChatGPT, and has also grown Microsoft's cloud platform, Azure. Since 2014, Microsoft's stock is up 700%, making him one of the most successful tech CEOs of all time. He's done pretty well for himself too — Nadella is now worth a cool $700 million (Rs. 56,000 crore). And all this could've been hard to predict when he was walking people through how to run Excel on Windows NT, all those years ago.