The stunning victory of Donald Trump to the highest office in the world – President of the United States – this week has sent shockwaves not only in America, but the rest of the world.  Silicon Valley, based in California has been dominantly Democratic, and a Trump presidency has not gone down well with the state, with some protests breaking out to even demand for California to "exit" from the United States. While scores of celebrities have made their preference for a candidate – and mostly Hillary Clinton – public, Silicon Valley entrepreneurs have mostly stayed silent on the issue, perhaps, to evade mixing business with politics and avoid polarising the people.
Here's some of the companies and their chiefs who have reacted to Trump's victory so far.
Mark Zuckerberg, CEO & Founder Facebook
Facebook CEO Mark Zuckerberg has personally shared a couple of notes encouraging people to go out and vote, and talked about Facebook's role in covering the elections. While he's shared a photo of him having voted, he's not made public for whom. In an interview when asked about his thoughts on Donald Trump's win, Zuckerberg put forth an insightful, if diplomatic response and said "There's a lot of work to be done. [pause] it would've been true even for the other outcome." Watch the full video here.
Matt Maloney, CEO Grub Hub
The CEO of the California based food delivery company has sent out an email to the employees calling out Trump's transgressions. "While demeaning, insulting and ridiculing minorities, immigrants and the physically/mentally disabled worked for Mr. Trump, I want to be clear that this behavior–and those views, have no place at Grubhub," Maloney wrote in a company-wide email. "Had he worked here, many of his comments would have resulted in his immediate termination." Shockingly, the email also asks employees to hand over their resignation if they disagree.  I want to affirm to anyone on our team that is scared or feels personally exposed, that I and everyone here at Grubhub will fight for your dignity and your right to make a better life for yourself and your family here in the United States," he wrote. "If you do not agree with this statement then please reply to this email with your resignation because you have no place here. We do not tolerate hateful attitudes on our team."
Tim Cook, CEO, Apple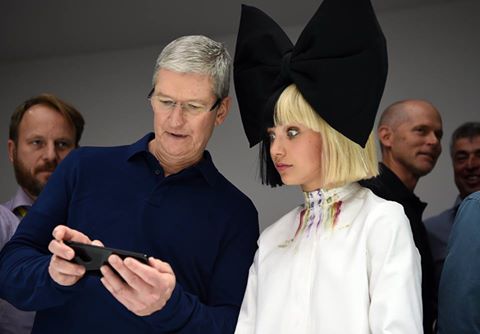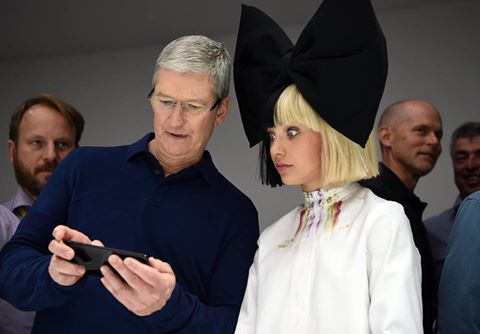 Apple CEO Tim Cook broadcast an all-hands memo to US Apple employees Wednesday evening calling for unity amid the uncertainty inspired by Donald Trump's upset presidential win. In the memo, obtained by BuzzFeed News, Cook tells Apple employees that "the only way to move forward is to move forward together." And he reasserts Apple's commitment to social progress and equality.  Without mentioning Trump or his behaviour, Cook assures employees that nothing will change at Apple and should they feel anxious or scared, they can reach out. "While there is discussion today about uncertainties ahead, you can be confident that Apple's North Star hasn't changed. Our products connect people everywhere, and they provide the tools for our customers to do great things to improve their lives and the world at large. Our company is open to all, and we celebrate the diversity of our team here in the United States and around the world — regardless of what they look like, where they come from, how they worship or who they love."
Elon Musk, founder Tesla & co-founder Paypal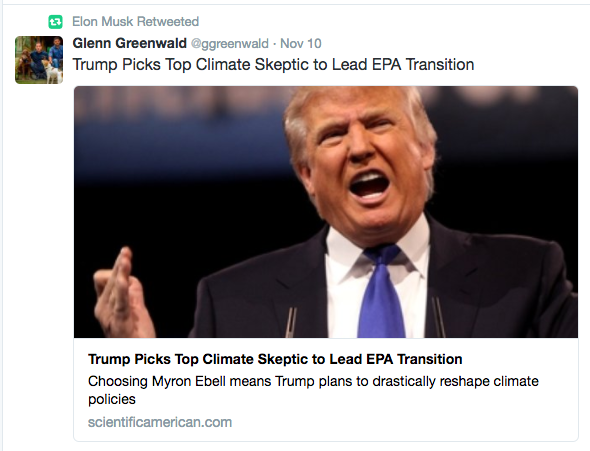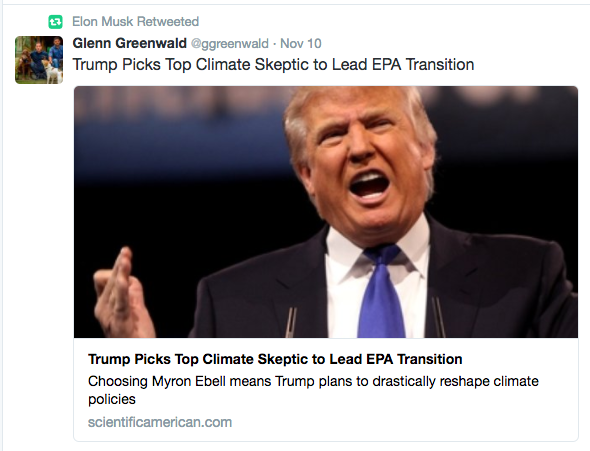 Elon Musk has opted to stay silent on the elections throughout, but a retweet by him may suggest his own apprehensions about Trump. Trump has been famously quoted as a disbeliever in climate change, a take Solar-Power evangelist Elon Musk is hardly to agree with. Interestingly, Musk's Paypal co-founder is a famous Trump supporter and has even publicly donated a huge sum towards Trump's campaign.
Satya Nadella, CEO Microsoft
The Indian-born Microsoft CEO has shared a note on "Moving Forward" on the Microsoft blog.  The note mainly talks about accepting change, and how Microsoft can enable development with its technology in a new America.
Jeff Bezos, Amazon
Amongst tech bigwigs, Jeff Bezos has been one of the most avid detractors of Trump and has criticized Trump in the past for how he ran his presidential campaign, claiming it "erodes our democracy." Bezos — owner of the aerospace company Blue Origin — also joked about sending Trump to space. After Trump's victory though, Bezos seems to have softened his stand somewhat and tweeted about wishing him success.
Congratulations to @realDonaldTrump. I for one give him my most open mind and wish him great success in his service to the country.

— Jeff Bezos (@JeffBezos) November 10, 2016
Peter Thiel, co-founder Paypal
Amidst a backlash by other entrepreneurs, Peter Thiel has been one of the very few celebrity supporters of Trump. He's publicly backed Trump with a generous $1.25 million donation to support his election campaign, an investment which in hindsight seems to have paid off.  His public address talking about his support to Trump has now in hindsight become a psychoanalysis of the surprising election outcome.