India's demonetization exercise might be widely seen to have not quite delivered the results it had promised in curbing black money, but it's had a dramatic impact on another aspect of the economy — the growth of indigenous payment methods.
UPI and RuPay — both technologies developed by India's government-instituted body NPCI — now together account for 65% as many transactions as through all credit cards and debit cards combined, Finance Minister Arun Jaitley has said. The vast majority of this growth has come since the demonetization move was announced in November 2016, he added.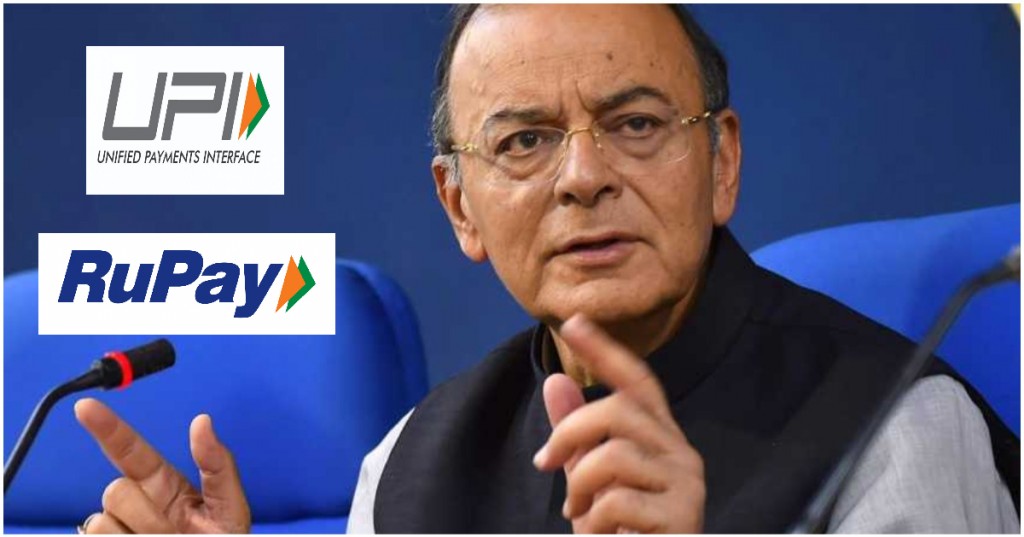 UPI, which had been given a grand public launch a month after demonetization with the announcement of the government's BHIM app, now does Rs. 59,000 crore worth of transactions a month, compared to just Rs. 50 crore the month before demonetization, Jaitely said. RuPay, the card technology developed by NPCI that competes with Visa and Mastercard, did Rs. 1,100 crore of transactions before demonetization, but now does Rs. 8,400 crore of transactions a month.
These numbers have changed how India pays for goods and services — UPI has made it easier to transact digitally, thus both bringing down the usage of cash, and also formalizing the economy. The increase in RuPay transactions has broken the monopoly that Mastercard and Visa had over card payments — Mastercard and Visa charge high fees from customers, which ultimately props up the bottom line of these global giants. The transaction fees on RuPay cards is lower, and the money collected also stays in India, the government has contended.
The government has been aggressively promoting both these means of payment. In its early days, the government had given away cashbacks and incentives for users who were transacting on the BHIM app, much like an early-stage startup. With RuPay, Prime Minister Narendra Modi had framed its usage as service to the nation, saying that the money collected stayed within India, as opposed to moving abroad.
These rapid changes seem to have spooked global rivals. It emerged last week that Mastercard had complained to the US government that Modi was using nationalism to promote RuPay, thus adversely affecting its business in India. Mastercard has a reason to be worried — if these trends hold up, and UPI and RuPay cards continue the growth they've seen over the last few years, they will present a significant threat to the comfortable market leadership they've enjoyed over the last few years.
And what's more remarkable is that over the last couple of years, India has developed a payments system that's truly world-class — as per a report by Fidelity National, which tracks 40 payments systems run by governments around the world, UPI was the only one which had received a top score of 5 for innovation and customer value. The demonetization exercise had drawn criticism from some quarters, particularly on how it was implemented, but it would be hard to deny that it hasn't had a positive impact on some segments of the economy as well.