At this point, you might as well have monkeys throw darts at a dartboard than predict which startup will enter which space next. 
After Flipkart started selling flight tickets, Paytm started selling mutual funds, and Oyo started its own cloud kitchens, Zomato has perhaps managed the strangest startup crossover yet — the restaurant aggregator and food delivery app has now entered the video streaming space, and will launch 18 original shows on its app over the next three months. The new shows will appear on a separate video tab on its app starting 16th September.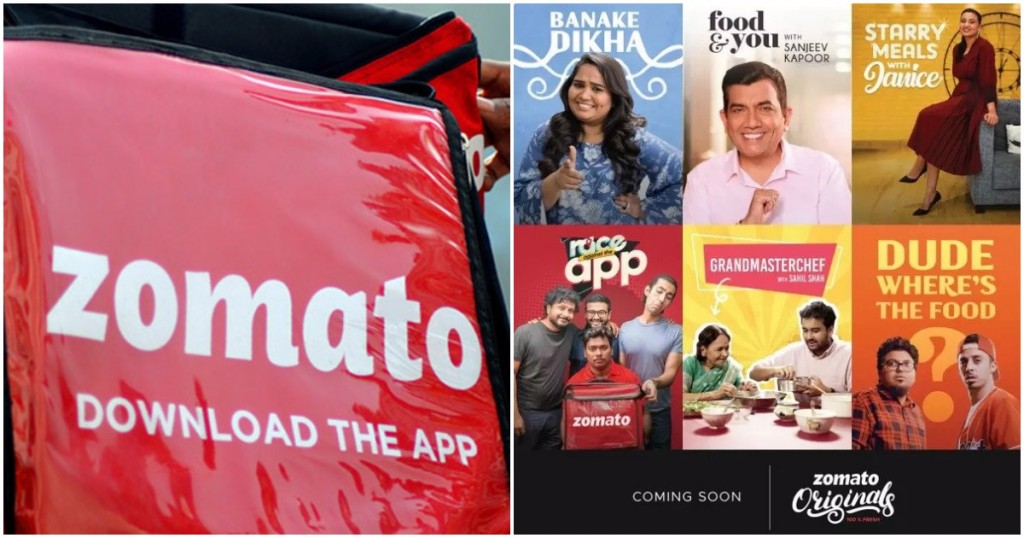 Zomato will launch 18 shows in all, the the episodes will be three to fifteen minutes long. The shows will be shot in vertical frame, such as with TikTok, to make them easily consumable on mobile phones. The shows, thankfully, will be centered around food, but touch genres including comedy, reality, fiction, advice and celebrity interviews. Some shows include Food and You with Sanjeev Kapoor, a three-minute daily show that breaks myths and changes the way you think about food and your body, Banake Dikha with stand-up comic Sumukhi Suresh, Starry meals with Janice, where social media star Janice Sequeira takes a romp across some famous Bollywood kitchens, among others.
"We are constantly looking for new ways to engage our users around food. Most of our users visit our app several times a week. This presents us with an opportunity to further delight our users using Zomato Originals," Deepinder Goyal, CEO and Founder, Zomato said in a statement.
But it's still unclear how Zomato expects its users to watch the videos. Are users supposed to watch the videos when they're waiting for their Zomato deliveries, or are they expected to watch the shows as they eat their food? Or does Zomato believe that its content would be so powerful that users will be drawn to the app just to watch the shows, and then end up ordering some food? There's no shortage of video content these days, with Facebook and Twitter throwing a steady stream of videos at users, not to mention specialized content apps like TikTok. As such, users might not need to watch videos in an app they open "several times a week" — great content might be available on the very next app on their phone.
However, what could work for Zomato is its content chops. Zomato's social media marketing initiatives are some of the most creative in the country, and if it can bring its brand of urbane quirkiness to its shows, they might end up finding an audience. Also, Zomato has some precedent in looking to enter the video streaming space — cab aggregator Ola has its own streaming platform in Ola Play, and Paytm has a separate section for videos and live TV on its app. Zomato, though, appears to be going to full hog by creating original content of its own.
And this might be a necessity in today's times. Zomato, like other players in the food delivery space, is mired in losses. It doesn't have the option of raising prices, because that would mean that competitors like Swiggy and UberEats would swoop in and steal away its customers. So it appears to be trying to get creative with its monetization plans — if it can get enough viewers to watch its original content, it can make money through ads, and if there are enough people watching its shows, it might lead to an increase in its overall orders. There are several ifs there, and only time will tell how Zomato's original content will go down with viewers, but one thing's for sure — with its video streaming service, Zomato has come up with one of the most outrageous startup crossovers in recent memory.