When you set out to clean your office, you must have the right tools and products on hand for any given situation. However, not every office is equipped with the necessary cleaning products to complete the tasks. That's perfectly understandable since there are so many different cleaning products, each with a unique function.
If you have hired an office cleaning team, these professionals will already have all the essential items. If you decide to perform the task yourself, you might need a good checklist of the most important cleaning products. That is why we have compiled a list of twelve must-have products for making an office building shine. Check it out and see what you're missing!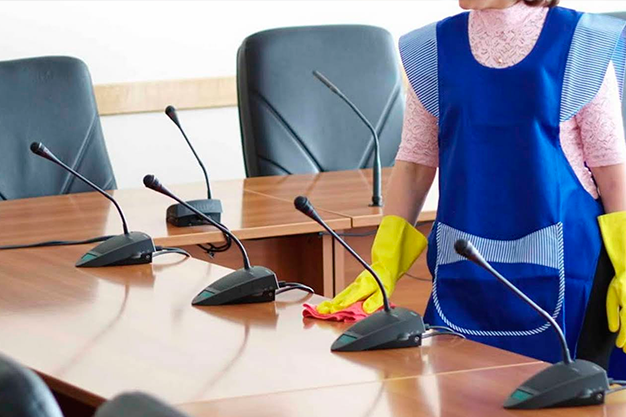 1. Vacuum cleaner
If you're ever going to get rid of messy spills on carpeted floors in the correct way, it's pretty much essential that you have a vacuum cleaner on hand. There are many different models out there to choose from, but see if you can get a test run with whatever vacuum cleaners you're thinking of purchasing.
Some look great on the outside but are actually very weak when it comes to cleaning floors. So, make sure you're satisfied with the vacuum's quality before making a purchase.
2. Disinfectant products
Sure, you can wipe a damp rag over the office building's kitchen and other hard surfaces and call it good. If you truly want to clean well and get a bunch of icky germs away from your space, then it's time to use disinfectant sprays, wipes and soaps. Again, there are plenty of the market. Make sure to read safety instructions and store the disinfectants in an appropriate location.
3. Mop and broom
If you want to keep all the floors in the office building clean, then you'll need more than just a vacuum cleaner. Though many vacuums come with detachable heads that work well for hard floors, it's always good to have a simple broom and mop ensemble on hand. If you want your workspace to shine, keep on top of the mess with a quick sweep every now and then.
4. Paper towels
Paper towels are a highly effective, sometimes overlooked tool in any cleaner's arsenal. If you want to quickly wipe down a sticky surface or do a bit of spot mopping, then paper towels are pretty much your best friend. Keep a lot of them handy for everything from unexpected spills to protecting your lunch from germy surfaces.
5. Rubber gloves
If you plan to work with disinfectants or chemical cleaning products, rubber gloves are a must. Without them, you risk exposing your skin to serious damage. Even if you're working with hot water and soap or baking soda, keep those gloves on! It will keep your skin smooth and healthy, not looking as though you wash dishes for a living.
6. Trash bags
It's important to keep a full collection of trash bags on hand, in every size that may be called for during your cleaning. Whether it's huge black garbage bags for the big, unwieldy pieces of trash or small paper liners for the office wastebaskets, keep a good supply with you at all times. You never know when you'll come across some unexpected litter.
7. Toilet cleaner
With cleaning toilets, you can go the chemical route or the natural route. The chemical route is simple – purchase some commercial cleaning materials such as toilet cleaner and use as instructed whenever you need to clean the toilets. The natural route is something more along the lines of baking soda and vinegar and a toilet brush. Figure out what works for you!
8. Glass cleaner
Nobody likes having streaky, dusty glass windows, doors, and surfaces in their office. So make sure you stock up on glass cleaner when you're out purchasing office cleaning supplies. As an added tip, use coffee filters or newspapers when washing and polishing glass surfaces. Using these somewhat unconventional materials leads to far fewer streaks on the glass.
9. Mildew cleaner
Nobody likes the smell or sight of mildew. And the good thing is that you don't have to let it build up in your office kitchen or bathroom. By using a mildew cleaner, you can have that gross odor out of your office space in no time at all. Simply purchase some of this cleaner and use it to rid your space of mold and mildew.
10. Soap
There are a couple of different varieties of soap that you'll need to have on hand when cleaning an office building. Make sure you have some hand soap in the bathrooms and kitchen (great for washing up after cleaning the toilets or some other dirty job). Also, keep dish soap available in the kitchen. Having soap nearby makes many of the office cleaning jobs that much easier.
11. Duster
Keeping dust away from office spaces is a top priority, so make sure you have a good quality duster on hand for all of those neglected surfaces. If you purchase a good quality feather duster, you won't need to replace it often – saving you money and time.
12. A cleaning supplies cart
Of course, you need somewhere to keep all the supplies we mentioned! Figure out if a bucket or a cart would work better for you and then purchase one accordingly.