You might have been through meetings in office where you have 5 people poring over a single laptop. It's not the easiest way to collaborate — it makes brainstorming hard, and makes it difficult to communicate. But what can really help things is a projector.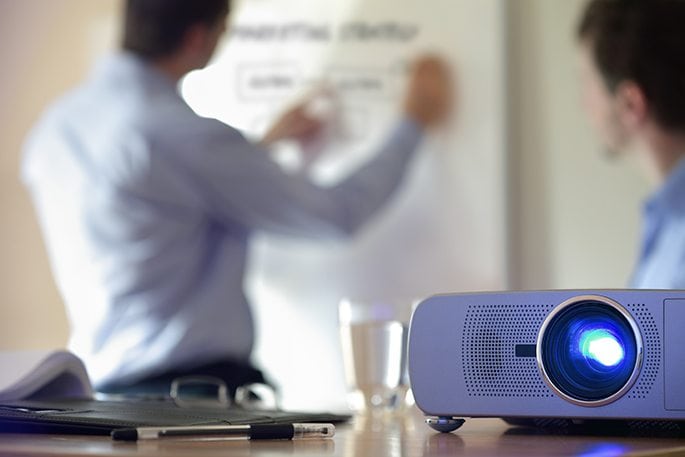 Best On-Budget Projectors
You may think projectors are all costly and such, but you might be surprised to know that there are under $1000 best projector for the home theater, the classroom, the conference room, and more. Here are some of the best on-budget projectors there is:
Compact in size and budget-friendly? You may be looking for the BenQ HT1085ST Projector. It is easily transportable as it can fit smaller spaces easier than most projectors. If you already have a lot of things or materials to bring to work or school, it may be the one for you. With a good quality projection and a price within the low priced range, the BenQ HT1085ST Projector is one of the best in the market.
Optoma HD28DSE Projector
One of the most important considerations in finding a good projector is a projector's brightness or the number of lumens it has. The Optoma HD28DSE Projector is known to be one of the brightest projectors with a low price feature. Different lists available on the internet have ranked it as one of the best and most reasonable in terms of prices and features.
Epson Home Cinema 2040 Projector
With a price of only $699, the Epson Home Cinema 2040 is the most demanded projector among budget-friendly projectors since its low price feature is paired with a contrast ratio and an LCD lamp that has ranked among the top projectors that dominate the market. Having a good contrast ratio is one of the features you consider in the quality of the image that a projector can produce and the Epson Home Cinema is one tough competitor when it comes to contrast ratios. Budget-friendly and top-notch quality, it may be the projector for you.
Takeaway
There are several on-budget projectors available in the market that have commendable overall performance. You just have to find the right ones. The resolution, lumen rating, color clarity, optics, and durability are some of the most important factors you must assess in projectors. More so, a crucial factor in choosing the projector for you is your own computer screen. Make sure to consider all these before purchasing the projector that will be there for you to cater to your needs in the different situations you will encounter.