When coworking started to become popular in 2009, most of the spaces were large open rooms that everyone shared.  You just took whatever desk was available and that was yours for the day.  The room was filled with members from other companies.  The coworking spaces were not your traditional office space.  They offered more of a lounge vibe with games, couches, and funky décor.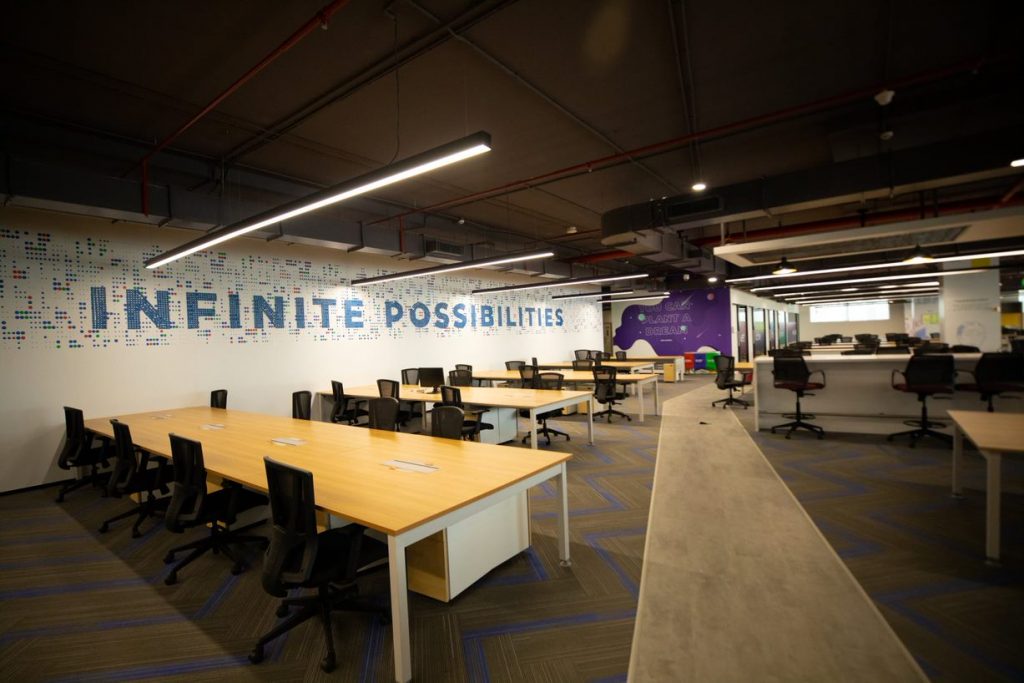 Over the past 13+ years, coworking spaces have evolved tremendously.  They have traded in their coffee shop atmosphere to encompass a hybrid solution that includes private offices.  Now, you can find a working environment that meets your requirement at almost any coworking space.  Even with hybrid environments, you still need to do some research before you commit to a coworking space.  Here are four things to consider.
The Location and The Area
When considering the location, it is important that you not only consider a space that is convenient for you but your clients and team members as well.  Pick a location that is central for all.  In a world where most employees have become very comfortable in their home office, you need to entice them to return to work with a workspace that is not only convenient but is surrounded by a variety of restaurants, shops, and activities as well.
Privacy
Working in a community environment with people you don't know certainly has its advantages. There is an energy that motivates, and provides networking opportunities, as well as a social scene. But what do you do when you need to make a confidential phone call or meet with your team? Even if you are working on your computer, you need to consider those around you. Find a space that offers private offices with hourly, daily, or monthly terms. If you need a private office space rental in New York in a coworking environment, this is easy to find these days. Workplaces such as Workspace by Rockefeller Group offer private offices with the support of everything coworking.
Flexibility
It is a consumer market now.  There is no need to lock yourself into a long-term lease.  Whether you need an occasional office space or want something to call your own, there is no reason why you can't dictate the terms.  Coworking providers are willing to negotiate terms that work around your requirements, not theirs.  Make sure you are comfortable with the terms.  Don't take on more than you want.
Security
This is one of the most important elements of your workspace for many reasons. If you tend to work off hours, you will want a neighborhood with a low crime rate. Don't put yourself or your team at risk in a questionable neighborhood. Then, when you get to your building, what is the lobby security like. There should be a security team that checks the ID's of everyone entering the building. Last, when you are in your workspace, how protected are your files, computers, and any other sensitive information you keep around. And make sure you can trust the Wi-Fi too. Remember, you are sharing one connection with many other individuals.
Atmosphere
How do you and your team want to work?  When a client visits, does the office environment match your company's persona?  Bean bag chairs, ping pong tables, and free beer might be the perfect solution, but what if it's not?  What if you rely on the décor and those around you to help complete your corporate image?  What if you want access to outdoor space and superior tenant amenities?  You will want to consider a place like Workspace by Rockefeller Group.  Located in New York City's iconic Rockefeller Center, there is no location that is as prestigious or convenient.  With Rockefeller Center's amazing tenant program, you gain access to a rooftop penthouse with patios, a garden on top of Radio City Music Hall, and a wide range of discounts on local services.  
Author Bio:
David Jakubowski is the Vice President of Workspace by Rockefeller. Workspace by Rockefeller offers modern workspace and conference rooms that are supported by a best-in-class administrative team and one of the most reliable technology platforms in the flexible office-space sector. David has decades of experience in the workspace sector and has a passion for providing the best service in the industry.