For businesses that are not able to operate remotely, a clean and safe office environment is a must. In the current circumstances, the health and safety of your staff need to be taken extremely seriously and without the proper procedures in place, you will find that the staff are refusing to come to work every day as they are left feeling unsafe. We are living in a time where the health and safety of staff is under the spotlight every single day of the week.
A regular office cleaning service provides you with the total peace of mind that the working premises are being kept clean and safe. Not only does this help improve the productivity of your staff but it also helps to ensure sickness does not spread around the office so easily. Whilst new research shows that the number of asymptomatic covid cases could be as high as 81%, it is is still crucial that you take steps to help prevent the spread of Covid and similar diseases.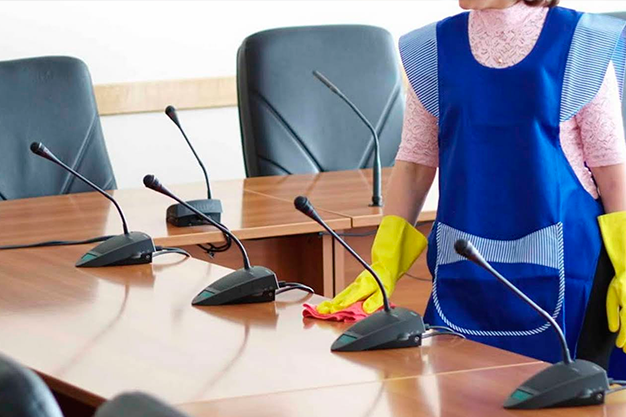 The Expectations of An Office Cleaning Service
When hiring an office cleaning company you expect to have a hands-off approach to office maintenance. In theory, this should all be taken care of by your chosen office cleaners in Portsmouth. Unfortunately, without taking the time to ensure that your office cleaning contract is set up correctly you may find otherwise that things are missed and certain areas are left for the mess to build up.
Frequency of The Cleaning Schedule
The frequency of the office cleaning schedule is highly dependant on the number of employees you have within the office and the use of communal space. If you still have clients regularly coming into the office and there is a large number of employees it may be worth having a cleaner on hand every day of the week to keep on top of this demand. The smaller office can look at having a cleaner visit once or twice a week to simply deep clean the bathrooms and kitchen space whilst staff keep on top of the day to day cleanliness.
Quality of Office Cleaning
No matter how large or small your company is, the quality of the cleaning service should never be compromised. As a business owner, you need to make sure that the workspace is always kept spotless so you must find a contractor which can tick all of those boxes. By keeping a close eye on the workspace and the mess found within communal spaces you will be able to spot any problem points which are ready to be communicated with your dedicated cleaner.
Lack of Disturbance to Daily Operations
Every company thrives on a productive workplace which is motivated to smash goals and push the company to new heights. There is always a huge pressure on management to achieve this but you can also play your part by making sure the employee's workspace is always kept clean and disturbance caused by a cleaner is kept to a minimum. By arranging for a cleaner to visit outside of office hours you can make sure that your staff are never distracted and within their contracted hours they are going above and beyond to drive the company forward.
The Reality of An Office Cleaning Service
The true reality of an office cleaning service is not too far from expectations. We are now living in a day and age where clients requirements are put at the forefront of service-based companies and that the chosen cleaning company will do there best to meet all your requirements. By taking the time to find a reliable contractor with a great reputation will help improve the chances of you being satisfied with the service.
Establishing Office Cleaning Requirments
You cannot expect the office cleaning company to know exactly what you are looking for unless you have them down on paper. That is why planning is the most important thing any business owner can do to ensure the reality of an office cleaning service exceeds expectations. Often when hiring a commercial cleaning company you will have a dedicated account manager in which you can take the time to convey your requirements, their service can be tailored around your companies specific needs. 
Updating Cleaning Processes
As the months roll on there will be a need for change. Just last year we all experienced one of the most substantial changes of all, one where we adjusted to remote working said goodbye to the office we know and love. Its times like these that help express the importance of flexibility, especially when arranging a commercial cleaning contract. By keeping in close contact with your account manager and cleaner you will be able to adjust princesses to ensure that the service continues to meet the needs of your business regardless of what the future throws at it.