Prime Minister Narendra Modi's decision to scrap the Rs. 500 and Rs. 1000 notes might've caused much consternation among the general public, but one set of people sure aren't complaining – things have never been so good for mobile wallet companies.
Ever since 8th November, mobile wallets have been on a promotional overdrive, pushing to get their products to users. Usage rates are up too – all companies have claimed that their products have seen exponential growth since the announcement. MobiKwik is one of the largest companies in the fray. Having raised over Rs. 800 crore, it is currently India's third largest wallet, and a major player in the space.
And its Twitter account has been constantly reminding people that people are using MobiKwik like never before. In a style pioneered by Paytm, MobiKwik has been sharing pictures of ordinary people who're using MobiKwik to overcome their demonetization woes.
One such example is a tweet by twitter user Ritcha, who gushes "Not having cash doesn't stop my weekend grocery shopping. Thanks to MobiKwik I logged on to #Grofers & ordered it all out 🙂 #MobiKwikHaiNa." The tweet was also shared by Mobikwik CEO Bipin Preet Singh, and Head of Customer Service and Risk Compliance at MobiKwik, Kumar Arin S, replied, thanking her for using their service.
Not having cash doesn't stop my weekend grocery shopping. Thanks to @MobiKwik I logged on to #Grofers & ordered it all out 🙂#MobiKwikHaiNa pic.twitter.com/ctcI1mEgJN

— Ritcha (@RitchStyles) November 25, 2016
It's a heartwarming story of how a user used MobiKwik to get their grocery shopping done in these difficult times. But there's a bit of a question: Who took these pictures?
Both of Ritcha's hands are visible in the photo. As she was casually ordering her groceries, someone presumably standing behind her took the photo during her order, put a watermark of Ritcha's company on it (Ri(t)chStyle), and she then dutifully put the picture up on Twitter.
She isn't the only one. Then there's Twitter user Shubham Gupta, who says he had a fight with his wife, and ended up ordering on Swiggy through MobiKwik.
Had fight with wife, don't know how to cook, neither have a purse around? Order food on the go with @Swiggy and @MobiKwik. #MobiKwikHaiNa pic.twitter.com/EOhJoVA5oZ

— Shubham Gupta (NeO) (@shubham_neo) November 28, 2016
Once again, both of Shubham's hands are in the picture. And given that he's had a fight with his wife, it likely wasn't her who was taking picture of him buying food off Swiggy.
And finally, there's Surabhi Suri, who not only has a phantom photographer behind her while ordering groceries off MobiKwik, but also conveniently has an array of delicious looking food items in the background – all while she's making the order.
Whenever I run out of cash /credit limit Ialways fall back on @MobiKwik wallet ☑️such a lifesaver 4 embarrassing situations #MobiKwikHaiNa pic.twitter.com/aQeJv44q7q

— Surbhi Suri (@thefashionflite) November 25, 2016
And the strange Twitter behaviour isn't limited to weird third-person shots. When MobiKwik launched its MobiKwik Lite app today, it was immediately the top trending topic on the site. People were clearly enthused about the new launch, and took to Twitter in large numbers to voice their approval. Some, like Priya Rathod, tweeted nearly 10 times in quick succession about the app.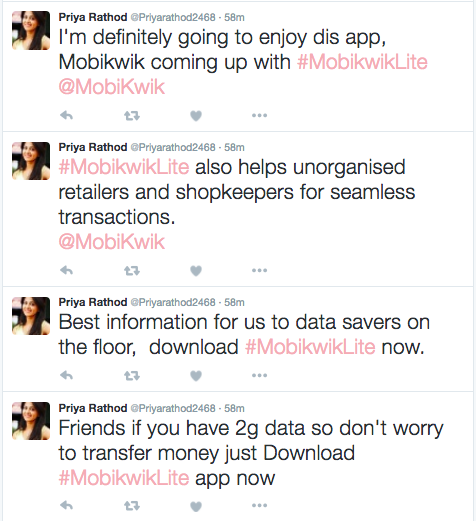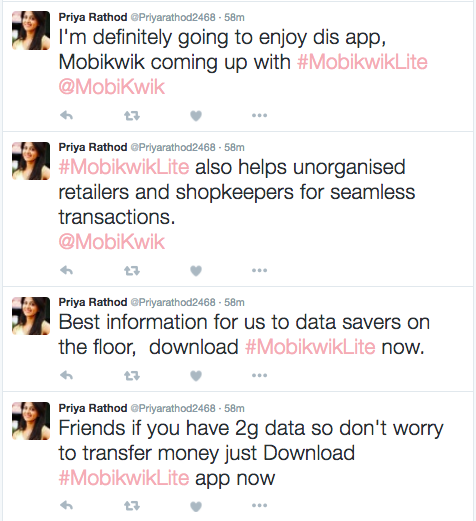 And it so happened that several other users also happened to quote the exact same phrases, verbatim, at the same time. (reminiscent of Snapdeal's tweets not very long ago.)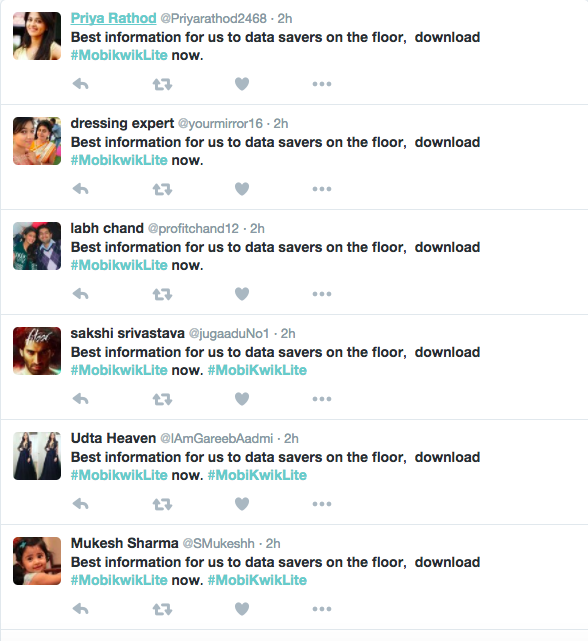 Clearly, while it's one thing to try to influence your audience, it's wholly another to be clever about it.