Ola has begun delivering its much anticipated electric scooters, but the deliveries seem to have brought about even more controversy than when the scooters were merely delayed.
Ola is now telling users that its bike's advertised 181 km range was "under test conditions", and its "True Range" is just 135 km. Ola had long advertised that its Ola S1 Pro scooter had a remarkable 181 km range. This is still specified on the company's website, which declares that the Ola's flagship scooter has a range of 181 km.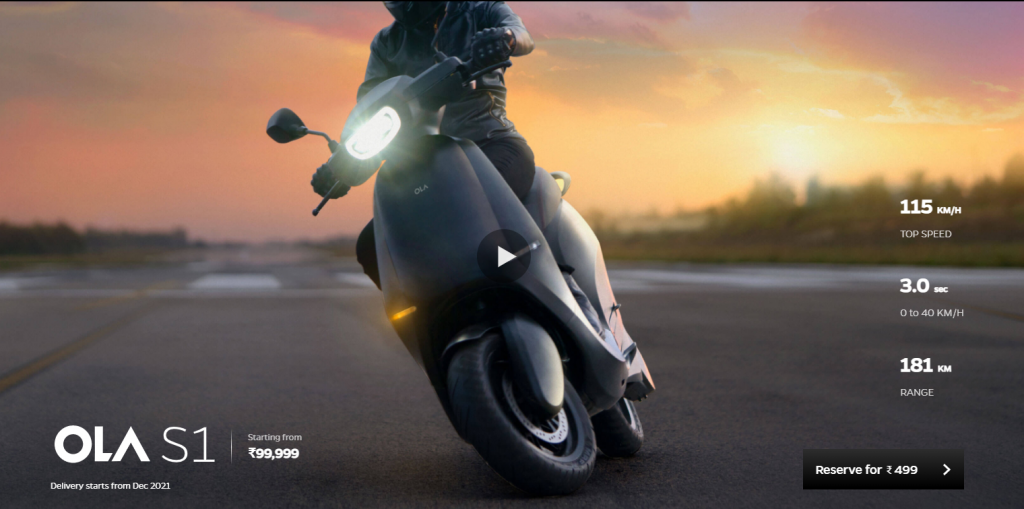 But users who've received deliveries of the Ola Electric have been complaining that their scooter dashboards only display a range of 135 km. Users began sharing screenshots of their bikes only showing a range of 135 km when they were fully charged.
As some users took to Twitter to complain, Ola has now clarified that the 181 km range was only under "test conditions". Ola went on to say that its "True Range" was just 135 km, a fact that it hadn't made clear before accepting bookings of thousands of scooters.
"The ARAI certified range of Ola S1 Pro is 181 kms basis their test conditions," Ola is telling users. "This is a mandatory certification which all vehicles have to go through to be on road. Since the real-world conditions have variations from the test conditions used by ARAI, the ARAI range vs the real-world range differs for all vehicles," it adds.
"The True Range for Ola S1 Pro is 135 km. True range is the distance you can travel with your Ola scooter under the following conditions:
Number of riders: 1
Weight of rider: 70 kg
Additional load on vehicle: Nil
Roads: City driving conditions with max 3-5% incline
Ride mode: Normal
Ride style: Moderate Weather: Moderate (24-35 C)
"If you are experiencing a range that is less than 135 kms, then you are likely to have considerable variation in one or more of the parameters mentioned above," Ola continues.
After running a glitzy marketing campaign which repeatedly stressed that Ola S1 Pro's range was 181 km, Ola now appears to be saying that its "True Range" is just 135 km, which is a steep 25% drop over the range it had initially claimed. And Ola says this 135 km range is also under ideal conditions, in which the rider has a maximum weight of 70 kg, is riding alone with no luggage, and the outside temperature is 24-35 degrees.
But customers who've been using Ola's scooters are finding it hard to even come close to the 135 km range — a YouTuber who tried out the Ola bike yesterday claimed that his bike ran out of charge in 98 km flat. The test was carried out on flat streets in Bangalore, which usually has temperatures within the limits prescribed by Ola. The rider was riding alone, and weighed 80 kg. He further claimed that scooter's top speed dropped drastically when it was left with 15% charge, and went on to say that Ola was overstating the speed it was showing users — while his Ola bike said he was riding at 40 kmph, he showed that Google Maps was telling him that he was riding only at 34 kmph.
While all scooters mention ranges or mileage under ideal conditions, Ola's 181 km range claim doesn't seem possible to even achieve on roads — Ola says the 181 km range is possible only under "test conditions". On roads, Ola says that the True Range is just 135 km, and that too under a rigorous set of conditions that will be hard to meet at all times. But Ola had marketed its scooters as having a range of 181 km to millions of customers who were probably buying electric scooters for the first time, and a sudden 25% reduction in the maximum range — and an even bigger reduction in the range that seems achievable in reality — is possibly not the best advertisement for the "electric revolution" that the company has been hoping to unleash.