The ongoing strike by Blinkit's workers hasn't just disrupted the company's services in Delhi-NCR, but it's also hitting the company where it hurts most.
The Blinkit delivery partners' strike has already lost the company 1% of its quarterly revenue, a report by ICICI Securities suggests. Blinkit delivery partners have been on strike for the last few days, protesting what they say are reduced delivery fees provided by the company. As a result, around 100 Blinkit stores are currently not operational in the NCR region, with an estimated 2,500 employees on strike.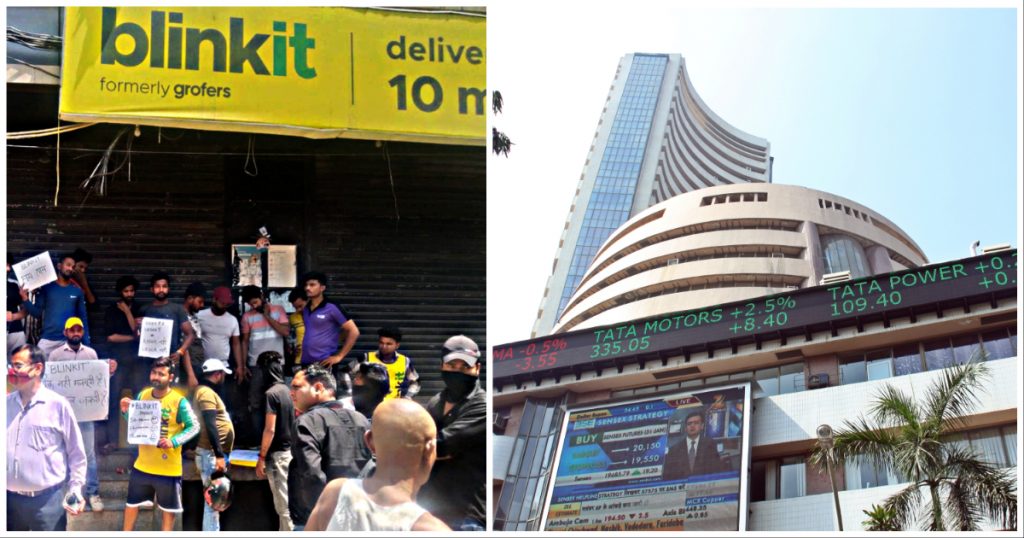 "We estimate Blinkit was operating ~370 dark stores pan-India as of Q3FY23," the ICICI Securities' note said. "This implies ~25% of the dark stores are currently not operational. Given that at least 3-4 days' sales have already been lost, this implies a ~1% loss in revenue from Blinkit and ~0.15% of consolidated revenue for Q1FY24 – already," read the note.
"Given that the strike (at Blinkit) is happening in the national capital and has already garnered political attention, we think the company should try to resolve the issue at the earliest. This could be through a combination of clearer communication on the expected change in earnings for delivery executives and/or some concessions on the delivery fee," the note suggested.
Protesting workers contend that they are justified in refusing to go to work — they say they were being paid Rs. 50 per order when they had joined Blinkit last year. This was later reduced to Rs. 25 per order, and has now been further reduced to Rs. 15 per order, at which point the workers decided to strike.
Blinkit contends that it has simply changed the incentives structure, and has added a distance-based component along with the Rs. 15 per order. Protesting workers, though, aren't convinced — they say that since most deliveries for Blikit are within a 2km radius, their overall earnings will be reduced under the new fee structure.
Blinkit, though, has refused to blink, and has today messaged delivery partners that they're permanently shutting down stores where workers are on strike. These workers have also had their logins disabled, implying that they are no longer associated with the company.
Zomato, which owns Blinkit, is no stranger to strikes by both delivery partners and its partner restaurants. In 2019, Zomato's workers had gone on strike when the company had reduced payouts per order from Rs. 40 to Rs. 30, and in more bizarre circumstances, its Hindu and Muslim partners in Kolkata had gone on strike over being made to deliver beef and pork. Zomato's restaurant partners frequently go on strike as well — all Zomato's Ahmedabad restaurants had once gone on strike to protest its high commissions, and plenty of restaurants had logged out of Zomato Gold over similar concerns. Other gig econonmy workers, such as those working with Uber, Ola and Swiggy have all similarly gone on strike.
As such, a strike wouldn't necessarily faze Zomato — this is still a buyer's market, and Blinkit should be able to eventually find workers who're willing to work at the reduced rates. But it's hard to ignore the societal upheavals such measures cause — high-flying startups initially lure onboard relatively low-skilled and uneducated workers with high wages, only to reduce their wages drastically later. These unexpected decreases in income affects vulnerable families, who often take loans and get used to lifestyles they are unable to sustain.
But there's one aspect that could worry Zomato. Zomato is now publicly traded, and a strike — which currently doesn't seem to have an end in sight — could impact the company's share price on the stock markets. Brokerage reports are already taking note of the disruption in sales, and a 1% fall in quarterly revenue is nothing to be sneezed at. It remains to be seen whether this loss in revenue gets Zomato to back down, but the potential stock on the company's stock could give the striking workers some leverage in what's a very lop-sided power dynamic that usually plays out between India's gig workers and their employers.