Acquisitions make the news when they happen — the press reports about the terms, the valuations, and the lives of the newly-rich founders. But acquisitions seem to make even more news when they don't happen.
BookYourGame, a marketplace to discover and book fitness centres, has accused fitness giant CureFit of acquiring confidential information under the ruse of acquiring the startup. BookYourGame (BYG) claims that CureFit offered to acquire it for Rs. 5 crore, but retracted the offer after the exchange of crucial data and intellectual property. BookYourGame has now taken CureFit to court, and has been granted a temporary injunction against CureFit's launch of Gym.fit, its gym service.
"Employees of BYG began to be inducted as employees of CureFit," BYG said about the acquisition in its petition. "Cure.fit formally welcomed the employees, as established by email dated 11-06. Based on express promises by Cure.fit, and in good faith, BYG and its employees complied with instructions of Cure.fit to begin sharing confidential information," the petition added. BYG also shared screenshots of the email with its petition. One such screenshot, which is now circulating on the internet, shows an email from a CureFit employee to BYG employees, titled "Welcome Aboard." The email talks about an "interaction" scheduled with members of the BYG team on the 12th of June at CureFit's office.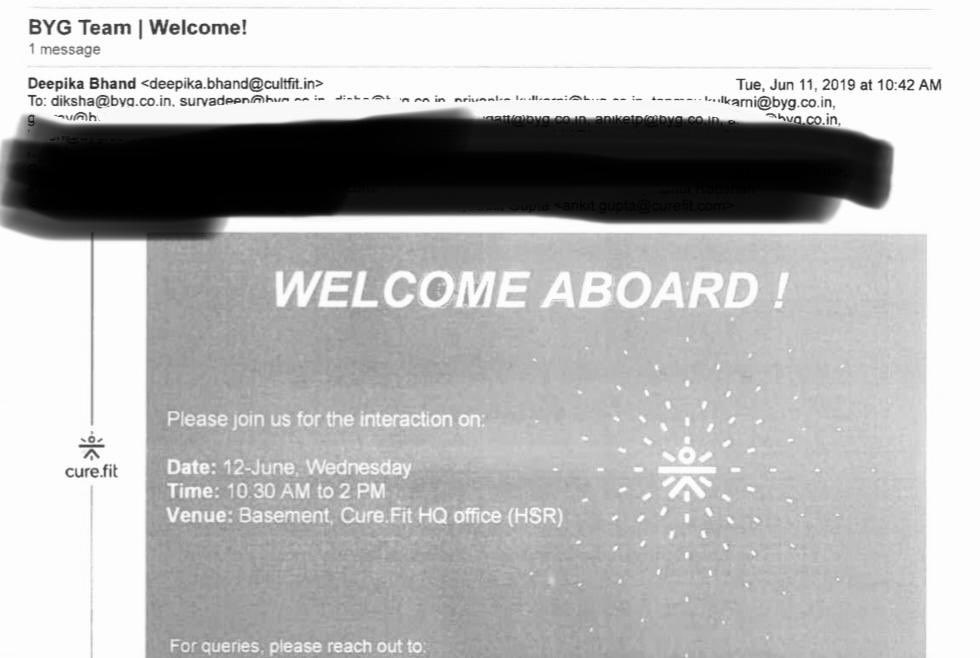 CureFit, for its part, says that the acquisition never formally happened, and there was no on-boarding of BYG employees. "During diligence, we found some potential legal and compliance issues in BYG's operations and hence decided to call off the proposed deal," the company said in a statement. CureFit also additionally said that it offered BYG a "fair breakaway fee" for not completing the deal.
BYG and CureFit operate in much the same industry — BYG provides its customers access to more than 2,000 gyms via pay-per-use sessions, and also has a Software as a Service (SaaS) solutions for gyms. CureFit, founded by ex-Flipkart execs Mukesh Bansal and Ankit Nagori, is the largest startup in India in the personal fitness space — it's raised nearly $300 million (Rs. 2,100 crore), and runs a host of fitness classes including Crossfit, Yoga, and even a workout regimen in collaboration with Bollywood star Hrithik Roshan. 
The bone of contention between the two companies appears to be CureFit's gyms offering. BYG seems to allege that Cure.fit's gyms service will use confidential information that it received from it during the discussions over the acquisition. CureFit, though, denies the accusations. "Gym.fit is an internal Cure.fit initiative with nothing to do with BYG,". At the moment, the courts appear to have sided with BYG, and a passed a temporary injunction against the launch of Cure.fit's gyms offering.
This isn't the first time that two Indian startups have been at loggerheads over whether one has acquired the other or not — in 2017, Oyo Room and Zo Rooms had traded similar accusations, with Zo Rooms claiming that it had been acquired by Oyo, while Oyo had insisted that the acquisition had never happened. That case had gone to the court as well, and doesn't appear to have yet been resolved. It's unclear where this latest case between CureFit and BookMyGame will end up, but it serves to underscore how contracts and agreements can still be a contentious issue in India's fledgling startup ecosystem.