From hoping to get acquired by foreign companies, to acquiring foreign companies themselves, Indian startups have come a long way.
Two Indian unicorn startups have acquired foreign companies on the same day. Byju's today acquired Austria-based ed-tech company GeoGebra for an estimated $100 million (Rs. 700 crore). Logistics startup Delhivery, meanwhile, has acquired US-based drone company Transition Robotics for an undisclosed sum.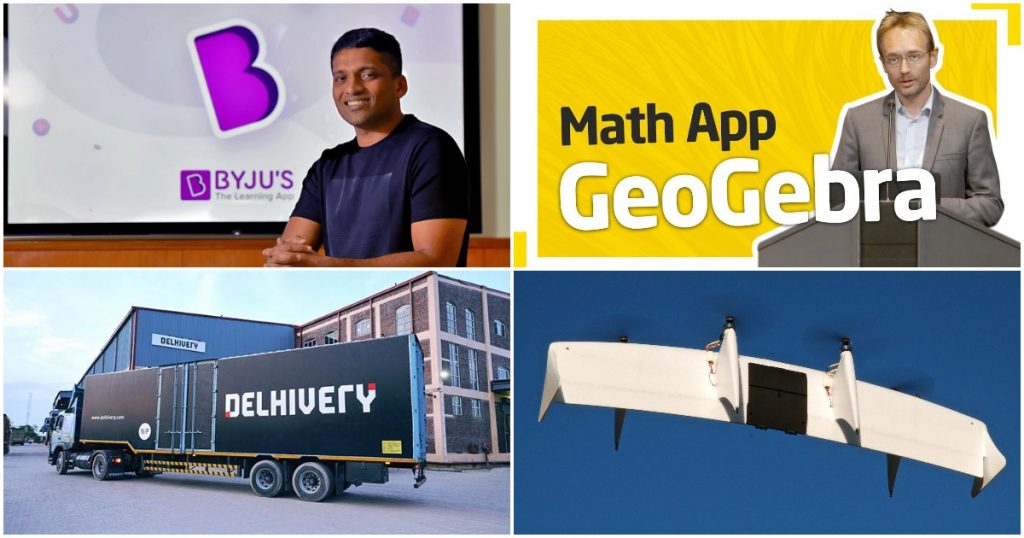 GeoGebra is headquarted in Austria, and offers a dynamic, interactive and collaborative mathematics learning tool. Its platform has both commercial and non profit offerings, and is intended for students from primary school right to the university level. After its acquisition by Byju's, GeoGebra will continue to operate as an independent unit under the leadership of its founder and developer, Markus Hohenwarter, who had started the project as a part of his Masters thesis in 2001.
"The GeoGebra team has built a powerful and stimulating platform that complements BYJU'S mission of providing impactful learning for students," said Anita Kishore, chief strategy officer of Byju's. "Designed to improve mathematical understanding, it offers significant features that provide interactive resources that adapt to every child's style and pace of learning," he added.
GeoGebra is Byju's 9th acquisition this year. Over the last few quarters, Byju's had acquired coding company WhiteHat Junior for Rs. 2,300 crore, and then acquired offline coaching center Akash Educational servies for nearly $1 billion (Rs. 7000 crore). Byju's has also acquired school learning platform Toppr, and professional upskilling platform Great Learning. Internationally, Byju's has acquired online tutoring brand TutorVista, a learning games company for kids aged 3-8 named Osmo, and Epic, which is designed to encourage children under the ages of 12 to start reading books. Byju's has spent over $2 billion (Rs. 15,000 crore) in acquiring companies.
Delhivery, on the other hand, isn't quite as nearly as prolific an acquirer — Transition Robotics is only the third acquisition in its history. Transition Robotics is based in California, and focuses on developing Unmanned Aerial System (UAS) platforms. In 2015, the company unveiled the JumpShip, a fully autonomous platform, allowing commercial operators to combine the operational flexibility of multirotor with the efficient, fast flight of fixed-wing aircraft.
"While we continue to build our supply chain platform, we must look at the long-term developments poised to shape the industry. Bringing TRI onboard gives us a chance to get directly involved with core Drone Technology as regulations and use cases for drones are evolving in the country," said Kapil Bharati, Chief Technology Officer, Delhivery. Drone delivery isn't yet fully authorized in India, but several startups, including Zomato, Dunzo and others, have been testing out deliveries through drones.
While acquisitions are commonplace enough in the startup world, what's interesting is the direction in which they're happening — Indian startups are now regularly confidently striding into developed nations, and acquiring companies that can complement their businesses. This is largely thanks to the massive valuations that Indian startups have managed to garner — even though they operate in a country with a GDP per capita of $2000, they're able to acquire companies which operate in countries where GDPs per capita that are thirty times as much. India startups, though, have cleverly used technology to harness the potential of India's 1.3 billion population, and with some smart business moves, are making sure that they find their place in the world.