It might be a while before India plays in the football world cup, but an Indian company is now a sponsor for the world's largest sporting event.
Byju's has become an official sponsor of the FIFA World Cup 2022. This is the only the second time an Indian company will sponsor the event. BYJU'S announced it will leverage its rights to the FIFA World Cup 2022 marks,  emblem, and assets, and run unique promotions to connect with passionate football fans around the world. It will also create engaging and creative content with educational messages as part of a multifaceted activation plan.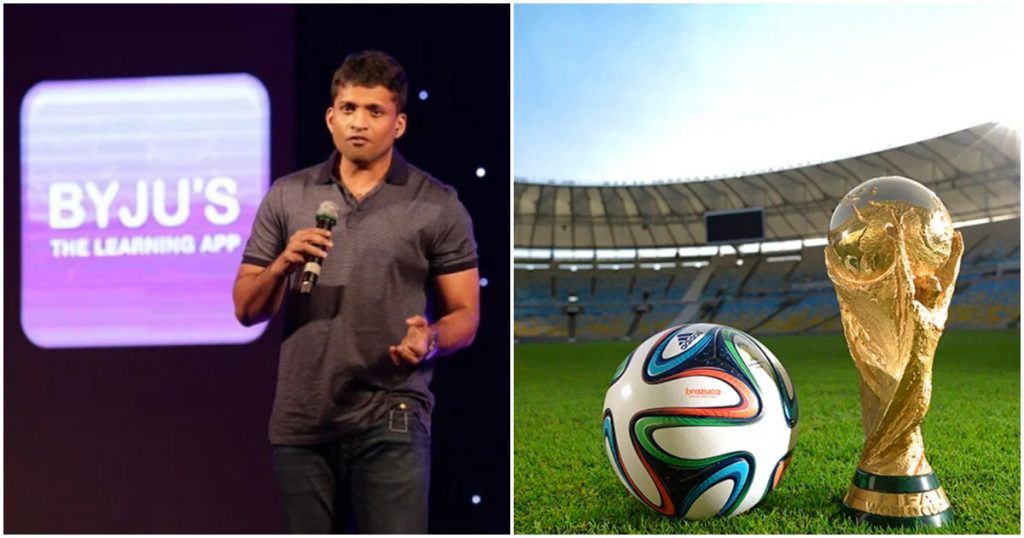 "We are excited to be sponsoring the FIFA World Cup Qatar 2022, the biggest single-sport event in the world," said Byju's founder Byju Raveendran. "It is a matter of pride for us to represent India on such a prestigious global stage and champion the integration of education and sport. Sport is a big part of life and brings together people across the world. Just as football inspires billions, we at BYJU'S hope to inspire the love of learning in every child's life through this partnership," he added.
"FIFA is dedicated to harnessing the power of football towards the goal of enacting positive societal change," said FIFA's Chief Commercial Officer Kay Madati. "We're delighted to be partnered with a company like BYJU'S, which is also engaging communities and empowering young people wherever they may be in the world. We look forward to supporting the promotion of BYJU'S educational learning opportunities, as well as having them join the global drumbeat of excitement for the FIFA World Cup 2022 through its association with this groundbreaking tournament," he added.
It might seem odd for Byju's to sponsor the World Cup given how India doesn't feature in the event, but the event does garner plenty of eyeballs in the country. Also, Byju's ambitions aren't restricted just to India — the company now runs a sprawling global ed-tech empire. Apart from a slew of acquisitions in India, Byju's has acquired US-based online tutoring brand TutorVista, an American learning games company for kids aged 3-8 named Osmo, US-based Epic, which is designed to encourage children under the ages of 12 to start reading books, and Austria-based ed-tech company GeoGebra. Byju's now has plenty of international students, whose parents could be watching the football World Cup and could be persuaded into buying its products.
This is a remarkable journey for Byju's, which was founded by Byju Raveendran just a decade ago after he had informally helped some friends clear the CAT exam. Raveendran had then begun holding CAT classes, become a household name for CAT coaching, and then launched a startup named after himself which aimed to use technology to help school students get better learning outcomes. Raveendran is now worth over $3 billion, and has managed to get Byju's to the largest stage in the planet. And Byju's becoming a sponsor for the FIFA World Cup isn't just a testament to India's rising stature in the world, but also a testament to how the country's startups are helping it get there.