When Reliance had announced the launch of Jio on 1st September 2016, it had had an immediate impact on telecom stocks. Through Mukesh Ambani's  45 minute speech, the stocks of Airtel, Idea had lost Rs. 13,800 crore in market value. Yesterday, Reliance announced the launch of JioGigaFiber, its own broadband service, and the impact on broadband and TV operators has been much the same.
Cable operators have seen their stocks tumble after Reliance unveiled JioGigaFiber at its 41st AGM. DEN Networks has seen its stock fall 20% since yesterday, and Hathway' stock is down 25%. At the beginning of trade yesterday, DEN Networks, which services 13 million Indian homes across 200 Indian cities, had its stock was trading at Rs. 76, but it now trades at Rs. 61.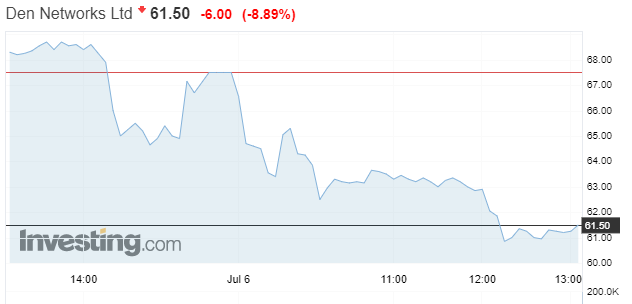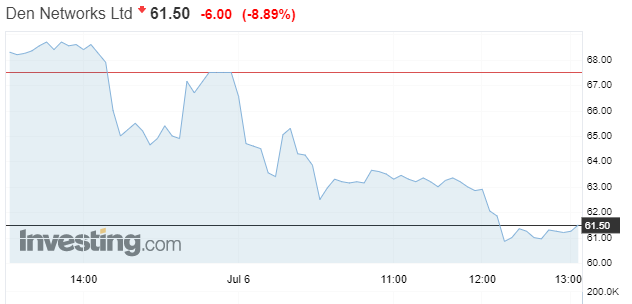 Hathway Cables' stock has fallen too — yesterday, the stock was trading at Rs. 23.75, but now trades at Rs. 18. Hathway was founded in 1993, and provides cable services to 11 million Indian homes, and broadband services to 4,30,000 homes.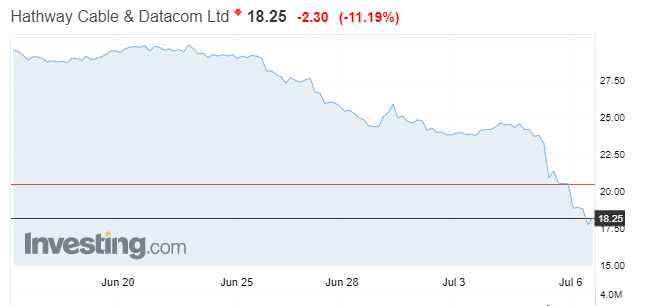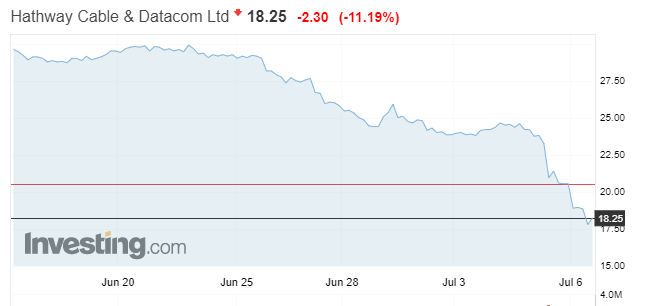 JioGigaFiber, of course, will likely hit both these businesses when it launches over the coming months. JioGigaFiber will not only provide high-speed broadband to its customers, but will also allow customers to view high definition TV. And given how Jio had undercut the competition in terms of price when it had first launched, even going as far as to provide its services for free for the first few months, it's likely that Jio will price itself lower than the competition in the space as well. This combination of faster speeds and lower prices could create a persuasive case for users who want to switch from other cable networks to Jio.
But Jio won't just stop there — Jio says it'll launch a range of smart home devices that will integrate with its connections. Jio will let customers buy audio dongles, video dongles, smart speakers, Wi-Fi extenders, smart plugs, outdoor security cameras, and a TV cameras along with its JioGigaFiber. It'll have more sophisticated devices too – Jio says it'll also launch monitoring devices including smoke sensors, water leak sensors, sirens, gas leak sensors, panic buttons, door sensors, and smart video doorbells. 
It's not hard to see why cable stocks are suffering — Jio will not only more than match the offerings of existing cable operators, but will also throw in some cool gizmos of its own. Jio already has an ecosystem of users, thanks to Jio mobile connections, and this will also help pull in some users. The smart devices that Jio had announced will be controlled through the MyJio app, making it even easier for existing Jio customers to switch their broadband provider as well.
And to make matters even more precarious for existing cable companies, they might not have the financial wherewithal to match Reliance — when Jio had launched, Airtel, Idea and others had been able to take a hit on their balance sheets to match Reliance's offerings. That might be harder to do for smaller cable firms. If Reliance can roll out JioGigaFiber quickly across the 1,100 cities where it plans to launch operations, the disruption in the sector might be dramatic and swift.