Flipkart completed 10 glorious years this week. Through its journey, it's ushered in India's e-commerce revolution, kickstarted India's startup scene, and managed to become a Rs. 65,000 crore company. It's touched many lives in the process, and it's celebrating — Flipkart started a FlipkartThrowback10 hashtag on Twitter today, and people are streaming in, sharing with their happy memories of the company. FlipkartThrowback10 is currently the top trending hashtag on Twitter India.
But there's a bit of a problem — all these people don't necessarily think highly of Flipkart — they're being paid to praise the company.

Today morning, hundreds of Twitter accounts began tweeting in unison about Flipkart's 10 year journey. Tweets ranged from being congratulatory ("Hats off for this success. Many more years to come") to complimentary ("The great shopping experience so wonderful with the time!") to positively gushing (Flipkart is like an angle (sic) in our life .. just one click and order placed). But the most cursory glance made it evident that there was more to these tweets than met the eye. People who were tweeting about Flipkart weren't only doing it once – they were doing it as many as 15 times in a brief while.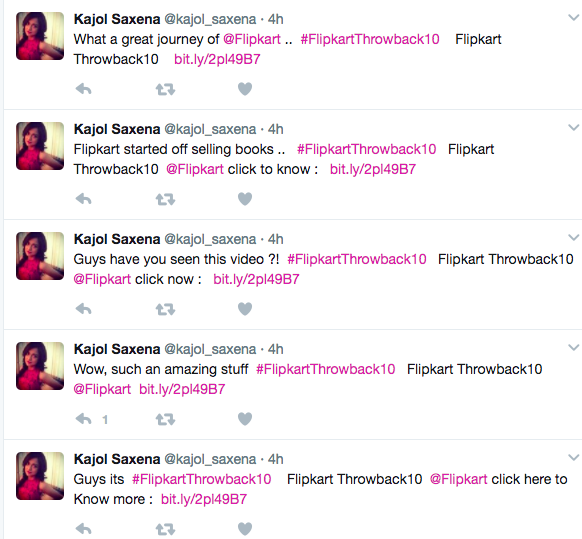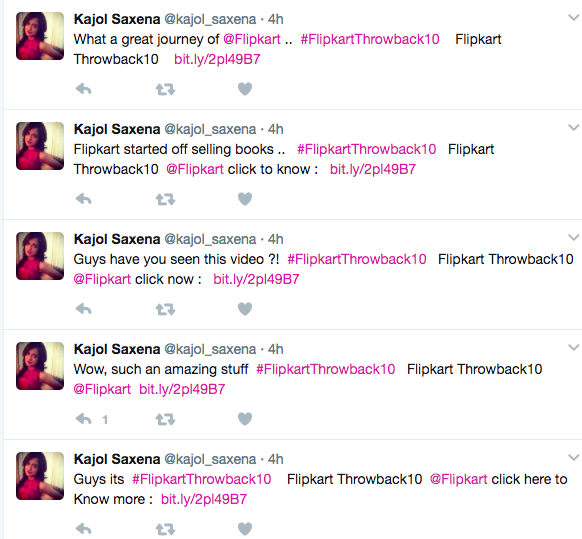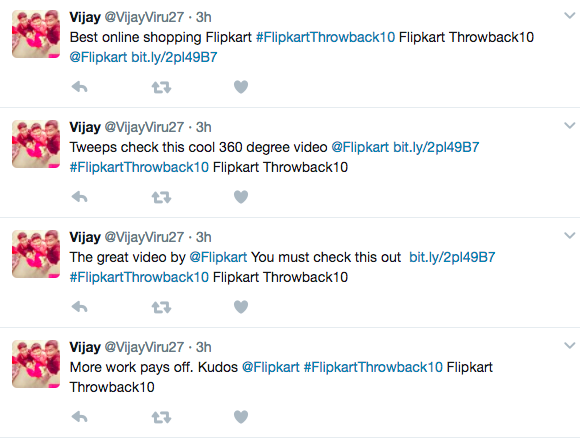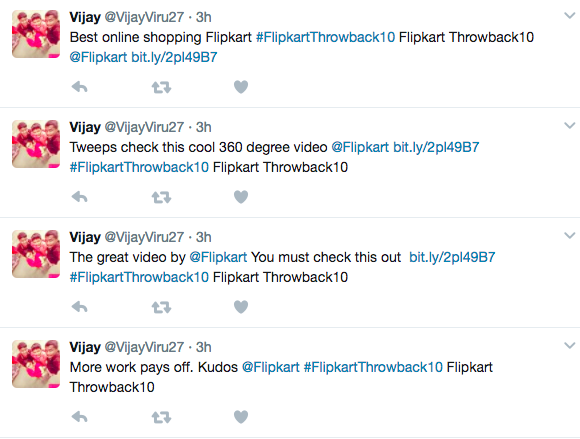 We contacted one of the enthusiastic tweeters, and learnt how to get into the paid tweeting game. Companies typically contract out "influencer activities" to agencies, who then choose twitter accounts who look credible. Accounts apparently need "more than 50000 tweets and more than 2 year old acc with Klout score 55+" according to an account who was participating in the Twitter activity. The price paid varies according to the account and is set by the digital agency. "(Rs.) 7 is fixed for normal people and big influencer can get 2000 per tweet but it take time to be such people," they said.
And embarrassingly, things can go wrong when you contract people to tweet for you who know little about the company. Flipkart's agency had clearly told users to tweet about how the company had started off by selling books, but this twitter user – who tweeted about Flipkart 20 times, including how she "Loved the sound of doorbell when Flipkart packages arrived" — was gushing about how Flipkart had just now begun selling books. 
Now no more standing in long queues to get books @Flipkart has started selling books#FlipkartThrowback10 Flipkart Throwback10

— Amita (@theamita) April 28, 2017
Flipkart, of course, has been selling books for over 10 years, a fact that seemed to have escaped this Flipkart enthusiast. Yet another "fan" thought that over the last 10 years, Flipkart had gone from "Crossword to Kindle", little knowing that the Kindle is manufactured by Flipkart's arch rival Amazon.


Influencer marketing is nothing new — brands have been doing it for a while now, and all accounts tweeting heavily about Flipkart were also doing the same for other companies. Indian startups have been dabbling in it too, with Snapdeal and Mobikwik having run campaigns in the recent past.
But Flipkart is a company that was once loved by its fans, and they never had to pay for their affections. Flipkart cofounder Sachin Bansal today shared a screenshot from someone who'd been pinged by Binny Bansal on 16th October, 2007. "We are live," Binny Bansal had told him as the Flipkart website had gone online, and had a link to Flipkart.com on his Gtalk status. "Account zaroor bana lena (Do make an account)," he'd told them.
When the Flipkart went live 🙂 #FlipkartThrowback10 @binnybansal @_sachinbansal @FlipkartStories pic.twitter.com/rIB1RHb8Da

— Nilesh Heda (@nlsh82) April 28, 2017
And people had made accounts, not because they were being paid to make them, but because Flipkart was a revolutionary product that was transforming how people shopped. Fast forward to now, and it's hard to not see how the company might've just lost its way.