India's startups are using cutting-edge technology and modern innovations to deliver the best possible service to their customers, but there are some that feel that their zeal might be taking them a bit too far.
Grofers CEO Albinder Dhindsa has come under some criticism for saying that a Grofers order that was delivered in 13 minutes was 3 minutes too late. Dhindsa was replying to a customer's tweet in which they'd appeared to marvel at how Grofers had delivered their order in just 13 minutes. "Grofers delivered my grocery order within 13 minutes :O Wow is this world," wrote Twitter user Ashish Bharma. But Grofers CEO Albinder Dhindsa didn't seem to see this as a compliment. "That's 3 minutes too long. We will work harder in the future," he replied on Twitter.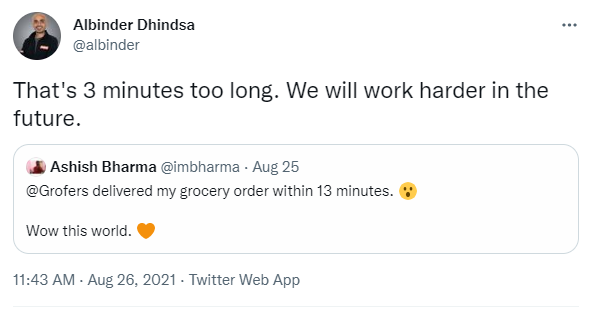 Just last week, Grofers had announced "10-minute deliveries" in 10 cities. "Today, we launched our 10th city with the promise to deliver groceries within minutes to your doorstep. While our average delivery times are still hovering around the 15 minute mark, our eventual vision is to be below 10 minutes for every customer in India," he'd written in a blogpost. Grofers' announcement had come after Swiggy had promised 15-30 minute deliveries, and Dunzo has since said it'll deliver products in 19 minutes.
Dhindsa's "3 minutes too long" tweet drew praise from a section of people online. "Love the obsession. Congrats — this is beautiful," wrote a Twitter user.
Another user said that they loved Dhindsa's spirit of looking to improve an already-very-impressive 13 minute delivery time.
But the tweet got its fair share of criticism as well. "Next the delivery boy will try to break all traffic rules to make your order reach in 10mins. #MisalignedKPIs," wrote a Twitter user.
Another user said that a 10 minute delivery time would put delivery partners at risk. "How many riders are being put at risk because of this silly target?" they said.
And some others said that there was no consumer need to have groceries delivered in 10 minutes in the first place. "With all due respect @albinder, nobody needs their groceries in 10 minutes. This is an unnecessary initiative which will create more stress and safety hazards for delivery persons. Accuracy and reliability of delivery will be more appreciated," they added.
A 10-minute delivery does seem unrealistic at first glance, but Grofers isn't just relying on its delivery partners blazing through roads to meet its deadline — Grofers has created dark stores within residential neighbourhoods, which will allow delivery partners to quickly make deliveries. These stores are optimized for online orders, and delivery partners don't need to stand at the billing counters of traditional stores to make purchases, thus saving time. Also, Zomato is now a major investor in Grofers, and they two companies could potentially combine their fleets to optimize for faster deliveries.
However there are concerns that remain — delivery partners with food platforms are infamous for their rash driving, and have even been called out as so by traffic authorities. Having a 10-minute delivery time could potentially incentivize them to take more risks while on the road, thus endangering both themselves and other commuters.
But the saved time could well help Grofers stand out amongst competition — while some might say that there is no real need for 10 minute grocery deliveries, there was similarly no business model which offered a 30 minute or free delivery guarantees until Dominoes started it for food, and there are now numerous other outlets that make similar promises. If Grofers can reliably — and more crucially, safely — make good on its 10-minute promise, it might just end up revolutionizing the grocery delivery space as a whole.