Indian entrepreneurs have tried several approaches towards building products for India. There are more cricket apps than one can count, nearly as many for astrology, and even apps that book dhobis, chotus and bais. While these ideas have met with varying levels of success, there's one Indian passion that doesn't seem to have adequately addressed, even as India as gone digital.
MyMandir seeks to change that — it's gone ahead and built what is essentially a Facebook for religion.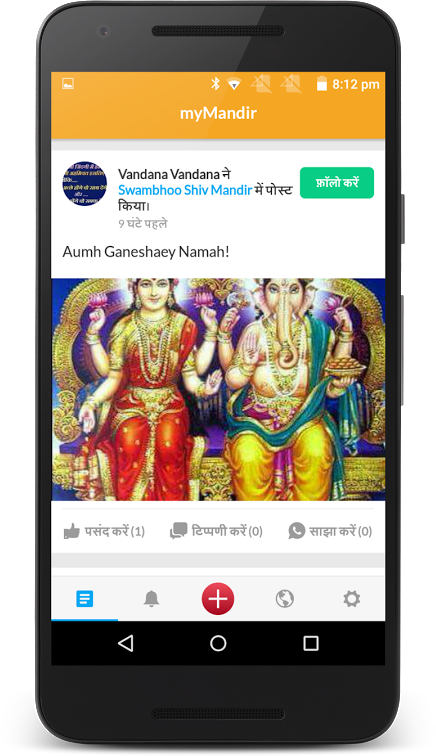 India, of course, is one of the most deeply religious countries in the world, and MyMandir seeks to provide its citizens with a social network for their devotional needs. MyMandir has a Facebook-like timeline that lets users follow activities from Mandirs across the country. Mandirs can upload pictures and videos of their aartis, and devoting throngs can keep up with the activities from the convenience of their homes. While Facebook lets users like, love and heart posts, MyMandir does better — users can not only like updates (pasand), and also digitally do a pranam, present flowers, light a diya, or even ring the ceremonial bell.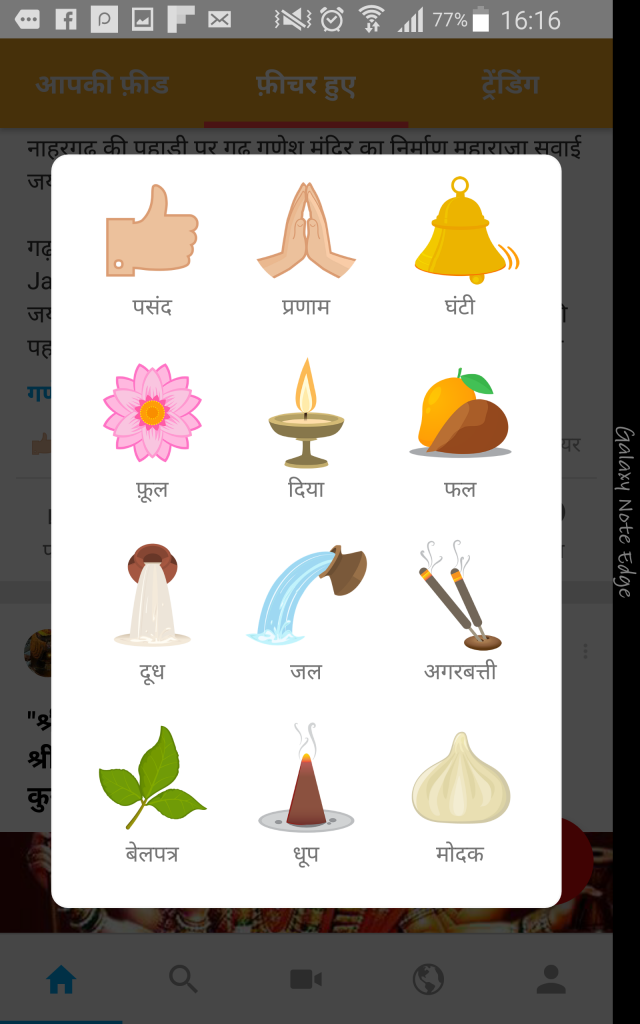 The app also lets people upload their own religious pictures and videos, and other MyMandir users can follow their updates. Some people appear to have built sizable followings — MyApp maintains a leaderboard of the most popular content creators. Narendra Pathanaia Rajpoot from Himachal Pradesh, who published the most popular post on the site over the last 24 hours, has 3,240 followers.
Built in India, Built for India
Narendra Pathania might be what the average MyMandir user is like. Most newer social networks in India skew towards the urban user, but MyMandir appears designed to cater to the user from smaller towns and villages. The app starts off by default in Hindi, and the option to switch over to English is hidden in the inner reaches of its setting section. The app also cleverly plays to the quirks of the Indian consumer — Whatspp is the online Indian's primary source of content, and MyMandir lets them share things to WhatsApp directly from the timeline through a share to WhatsApp button. This back and forth from WhatsApp might be creating most of the content for the app.
And quite a bit of content is being created. MyMandir says it has over 2 lakh downloads, and most of its Google reviews are gushing and positive. "This is very helpful for visit any temple from home place/ work place or other place with mobile phone," says Pankaj Kumar, and the apps users seem to clearly agree — after over 5000 reviews, MyMandir has a Play Store rating of 4.8.
It might be apps like these that end up being the next big thing in India. For too long, Indian entrepreneurs have focused on fixing problems for the upwardly mobile urban Indian — while providing laundry services through apps might appeal to a subsection of people in the country, their numbers are vanishingly small. The vast majority of Indians have more pressing needs, and thanks to Jio's telecom revolution, have the means to achieve them. With a smartphones and data connections becoming ubiquitous, the average Indian might see a lot more apps tailored to their needs. That's when India will really begin flexing its digital muscle.
And God might be the best place to start.