Over the last decade, Indian startups have been criticized for either being copycat apps from the west, or apps that try to find customers through discounts instead through real technical innovation. But India appears to be increasingly producing deep-tech startups, and many are making their marks abroad.
IIT Delhi-incubated startup Botlab Dynamics has carried out Africa's largest-ever drone show for Djibouti's Independence Day. The startup had held a similar drone show at India's Republic Day celebrations earlier this year. Botlab Dynamics beat out a French company — Djbouti is a former French colony — to snag the contract.
"We were in competition with a French company for the event," Botlab Dynamics co-founder Sarita Ahlawat told TOI." Our quotation for organising an event with 800 drones matched the price offered by the French firm for a light show with 300 drones," she added.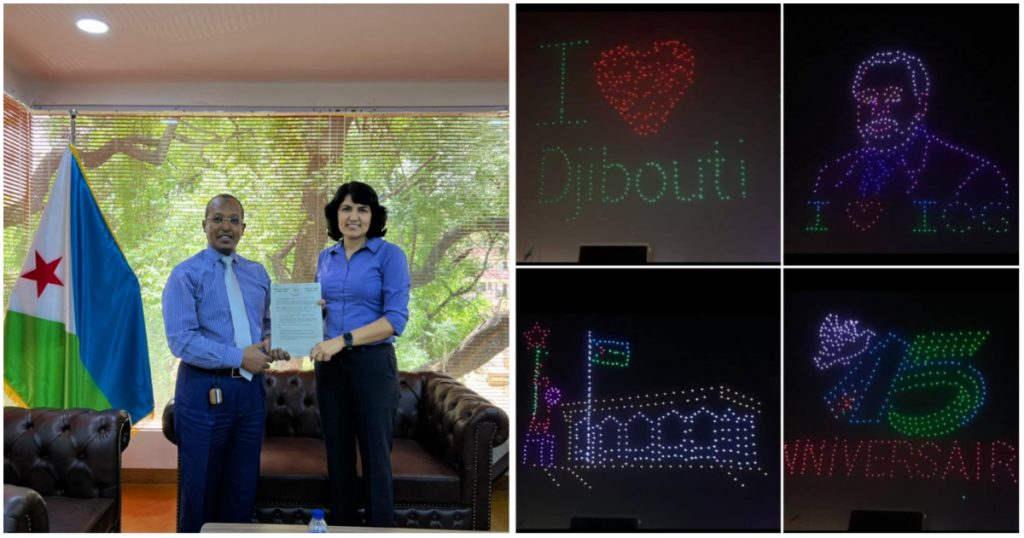 Djibouti had apparently heard about the company after Indian officials had shared videos of India's Beating Retreat ceremony, and these were seen by foreign diplomats. "We are getting several inquiries for organising drone light shows in the UAE and Maldives. Globally it costs $ 4-5 lakh for organising such an event," Ahlawat said. Botlab Dynamics's pricing, however, is more competitive. The company was also able to offer more formations (iterations as they are technically known) that the government of Djibouti liked. After emerging as the winning team, Botlab Dynamics sent 23 staffers from Delhi for the event.
BotLab Dynamics had its beginnings in 2012, when Tanmay Bhunkar, who was then a third year student at IIT Delhi, began tinkering with drones. Two years later, the team, which later went on to include Bhunkar's batchmate Ajay Kumar Barnwal and a teacher from the institute in Dr. Sarita Alhawat, was asked deliver 8 drones that would join the Delhi Police. In 2016, the startup was incorporated at the Technology Business Incubator Unit at IIT Delhi. In 2017, BotLab Dynamics received its first funding of Rs. 50 lakh from the Government of India, and in 2019, was awarded the Prime Minister's award & iDEX grant of Rs. 1.5 crore for research and development.
The startup had then grabbed eyeballs during its performance during India's Republic Day celebrations this year, which had gone viral on social media. The company had managed to light up the skies above Raisina Hill with 1000 Made-in-India drones, which formed spectacular formations and patterns.
Lighting up the night skies might seem relatively trivial, but the technology behind building successful drones has other, far more serious, applications. Drones are now becoming increasing crucial to warfare, and just last year, superior drone technology had helped Azerbaijan beat Armenia in a border skirmish. This year, drones were again used to great effect in the Russia Ukraine conflict. For an Indian startup to have indigenously built drone technology that's in demand in foreign nations is a feather in the Indian startup ecosystem's cap — India's startups are often criticized for solving problems that don't necessarily need a solution, like delivering groceries in 10 minutes, or building the 20th clone of TikTok, but with a homegrown startup demonstrating drone capabilities that at important international events, Indian startups now seem to be flexing their deep-tech muscle as well.