India's much-hyped e-commerce story is already showing signs of fizzling out.
Growth in online retail in the country has fallen for the second consecutive year — in 2017, growth in online retail fell 26% compared to the previous year. In 2016, it had fallen even more dramatically, falling nearly 70%. This doesn't mean that the industry is contracting — online retail grew 26.4% in 2017 — but is growth has fallen significantly from the heady years of the first half of decade.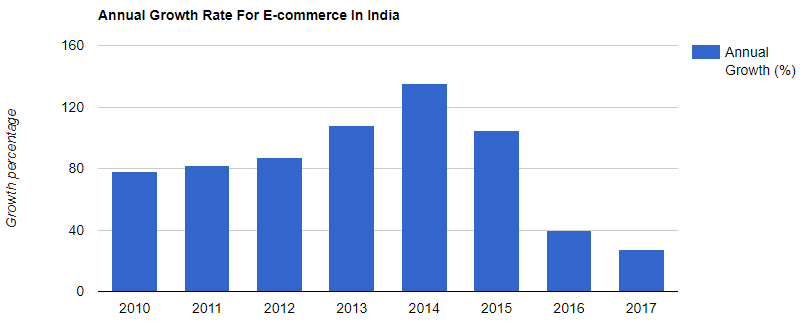 From 2010 to 2015, online retail in India had consistently grown at 60% year on year, peaking in 2014 and 2015 when it grew above 100%, meaning the industry more than doubled in size in those years. But growth has come crashing since — in 2016, online retail grew at 40%, while in 2017, it grew at just 26%.
The impact of this slowdown has been seen across the e-retail industry. Flipkart had a peak valuation of $15 billion in 2015, but that's now been trimmed to nearly $11 billion. The impact was even more pronounced on Snapdeal, which was valued at $6.5 billion in 2015. But last year, it laid off employees, its founders took no salaries, and the company ended up selling its major assets.  The company is now valued less than $1 billion.
The decline in the sector might not only be the result of faulty execution and intense competition, but of misplaced expectations. Online retail companies had hoped that a vast majority of India's growing middle class would abandon traditional retail and move their purchases online, and that has happened to a degree — the near 100% growth the sector witnessed in the first half of the decade was largely thanks to India's middle class taking to e-commerce, drawn in by offers and discounts.
But India's middle class isn't growing fast enough to keep the e-commerce industry growing. A whole 30% of the country earns less than $1.9 (Rs. 100) a day, meaning they can barely afford to make ends meet, much less make any purchases online. Thanks to Jio's entry in 2016, data and smartphone prices are lower than ever before, but that has barely moved the needle on e-commerce's growth. This suggests that e-commerce being a fraction of overall commerce in India was not because Indians didn't have access to phones and the internet, but because most Indians simply didn't have enough money to buy goods from e-commerce stores.
And there are other signs as well that India's masses haven't exactly taken to e-commerce. Even after a decade of running operations, India's top e-commerce portals are available only in English, a language that only 10% of the country speaks. It's not hard to offer websites in a different language, but the fact that no major e-commerce company has tried it means that there simply isn't enough demand for regional languages, which in turn implies that most of India doesn't care about transacting on e-commerce portals.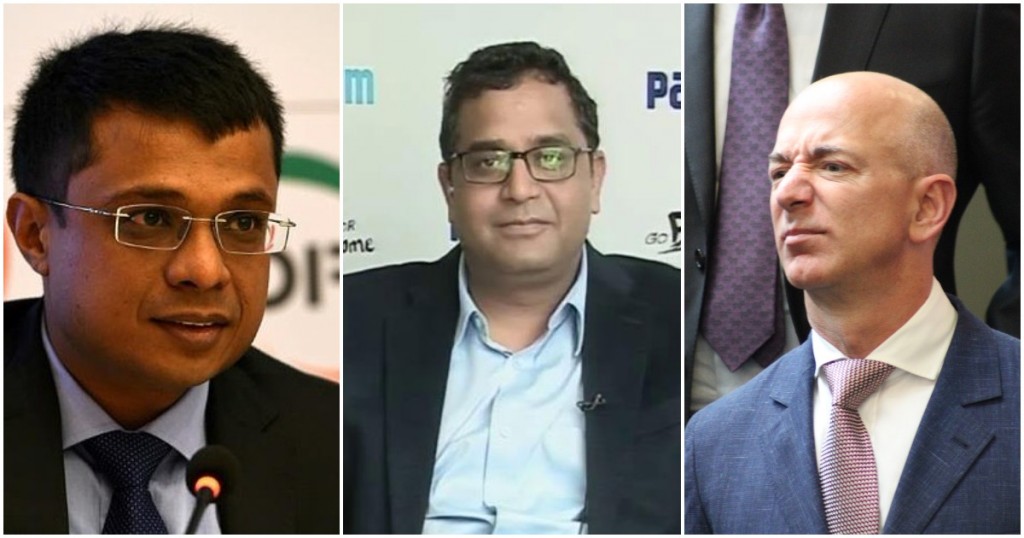 E-commerce companies seem to have realized that they'd be unable to grow their businesses significantly with their current strategy. And now they've emulating the very industry they'd sought to disrupt — offline retail. Flipkart has opened pick-up stores, and acquired an offline phone repair company with stores in 100 Indian cities; its subsidiary, Myntra, has a full-fledged consumer-facing retail store. Amazon has followed suit, acquiring a 5% stake in Shoppers Stop. Lenskart, Pepperfry, and Urban Ladder are all betting on offline retail, and opening stores across the country.
And they're simply following the money. Offline retail had an impressive 2017 — DMart opened to a blockbuster IPO, and Future Retail kept increasing its profits quarter after quarter. E-commerce companies' recent moves show that with growth in their sector stagnating, they not averse to moving offline in order to tap into India's market. If the money is in commerce instead of e-commerce, e-commerce companies won't mind dropping the e from their names to finally be able to justify their sky-high valuations.