Indian startups have been reeling from the effects of the global funding slowdown, and India's IT services players are now also feeling the pinch.
TCS and Infosys have reported weak quarterly numbers amid a global slowdown that has muted demand for IT services. Infosys forecast its slowest revenue growth in six years of just 4-7 percent for FY24, flagging "ramp downs" of client mandates amid an uncertain macro environment. TCS cited an "uncertain environment" and flagged a slowdown in decision making, while saying that its fiscal fourth quarter results were weaker than expected.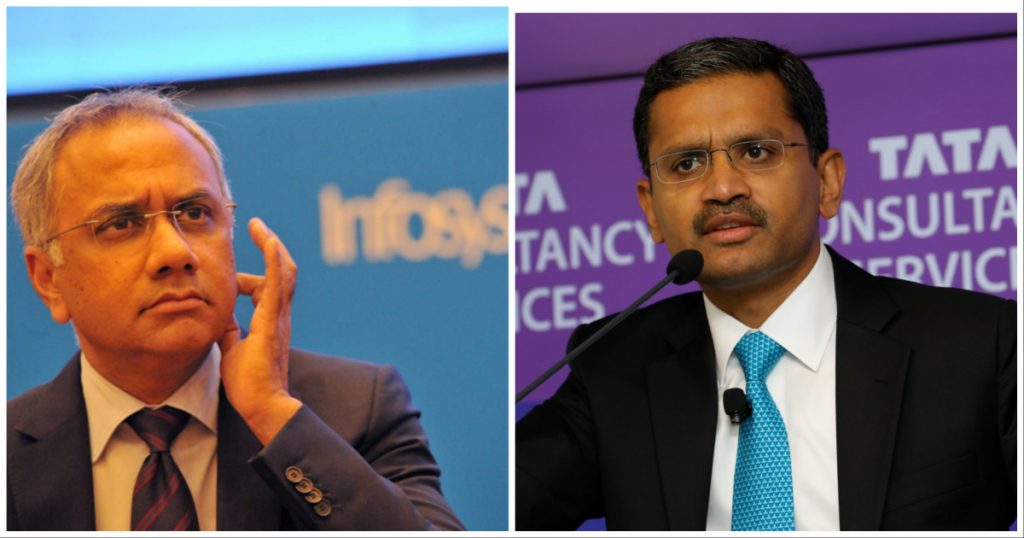 Infosys's revenue grew by 15.4 percent in FY2023, which was below its own average range. The company posted a 7.8% on-year increase in consolidated net profit to Rs 6,128 crore, below street expectations of around Rs 6,596 crore. Sequentially, Infosys's net profit fell 7%.
TCS's net profit for the final quarter of fiscal 2023 rose 15% on-year, but revenue on a constant currency basis grew just 0.6%. Outgoing CEO & MD Rajesh Gopinathan told reporters on Wednesday that the fourth quarter numbers were "definitely weaker-than anticipated."
Infosys MD Salil Parekh called the business environment "uncertain," while saying that Infosys does not have a "clear view" of FY24. "In Q4, we saw changes in the market environment due to unplanned project ramp downs in some clients and delays in decision making which resulted in lower volumes, in addition to leading to revenue impact," he told reporters. He pointed to challenges in the banking sector in both US and Europe that have hurt decision making leading to a slowing cycle of deal closures.
Most of Infosys's revenue decline in the January-March quarter was due to a fall in deal volumes and "one-timers" like project cancellations and client specific issues, said chief financial officer Nilanjan Roy. The sectors most affected included hitech, retail, financial services (mortgages, asset management and investment banking) and telecom.
TCS noted a slowing sentiment too. "(North America) recovery has turned out to be more negative or slower than originally expected," TCS CEO Rajesh Gopinathan said, adding that it has led to clients delaying technology spends. TCS's largest vertical – banking, financial services and insurance (BFSI), which constitutes close to a third of its revenue – was also witnessing slower growth due to "uncertain" sentiment. "Most clients are looking to defer (deal making) by a few quarters, so that they can conserve cash and be ready for any eventuality," Gopinathan said.
The slowdown affected the companies' hiring as well. Infosys hired 29,219 employees on a net basis, down 46% from the 54,396 employees hired in FY22. TCS hired close to 22,600 employees on a net basis in FY 23, down from 1 lakh in the previous fiscal.
All this will put further pressure on India's already-beleaguered tech space. As many as a dozen startup unicorns have fired employees this year, and large numbers of tech employees working in the startup space have been impacted. IT services firms too now seem to not be hiring as aggressively as before, thanks to a slowdown in the economies where they do most of their business. Both these factors would've been pretty significant by themselves, but together they can combine to cause a choppy few quarters for tech employees in India.