Large brands are scrambling to fill in the void created by the ban of Chinese short video application TikTok.
Just today, both Facebook and India's Gaana.com are launching their TikTok alternatives for the India market. Gaana has launched something called Gaana Hotshots, which will allow users to create and share short videos and stories. Facebook, for its part, is launching something called Instagram Reels, which "offers a new way to create and share short videos on Instagram." Both these apps have signed on major influencers to get the initial buzz around their products.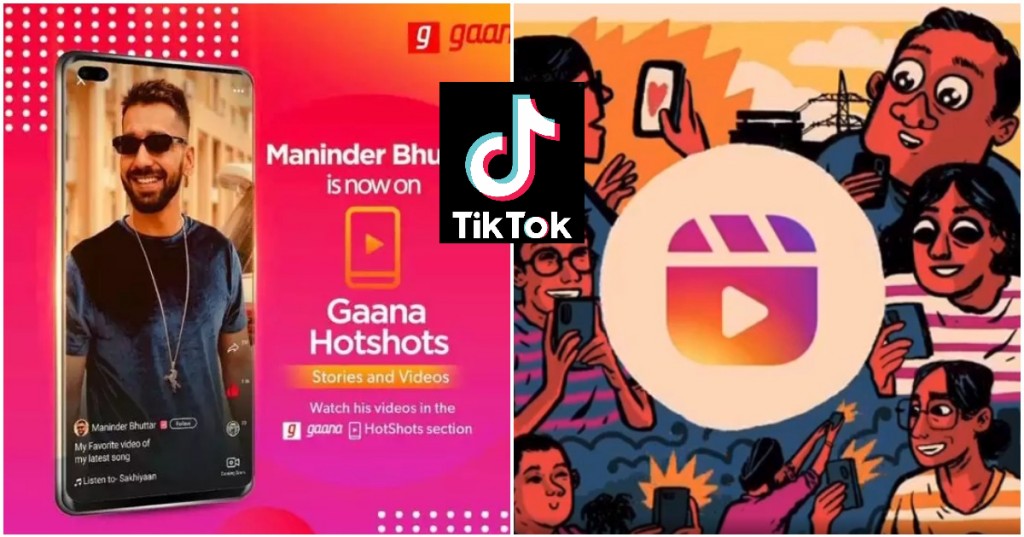 Gaana's Hotshots will use Gaana's 150 million user-base to build its platform. "Our home-grown entertainment super app is ready to serve as the country's go-to destination for entertainment across music, podcasts, short viral videos and buzz, offering aspiring Indians the power to become influencers in their own right with Gaana's world-class live streaming & short video capabilities," said Gaana chief executive Prashant Agarwal.  He added that the platform was built upon the expertise of its vertical video platform launched last year, that allowed singers and celebrities to connect with their audience through short videos. At launch, Gaana HotShots will offer videos from prominent influencers like Riyaz Aly, Jannat Zubair, Avneet Kaur, and singers like Neha Kakkar and Darshan Raval among others.
Facebook, meanwhile, has come out with a similar product of its own. "We just extended the testing of Reels, a new video format, to India," said Facebook India CEO Ajit Mohan. "This offers a new way to create and share short videos on Instagram. Am excited that this will help the creation and discovery of a new generation of creators in India and redefine the future of entertainment," he wrote on LinkedIn. The feature is expected to be available to users in India from 7:30pm on Wednesday with content populated from a diverse set of public figures and creators, such as Ammy Virk, Gippy Grewal, Kusha Kapila and others.
Reels was first launched in Brazil last year, and is a feature within Instagram's app that allows users to create and edit short video clips up to 15 seconds to which they can lip-sync with music or other audio. Users can also create a remix using audio of existing clips from other accounts. Similar to TikTok, it also provides editing tools like a countdown timer and the ability to adjust the video speed among others. India is the fourth market where Instagram is testing the feature.
Companies have been looking to quickly capitalize on the Indian government's ban on 59 Chinese apps which came into force last week. Apps like Roposo, Chingari and Mitron have seen a surge in users after the ban came into effect. Sharechat even went ahead and created an app in 30 hours called Mor, which offers the functionality as TikTok. And with big brands like Gaana and Instagram also joining the bandwagon, there are now more than a dozen claimants to the TikTok throne. How these apps battle amongst themselves over the next few months could well determine the shape of India's social media space in the years to come.