Startups are often at odds with their competitors, their customers, and even their investors, but India's most valuable startup appears to have a unique adversary — an activist MP.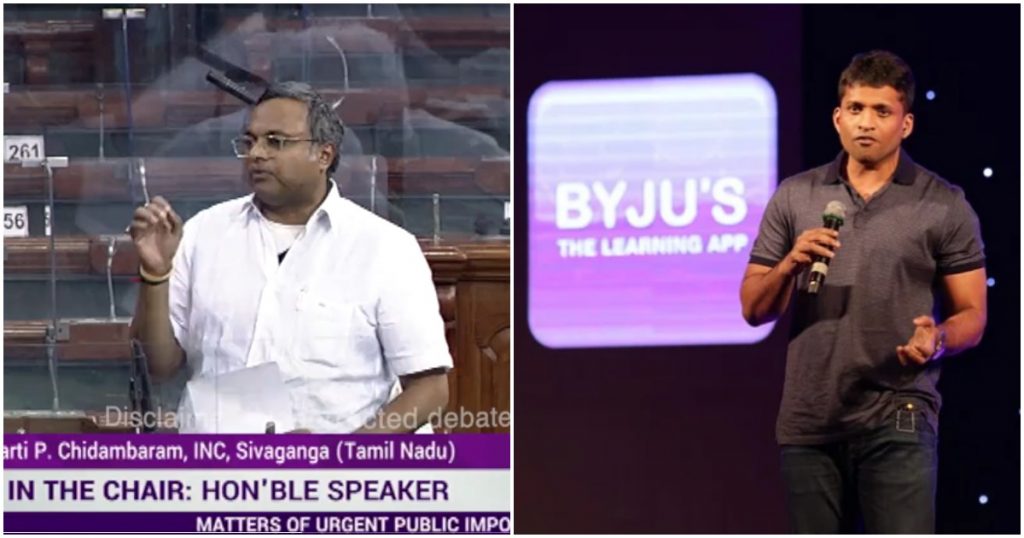 Shivaganga MP Karti Chidambaram, the son of former finance Minister P Chidambaram, has written to the Institute of Indian Chartered Accountants urging them to look into the "red flags" in Byju's financial statements. "BYJU's, an Indian educational technology company, has released its FY21 results after an I8-month delay, nearly missing four deadlines. I would like to bring to your attention a number of red flags in BYJU's financials" he wrote.
Chidambaram said that 81% of Byju's operating revenue was under the head of 'sale of ed-tech products', but said this number included the sales of tablets, SD cards and laptops. "For an EdTech company, is it not blatant misrepresentation of facts to classify hardware as edutech?" he asked.
More seriously, Chidambaram alleged that 60% of Byju's costs related to employees had been recognised as capital expenses rather than operational costs. "If these costs were counted as a direct expense. instead of a capital expense, BYJU's total loss for FY 2021 would have gone over Rs. 5,000 crore. Such irregular accounting practices fail to give a clear picture of BYJU's income, expenses, and losses," Chidambaram's letter said.
Chidambaram also raised a point that had been raised several times prior on social media, about how Byju's immediately recognizes revenue for subscriptions for which services are provided over several years. This can artificially inflate Byju's revenue for the current year. "Previously, BYJU's was recognising revenues from 'streaming services' upfront and in full, on the commencement of a contract. It is a standard accounting practice that subscription revenue can't be recognised upfront, and has to be recognised over the period of delivery of the service," he wrote.
"(These issues) warrant opening up of BYJU's previous financial statements as well. BYJU's has laid off nearly 2,500 or its employees, according to media reports. In light of the aforementioned issues, it is clear that this company is not in a sound state of financial health. In the interest of the consumers and the company's employees, I urge ICAI to review BYJU's financial statements," he concluded.
This isn't the first time that Karti Chidambaram has highlighted issues with Byju's. In December last year, he'd spoken about Byjus' alleged predatory pricing from the floor of the Parliament. "(Companies like Byju's) are now engaging in predatory marketing practices in which they prey upon the aspirational poorer people who want to give their children a better education, who want to supplement the education which they're not getting in government schools. They force them to buy these courses, and they auto debit their bank accounts. Even if the parents want to stop these courses, they can't stop these auto debits. (These companies) are becoming like loan sharks, and they're force selling these courses," he had alleged.
Chidambaram had then all but said that the company he was talking about was Byju's. "This company now sponsors the Indian cricket team. You know exactly who I'm referring to. This company is worth $21 billion. It is very essential that there's some concerted effort to monitor these companies," he had said.
Byjus' financial statement had been under scrutiny in recent times. After the company had delayed filing its audited statements by 18 months, the Ministry of Corporate Affairs had stepped in, and asked the company why it was not filing its statements. There had also been much speculation on social media that Deloitte, its auditor, was unwilling to sign on to its financial reports. And with a Member of Parliament now urging India's Association of Chartered Accountants to probe its statements, the noise around Byju's financials will likely grow louder in the coming months.