There had been murmurs for a while about how Byju's had been misspelling its educational products to vulnerable people who couldn't afford them, but these concerns have now been raised on the largest stage in the land.
Questions on Byju's business model were today raised in the Lok Sabha. "Today if you want to start an education institution, you need to get a plethora of permissions," said Shivaganga MP Karti Chidambaram. "Your curriculum has to be vetted, you have to have a staff of a certain caliber, you need to pay the staff certain salaries," he began.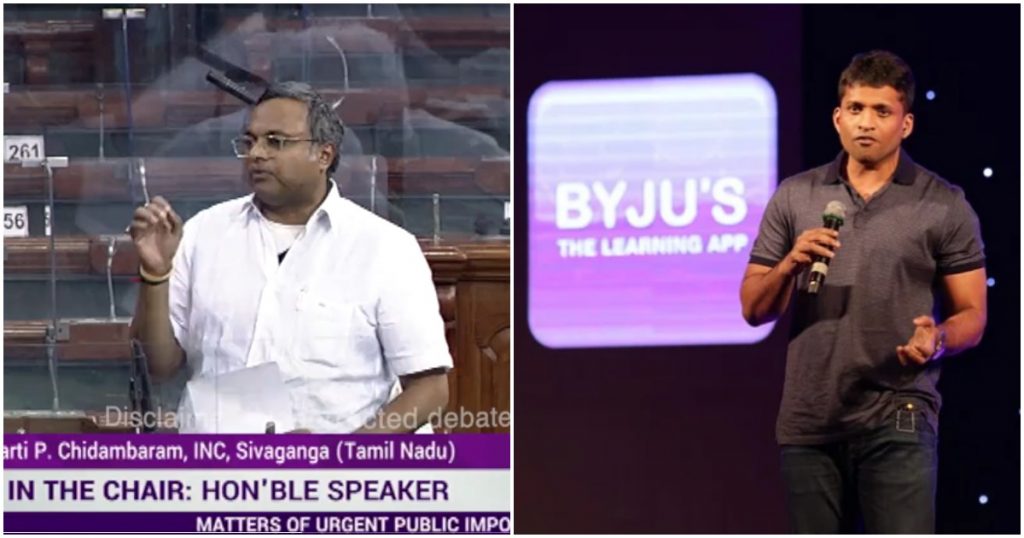 "But today, there are online educational companies which are worth billions of dollars. Some of them are worth more than the education budget of India. These companies offer courses online which are not vetted by anybody. Nobody knows the content of these courses, nobody knows the quality of these courses, nobody knows the caliber of these courses. Nobody knows what's the caliber of the tutors who are on these courses," he continued.
"These companies are now engaging in predatory marketing practices in which they prey upon the aspirational poorer people who want to give their children a better education, who want to supplement the education which they're not getting in government schools. They force them to buy these courses, and they auto debit their bank accounts. Even if the parents want to stop these courses, they can't stop these auto debits. (These companies) are becoming like loan sharks, and they're force selling these courses," he alleged.
Chidambaram then hinted that the company he was talking about was Byju's, which is India's most valuable startup. "This company now sponsors the Indian cricket team. You know exactly who I'm referring to. This company is worth $21 billion. It is very essential that there's some concerted effort to monitor these companies," he added.
"There are many social activists who've spoken about this, like Nidhi Baghuguna, Pradeep Poonia, and Aniruddha Malpani," Chidambaram also said. Poonia and Malpani were sued by Byju's-owned WhiteHat Jr after they'd exposed the company's misleading marketing practices and the quality of its teachers. "But the power of this company is so much that they're able to bring down the complaints on social media," he added.
Recently, a thread by social media user Nidhi Bahuguna had gone viral on Twitter. "Very unethical marketing by @BYJUS . In Mussoorie (they) held a day long camp, targeting poor kids. My house help, who cannot afford a 400 rupee fee at Shishu mandir for her daughter, thought it was a free program. She told me the 'school' will give daughter a 'laptop'. The sales people collected the bank ac details, ID proof of father and made him sign some form," she wrote .
"The maid earns barely 10k, husband is a cook, I pay one child's fees. A loan form was signed on Saturday, on Monday the sales guy tells me that loan has been processed and the family cannot opt out. Only thing possible is apply for refund in the 15 day policy. The crying and haunted face of my poor househelp made me do this. How unethical is this sales guy, who sits in their tiny hutment, is aware of their financial state, yet forces them into buying a product they neither need nor can afford. Tuition for a child in 8th whose 400 rupee fees cannot be paid by parents, the eldest of 3 kids," she added.
The BBC had also carried a report on Byju's alleged unethical practices last week. "Mr Singh, an accountant, says he paid 5,000 rupees (£48; $66) up front and borrowed an additional 35,000 rupees – a loan he claims was facilitated by Byju's – to buy a two-year math and science programme for his son. "A sales representative came to my home and asked my son all kinds of difficult questions which he couldn't answer," Mr Singh said. "We were completely demotivated after their visit." He told the BBC he felt shamed into buying the course. But he claims he didn't get the services he was promised – including face-to-face coaching, and a counsellor who would call and update him on his son's progress – and that after the initial months Byju's stopped answering his calls," the report said.
"It does not matter if he is a farmer, a rickshaw puller. The same product is sold for a range [of prices]. If we see that a parent cannot afford it, we charge them the lowest price in that range," Nitish Roy, a former business development associate at Byju's, told the BBC.
Byju's, for its part, has denied the charges, saying that it offers 15-day no questions asked refund policy. But these concerns have been raised online for a while now, and have now ultimately been raised in the Indian Parliament. This was probably coming — the Indian ed-tech sector has grown manifold over the last few years, and received a massive boost during the coronavirus lockdowns, but its growing size also appears to have also brought with it a higher level of public scrutiny.