2021 is truly the year when India's startup ecosystem has come of age — India has created a record number of unicorns, it's seen its first startup unicorn be listed on the stock markets, and now one of the doyens of the ecosystem has been awarded with the country's civilian award.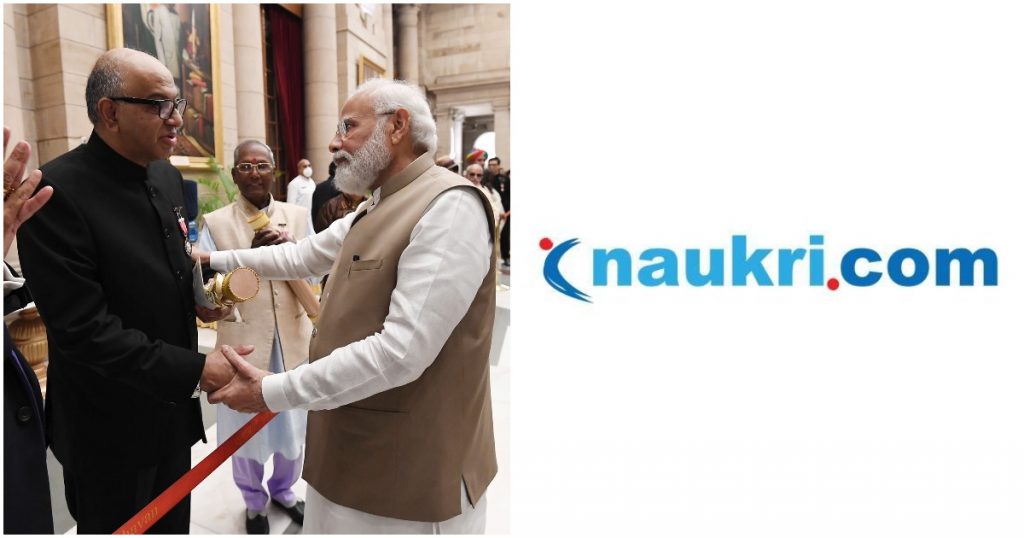 Sanjeev Bikhchandani, who'd founded Naukri.com in 1997 when India's technology and startup space barely existed, has been awarded the Padma Shri. Bikhchandani today recounted the experience of receiving the award yesterday in a glittering ceremony. "After the ceremony, PM Narendra Modi met the awardees and had a nuanced conversation with each – no aides or papers. He knew each person. He told me he was bullish on start-ups. And was happy at the bounce back in employment and hiring as reflected in the Naukri Jobspeak Index," he tweeted.
"Honoured and privileged to find my name in the Padma Shri list," he'd said after his name was announced. "While I have been given this award the truth is I owe it to the joint efforts and support of so many other people – colleagues, friends and family. Proud to represent the start up entrepreneur community in this list," he'd added.
Sanjeev Bikhchandani's story is what entrepreneurial dreams are made of. He'd graduated with an MBA from IIM Ahmedabad in 1989, but quit his job eighteen months later to be an entrepreneur. However, it wasn't smooth sailing — for seven years, Bikhchandani worked on a number of small businesses including conducting salary surveys to databases, and to feasibility studies to training. But as the internet was just about making its mark on the global scene, he founded Naukri.com from a servant quarters in 1997 with a seed capital of Rs. 2,000. Naukri.com was one of the first internet companies to be created out of India.
Twenty four years later, Naukri.com is one of India's most prominent job portals, and employs over 4,000 people. But Bikhchandani didn't stop at Naukri.com — he then founded matrimonial portal Jeevansaathi.com, real estate portal 99acres.com and education portal Shiksha.com, which are major players in their own verticals.
And while Bikhchandani has set up a mini internet empire of his own, he's also helped other startups flourish — he's invested in companies including Policybazaar, Shopkirana and Ustraa. Most famously, he was the first investor in Zomato, investing in the company all the way back in 2011 after using the service and sending a cold email to founder Deepinder Goyal. Just this year, Zomato became the first Indian unicorn startup to list on the stock markets, and Bikhchandani and his company made a killing on their initial investment.
It's perhaps fitting that Bikhchandani — who's been building the Indian startup ecosystem before it was even called a startup ecosystem — has been honoured with India's fourth highest civilian award. To boot, the Prime Minister himself has told him that he's bullish on Indian startups. And while India's startups have been impacting the economy and the lives of its citizens for a while now, it increasingly feels that their time in the mainstream sun is finally here.