India's startups have produced many millionaires and billionaires, but there's a reason why startups still covet listing on the stock markets — a listing can help generate truly astonishing levels of wealth.
Nykaa founder Falguni Nayar has become India's richest self-made woman after the company debuted on the stock markets today. Nykaa's stock rose a stunning 96% above its IPO price, ending the day trading at a price of Rs. 2205 per share. This gave Falguni Nayar, who owns a near-50 percent stake in the company, a net worth of nearly $6.5 billion (Rs. 50,000 crore), making her the richest self-made woman in India. Thus far, Biocon founder Kiran Mazumdar Shaw had been India's richest self-made woman with a net worth of $3.6 billion (Rs. 26,000 crore).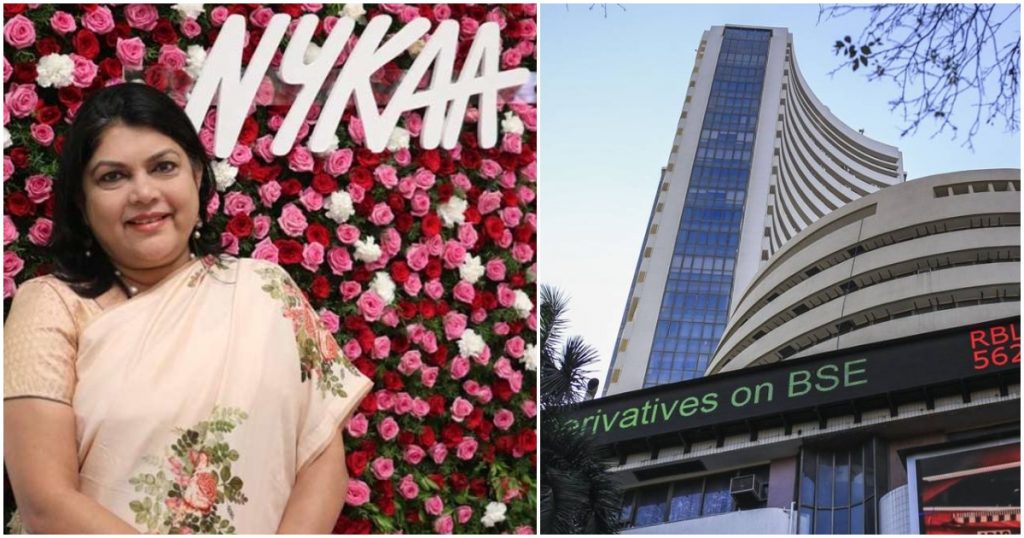 While Nykaa is technically no longer a startup, Falguni Nayar is now also richer than all Indian startup founders. Her net worth of Rs. 50,00 crore is more than that of Info Edge's Sanjeev Bikhchandani (Rs. 29,000 crore), Zerodha's Nikhil Kamath and family (Rs. 25,600 crore), Byju's Byju Raveendran and family (Rs. 24,300 crore), Zoho's Sridhar Vembu (Rs. 16,900 crore) and Paytm's Vijay Shekhar Sharma (Rs. 18,900 crore).
Falguni Nayar has managed an exceptional result with Nykaa because Nykaa was no ordinary startup. For starters, the company had a woman founder, which is a rarity in India's startup ecosystem. Also, while most internet startups were being founded by precocious young men in their twenties, Falguni Nayar had founded the company at the ripe old age of 49. Also, while most startup founders see their personal stakes in their companies diluted to single digits after a few years, Nayar and her family still control a majority stake in Nykaa. And unlike most other startups, Nykaa is profitable, having registered a profit of Rs. 62 crore last year.
Nykaa had been founded all the way back in 2012 by Nayar, who had spent 19 years handling mergers and acquisitions for Kotak Mahindra Bank. She was a well-known figure even before founding Nykaa, having been named among the Most Powerful Women in Business by Business Today in 2011.
In 2012, she quit as the MD of Kotak Bank, and decided to start a cosmetics company. Faguni Nayar says she had seen the online beauty markets in countries like Japan, and felt that the time for ripe for a similar business in India. Also, while Jabong and Myntra were looking to enter the space at the time, Nayar said that the sector wasn't big enough to attract the attention of the big guns like the Tatas and the Ambanis, and felt that Nykaa would be able to carve out a niche.
Nykaa quickly grew, and created a brand for itself among women who wanted to buy beauty products from the comfort of their homes. The company now boasts of over 1,500 brands in its portfolio, including leading luxury labels like Bobbi Brown, L'Occitane and Estee Lauder. Originally started as a online-only brand, Nykaa now also has more than 70 stores across India. Nykaa claims to fulfil nearly 15 lakh orders a month, and offers over 1.3 lakh products on its platform.
And the company has now made a sensational debut at the stock markets, commanding a public valuation of $14 billion. It's an exceptional story of entrepreneurship, and it has catapulted Falguni Nayar to amongst the crème de la crème of India's rich lists. And Nykaa's story goes on to show that to succeed, all it takes is a profitable company with tons of happy customers — age, gender and prior experience are no bar.