Ola isn't only setting up what it says will be the largest two-wheeler factory in India — it's also planning to build a massive charging network to support these vehicles.
Ola Electric, the electric arm of Ola, has said it'll set up a Hypercharger Network, which will consist of more than 1 lakh electric vehicle charging points. These charging points will be spread across over 400 Indian cities, and will be built over the next five years.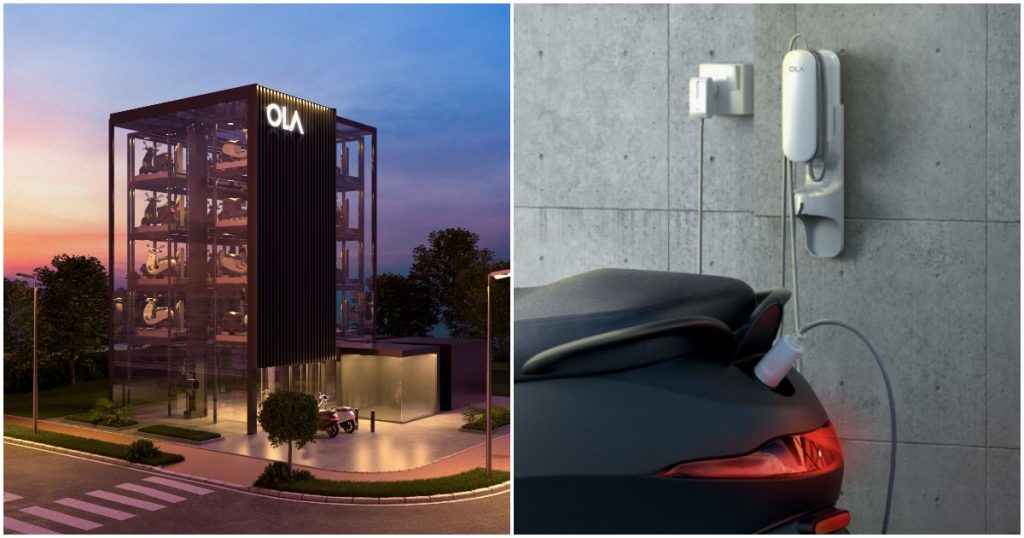 The Hypercharger Network will consist of vertical tower-based chargers, as well as standalone chargers installed at public spaces such as malls, IT parks and cafes. Ola said that its Hypercharger will be able to charge the batteries of its upcoming electric scooter from 0-50% in just 18 minutes, which will be enough for users to get an additional 75 km of range from the vehicle. To charge the vehicle's battery to its full capacity will still take less than an hour, the company said.
Ola's Hypercharger will have a capacity of 12 kilowatts, and will be dedicated for its electric two-wheelers. Its standalone chargers installed at malls and other places will have a slower rate of charge, but the company said that a vast majority of the chargers it will install will be Hyperchargers.
"We believe that this kind of speed of charging and the access that we will build by having so many points will take away the anxiety of owning an electric vehicle," said Bhavish Aggarwal, Chairman and Group CEO at Ola. "It will launch in sync with our scooters, so whichever cities we launch our scooters in, our charging network will be present there before that."
Ola says it'll set up 5,000 chargers in the current financial year, with some of its chargers coming up before its two-wheeler is launched. Ola will spend nearly $2 billion (Rs. 15,000 crore) to set up these chargers. When completed, Ola says it'll be the largest two-wheeler charging network in the world.
This isn't the first time that Ola has set up chargers — in 2017, Ola had opened up a charging station in Nagpur which was meant to be used by 200 of Ola's electric cars, rickshaws and buses. It's unclear how successful the project was — Ola doesn't seem to have extended it to any other cities — but will likely use the learnings from its experiment when building its new vast network.
Interestingly, Ola's new charger network won't be interoperable with charging networks of other companies — only Ola's scooters will be able to charge on its network, and Ola's scooters will be also be unable to charge on other companies' networks. This presents a strange situation — cars, of course, can fill up petrol from any petrol pump, which allows for a greater density of filling up points for customers, and greater footfall for individual petrol pump owners. Ola however says it's open to reconsidering its stance when the industry matures. "No charging ecosystem exists today, the only network that will be available is our network. In the future, if there's another network that wants to allow Ola vehicles to charge on their network, we will take it as it comes. We will reassess our model as the industry matures," Aggarwal said.
No one can fault Ola for not being ambitious — a few months ago, it had announced the world's largest two-wheeler factory, and has now gone ahead and announced the world's largest two-wheeler electric charging network. A lot of things will have to fall in place for Ola's plan to succeed — its electric scooter, which is to be unveiled in July, needs to be priced at a level where it can get ordinary scooter owners to switch to electric; it needs to perform at a level comparable to conventional scooters with charging times that don't put people off, and will need a sufficiently dense electric charging network to allow users to easily charge their vehicles. Ola's grand plan has several moving parts, but if it can pull it off, it has the potential to disrupt mobility in urban India.