The OpenAI drama has had more twists and turns than a Bollywood potboiler.
OpenAI employees are posting "OpenAI Is Nothing Without Its People" after CEO Sam Altman and President Greg Brockman joined Microsoft. The posts appear coordinated, with more than a dozen employees posting the message nearly all at once. Among the first people to post the message was Mira Murati, the former CTO who was named interim CEO after Sam Altman's ouster by the board.

Murati's post was shared with a heart emoji by Sam Altman.

Altman has shared several other employees' posts with a similar heart emoji. At least a dozen OpenAI employees have posted the same message on X.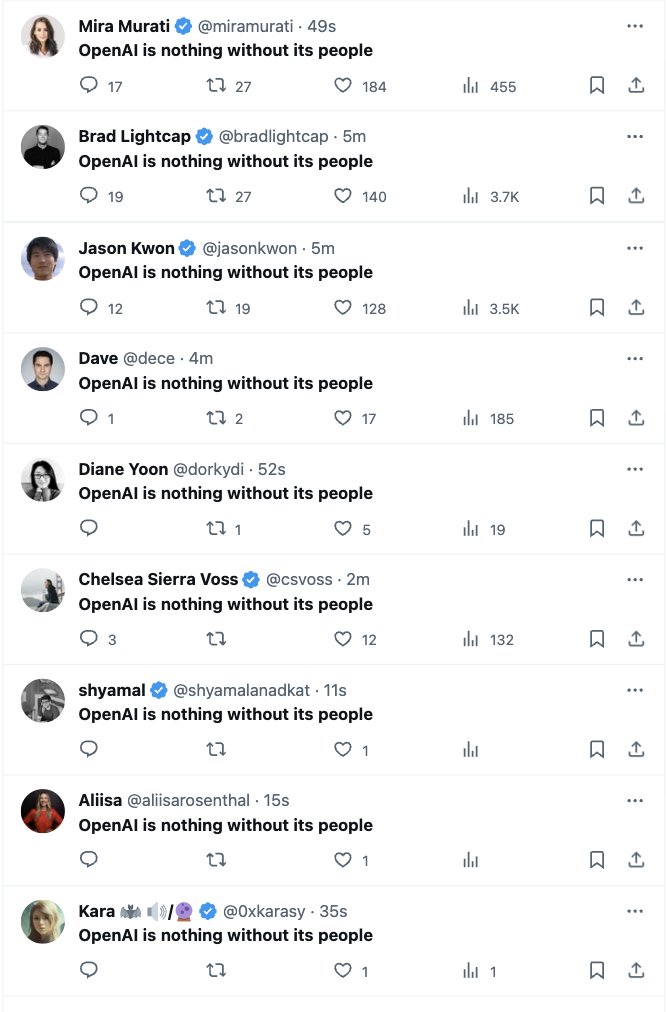 The coordinated campaign seems to be a show of support for Altman and Brockman, who announced hours ago that they'd be joining Microsoft. Microsoft CEO Satya Nadella had hinted that they'd be joined by other OpenAI employees. The employees posting the "OpenAI is nothing without its people" appear to be throwing their weight behind Altman and Brockman, and hinting that they'll join the duo in moving to Microsoft.
The online campaign will also serve to pressure OpenAI's board, which risks losing a large chunk of its talent to Microsoft. With many employees publicly backing Altman, it would appear that employees on the fence could be motivated to also jump ship. And in a boardroom battle that's been as public as any in corporate history — virtually all aspects of the developments have broken on X — a pressure campaign on a social media platform seems par for the course for how things have gone so far.