India's telecom sector might just be about to get a whole lot more interesting.
Days after it was reported that Google was eyeing a stake in Vodafone-Idea, Amazon is now reportedly looking to buy a stake in Airtel. Amazon could buy a $2 billion stake in Bharti, which would represent 5% of the company. Both Amazon and Bharti have not confirmed the development, which was reported by Reuters.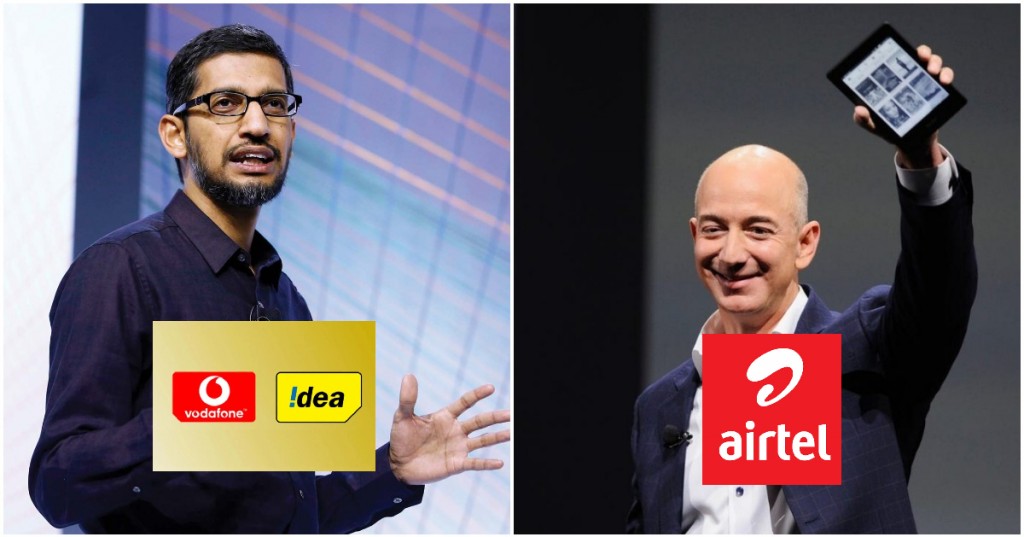 Last week, Financial Times had reported that Google was looking to buy a 5% stake in Vodafone Idea. Vodafone Idea had categorically rejected the report, saying that "currently there is no proposal as reported by the media that is being considered at the board." But the news had had real-world implications — Vodafone Idea's stock jumped 35% at the news.
As such, it's unclear if these stake sales would actually take place, but they do have precedent. Last month, Facebook had acquired a 10% stake in Jio for Rs. 43,000 crore, signalling a massive change in India's telecom sector. With Facebook in its corner, Reliance would not only have access to world-class technology, but could also possibly be able to use Facebook's other services, such as WhatsApp, for its own products like JioMart. JioMart has already begun accepting orders through WhatsApp, and while there appears to be no special features made available to it yet thanks to the Facebook partnership, there's no telling what contours this relationship ends up taking.
There could certainly be synergies to be gained if tech companies tie up with telecom providers — companies like Amazon, Facebook and Google run over the internet, which is brought to consumers through telecom companies. By having a stake in the companies that control the internet pipes, tech companies can wrangle a more advantageous positions for themselves, either through tie-ups or getting preferential treatment in their partners's apps. Telecom companies have massive distribution networks — Bharti is only India's third largest telecom company, but has 300 million subscribers, and companies like Amazon can use this user-base to grow their own services.
And India has emerged as a cheap proxy battle ground for American internet giants. In e-commerce, after Amazon had entered India in a big way, it US rival Walmart swooped in and purchased Flipkart, extending their rivalry to India. Now that Facebook has taken the first step by acquiring a stake in Jio — it is not unfathomable that its American tech rivals try to snag stakes in other telecom players for themselves.