India's startup ecosystem is diverse — it is home to thousands of companies, employs millions of people, and services India's billion-plus population. But in spite of its diversity and size, the power behind the scenes is being concentrated into the hands of two closely-linked companies which, until recently, had no presence in India at all — Softbank and Alibaba.
Softbank and Alibaba go back a long way. Softbank was one of the first investors in Alibaba, having put money into the company all the way back in 2000. Alibaba made Softbank fabulously rich — Softbank had invested $30 million in Alibaba, but the stake ended up being worth an astonishing $130 billion, a 4000x return on its original investment. Even today, Softbank owns a 30% stake in Alibaba. And together, through a series of investments over the last few years, these two companies now own a disproportionate stake in India's startup ecosystem.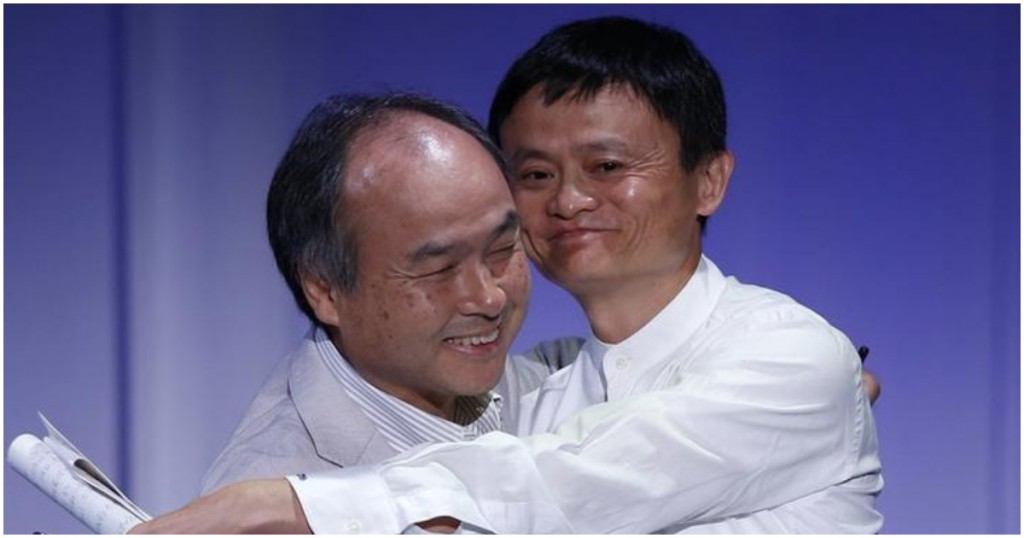 The Unicorns
Softbank and Alibaba are late-stage investors that invest in mature companies, but they've together scooped up large stakes in some of India's most successful startups. Softbank now is the largest or second largest investor in Ola, Paytm, Flipkart, Snapdeal, InMobi and Hike; Alibaba is the largest investor in Paytm, and thanks to its $200 million deal yesterday, one of the largest investors in Zomato. The only unicorns which don't have investment from Softbank-Alibaba are ShopClues and Quikr.
Unicorns controlled by Softbank-Alibaba: Ola Cabs, Paytm, Flipkart, Snapdeal, InMobi, Hike, Zomato
Unicorns not controlled by Softbank-Alibaba: ShopClues, Quikr
The To-Be Unicorns
Softbank-Alibaba have also invested heavily in companies that are almost-corns — startups whose valuations are nudging $1 billion, and are expected to cross the mark soon. Softbank is one of the earliest investors in Oyo Rooms, and has also one of the early investors in Grofers. Yesterday Alibaba invested $200 million in BigBasket, valuing it at $800 million.
T0-be unicorns controlled by Softbank-Alibaba: Oyo Rooms, Grofers, Big Basket
Major to-be unicorns not controlled by Softbank-Alibaba: Byju's, Delhivery, Swiggy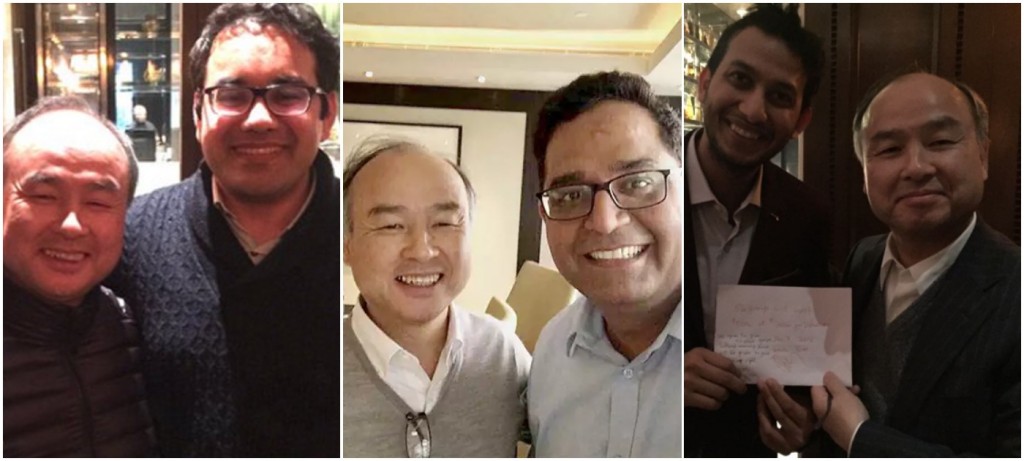 The Alibaba-Softbank combine now controls entire sectors
Venture Capital firms usually pick one firm in a sector, and back it to the end — internet businesses are usually winner-take-all markets, and backing two firms in the same space is thought to be an unnecessary and wasteful hedge. But Softbank-Alibaba aren't averse to investing in multiple competing firms in the same space. This has meant that Softbank and Alibaba now have the potential to control entire markets in India.
Cab hailing: Cab hailing in India is very much a two-horse race — Uber and Ola compete for market dominance in what is effectively a duopoly. And Softbank now controls both companies. Softbank recently closed a round in which it bought nearly 15% of Uber's global business, and Softbank was already the single biggest investor in Ola. This means that no matter whether you choose to ride with Uber or Ola, Softbank ends up winning.
Grocery Delivery: Lots of firms have jumped into the grocery delivery space in the last few years, but only three major players remain — BigBasket, Grofers, and Amazon Now. Softbank was already the biggest investor in Grofers, and yesterday, Alibaba became the biggest investor in BigBasket following a $200 million cash infusion. The Softbank-Alibaba combine, thus, controls two of the biggest firms in the space, and thanks to their close linkages, will very likely look to together take on Amazon. 
E-commerce: There's no industry in which the Softbank-Alibaba dominance is more visible than e-commerce. E-commerce is thought to be the most valuable of all startup sectors in India, and Softbank-Alibaba now control nearly every significant firm in the space, barring Amazon. Alibaba owns nearly 30% of Paytm, and Softbank had last year invested an additional $1.4 billion, meaning that Paytm is very much a Softbank-Alibaba company. Flipkart raised a mega Rs. 9000 crore round last year that was led by Softbank. And Softbank is also the biggest shareholder in struggling Snapdeal. Having taken up controlling positions in all three of India's most successful e-commerce ventures, Softbank-Alibaba will look to take the battle to Amazon, the only significant non-Softbank-Alibaba firm in the space.
There are obvious benefits to Softbank-Alibaba investing in a young startup — startups get access to a reliable source of capital, and also get to learn from companies who've made their mark in other markets. But for two companies to hold such sway over an entire ecosystem isn't quite as great. For one, it's a concentration of power — Softbank and Alibaba are currently bullish on India, and betting large sums of money in order to win the market. But if they end up changing their minds, either due to external geopolitical factors, or because of a change in their own business operations, they could quickly pull their money out of India. That could mean a sudden scarcity of capital for almost all big players in the ecosystem, and as we saw with Snapdeal's founders and employees, that doesn't usually end well.
Such concentration of power isn't great for end consumers either. Ola and Uber had been undercutting each other on fares to garner market share in India, but with both companies now being controlled by Softbank, it's likely they will cease their hostilities and finally look to make profits. This could mean an end to the price wars, and higher fares — there's no third alternative for consumers to turn to. A similar scenario can play out in both e-commerce and grocery delivery had it not been for Amazon — Softbank-Alibaba control Paytm, Flipkart and Snapdeal in e-commerce, and Grofers and BigBasket in groceries. 
And Softbank and Alibaba might be well-meaning, but they're business concerns at the end of the day. Snapdeal's dramatic fall shows that Softbank isn't shy of letting go of its existing investments when a better opportunity presents itself. Until 2017, Snapdeal had been the prized jewel in Softbank's India portfolio, with both Snapdeal founders and Softbank's Masayoshi Son gushing over how much they valued their partnership. But once Snapdeal was outcompeted by Flipkart and Amazon, Softbank quickly turned its back on Snapdeal, and invested in both Paytm and Flipkart. Snapdeal was forced to lay off most of its employees, its founders were forced to take no salaries, and the company is now in the process of selling off most of its assets.
Softbank and Alibaba are bullish on India at the moment, but the Indian startup ecosystem would be wise not to put all its eggs in their rapidly-expanding basket.