Users who've been ordering regularly on food delivery platforms have been complaining about how delivery fees have increased substantially with time, but Swiggy might have a solution.
Swiggy is offering a cheaper delivery fee for users who're willing to group their orders with other users. A screenshot shared by Twitter user Shrinivas SG shows Swiggy offering two options while checking out. One is Standard, which will deliver the order in 22 minutes. Swiggy however also offers a Smart Saver option, which will be Rs. 10 cheaper, but will bring the order to the user in 37 minutes.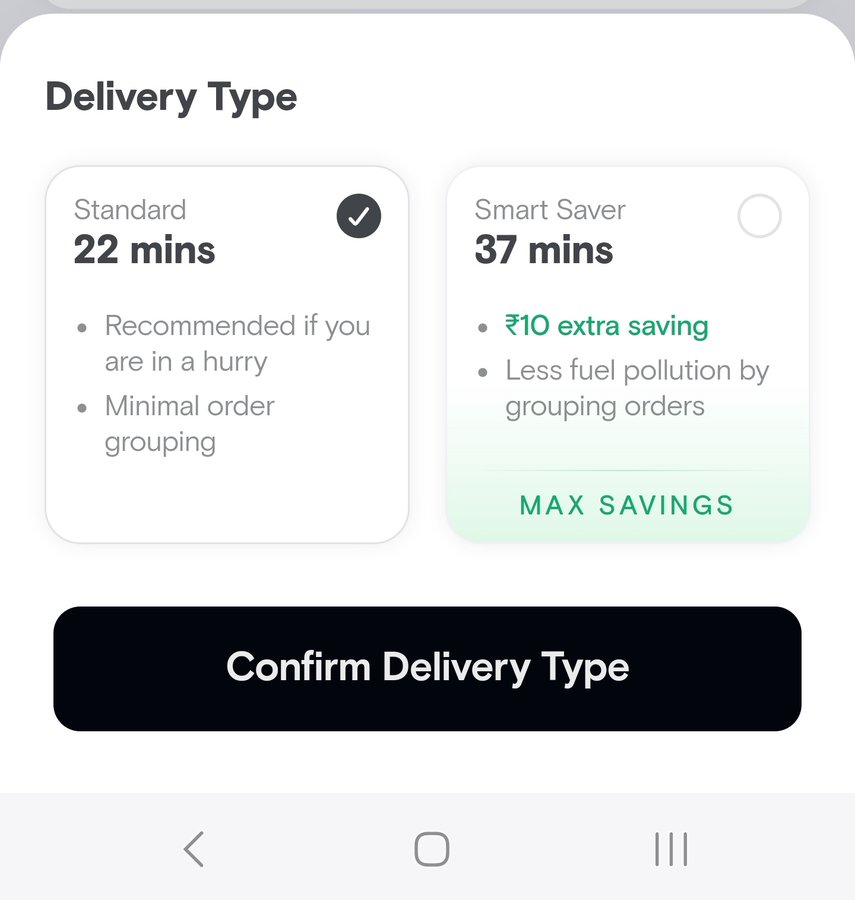 Swiggy says that the Standard delivery is recommended if the customer is in a hurry. Swiggy will do "minimal" order grouping on such orders. The Smart Saver, on the other hand, will offer "max savings", and save fuel by grouping several orders together. This also means that the order will reach the customer more slowly.
It's a pretty nifty feature. Users who want their food urgently can still choose the Standard delivery, but those who'd rather save some cash can opt for the Smart Saver option. The additional information on who wants their food quickly — and who doesn't — will give Swiggy the opportunity to put several orders in the same locality together, save some money, and pass some of those savings on to the customer in the process.
And it's innovation like this that newer challengers like ONDC will find hard to replicate. Swiggy and Zomato have massive scale, and have enough volumes to be able to group orders together and pass the savings on to customers. A new food delivery company, or even the government's ONDC, will likely not have enough order numbers to be able to offer such features, giving Swiggy a moat which utilizes the scale it's assiduously built up over the years. Swiggy and Zomato already have few challengers in the food delivery space — companies as varied as Amazon, Uber and Ola have tried their own food delivery operations, but eventually bowed out — but features like these are not only good for customers, but also cement the two incumbents' place in the food delivery space in India.