Scroll through Musical.ly, the hot new app that lets users upload short videos of themselves as they lip-sync to songs, and you're exposed to a tiny microcosm of India. There are people from the north and the south, people who're from big cities and small towns, people who're rich and people who aren't quite as rich, all collectively happily singing and dancing as they face the camera. Given how many Indians are on Musical.ly — it's currently number two on Google Play's top free apps in India — it's easy to assume that the company is a homegrown product, cleverly capitalizing on India's recent telecom revolution and playing into the common Indian's need to express themselves. But Musical.ly isn't Indian at all. It is operated by Chinese internet giant Bytedance.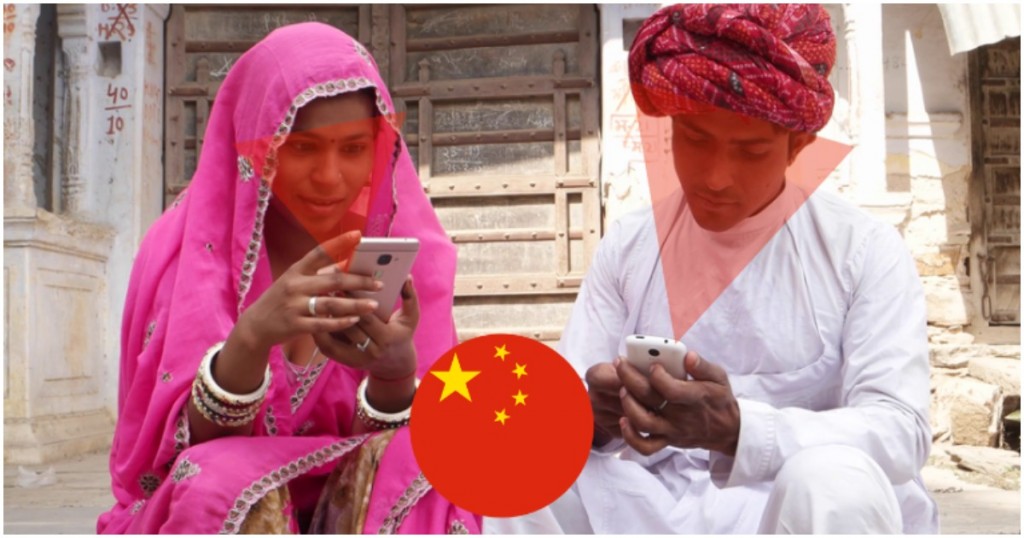 Musical.ly isn't the only Chinese app that's wormed its way into the daily life of the ordinary Indian. China now has a startlingly large influence on India's online world. It starts with the phones that Indians use — 4 of the top 5 smartphone sellers in India are Chinese — Xiaomi, Oppo, Vivo and Huawei — who corner over 60% of the market. These phones often come bundled with their own apps, which automatically garner millions of users. The next touchpoint is the mobile browser, and India's most popular internet browser is UC Browser, which has a near 40% market share. UC Browser is Chinese too, being owned by Chinese giant Alibaba.
And UC Browser runs UC News, which has news in Hindi and several other Indian languages. It has an astonishing 100 million downloads in India, and serves as the primary source of news for a whole generation of Indians who've logged on the internet for the first time. Then there's NewsDog, which has over 10 million downloads in India, and also has news and updates in several Indian languages. NewsDog is Chinese as well, and until recently didn't even have an office in India.
China finds it way into Indian smartphones in other ways too. SHAREit, which is an app that's used to share videos and music clips, is owned by Chinese company Lenovo, and is consistently on the list of the most downloaded apps in India.  China is slowly making its way into the social sphere as well — apart from Musical.ly, there's Bigo, which is a live video streaming network that's enormously popular in Tier 2 and Tier 3 cities. Bigo is based in Singapore but backed by Chinese's largest video streaming app YY. China is also moving into India's lucrative local languages social network market — Chinese startup Toutiao has launched its own app Helo in India that's available in 15 Indian languages, and intends to take on Indian-founded ShareChat. And ShareChat might be Indian-founded, but it has a Chinese connection — its biggest investor is Chinese phone-major Xiaomi.
And if you think these are apps you wouldn't normally use living in urban India, China controls several apps that are used in Tier 1 cities too. Alibaba is the biggest investor in Paytm, BigBasket and Zomato.
One way street?
It's not surprising that China now controls a significant portion of India's internet — it's the second largest economy in the world, and is slowly turning into a tech powerhouse. Also globalization means that while phones and apps made in China, Android, the software that powers these phones is made in the US, the chips are made in Taiwan, electronics are often from Thailand, and popular apps are from all over the world —  Truecaller is from Sweden, MX Player is from South Korea, and Skype was originally built in Estonia.
But what sets China apart in this list is that its tech-based cultural exchange is a one way street. Even as Chinese companies are making inroads in foreign nations, no foreign companies are allowed to operate in China. Even tech giants like Google and Facebook are banned in China, and its government jealously guards its independence over its own internet. If an Indian tech company wanted to create a social network in China — there might come a day when, say, a ShareChat wants to end the Chinese market — it will simply not be allowed to.
That makes the Chinese tech invasion patently unfair. And as recent events have shown, it can also be dangerous.
The Web, weaponized
After the shock of Donald Trump's election victory in 2016 had worn off, the world searched for answers. And while they were varied and diverse, they converged on one theme — the internet. The internet had allowed latent support for Trump to congregate on Facebook groups and Reddit boards. External influences had also played a part — Russia had allegedly made thousands of Facebook accounts and pages that fed the public with political news. Teenagers in tiny Macedonia had even created virtual fake news factories, churning out thousands of made-up articles that influenced the electorate.
If teenagers in a tiny Balkan nation can change the course of an election in the most powerful democracy in the world, imagine the influence that Chinese apps with millions of downloads can have on the Indian electorate. Given how modern social networks operate, it wouldn't even be hard — all these companies would have to do is silently tweak their algorithms to either promote or suppress particular views. And once that happens, the effects could percolate down to ordinary Indians at astonishing speed. 
And Indian authorities have already begun sounding the alarm on how the Chinese could be using their influence over the internet to spy on soldiers. Late last year, the Indian army had instructed its men to format their phones and delete Chinese apps including UC Browser and NewsDog, because it believed that their permissions were being used by the Chinese to hack into their locations and movements. Even ordinary citizens aren't entirely unaffected — this year, the army warned that Chinese users had joined Indian WhatsApp groups and were silently harvesting personal data.
All this will pale in comparison with the influence the Chinese could have with the apps that Indians have willingly installed on their phones. UC News and NewsDog could potentially push stories that suit their narrative to hundreds of millions of Indian users, and social apps like Musical.ly, Bigo and Helo could be subtly used to promote specific viewpoints. The effects of online content is already having serious real-world consequences– dozens of Indians have been lynched in the last few months over fake news that spread through Whatsapp.
Many hundreds of years ago, the Chinese had come up with a plan to counter exactly this sort of unwanted influence. They'd gone ahead and built a wall across their borders to prevent aggressive foreign powers from meddling in their affairs. China continues the grand tradition to this day, maintaining a digital firewall that prevents foreign powers from controlling the internet in their country.
India would do well to quickly follow its eastern neighbour's lead. In the fast moving world of the internet, it might already be too late.