Reliance had caused a price war in telecom by pricing Jio's services much below what the competition was offering. It's looking to do an encore in the cola business.
Coca Cola has slashed the price of its cheapest 200 ml PET bottles from Rs. 15 to Rs. 10 in states where Reliance has launched Campa Cola, Business Standard reports. This comes after Reliance's Campa Cola had priced its 200 ml bottle at Rs. 10. The price cuts have been seen in states including Telangana, Maharashtra, and Madhya Pradesh. Reliance had bought the defunct Campa Cola brand last year for just Rs. 22 crore.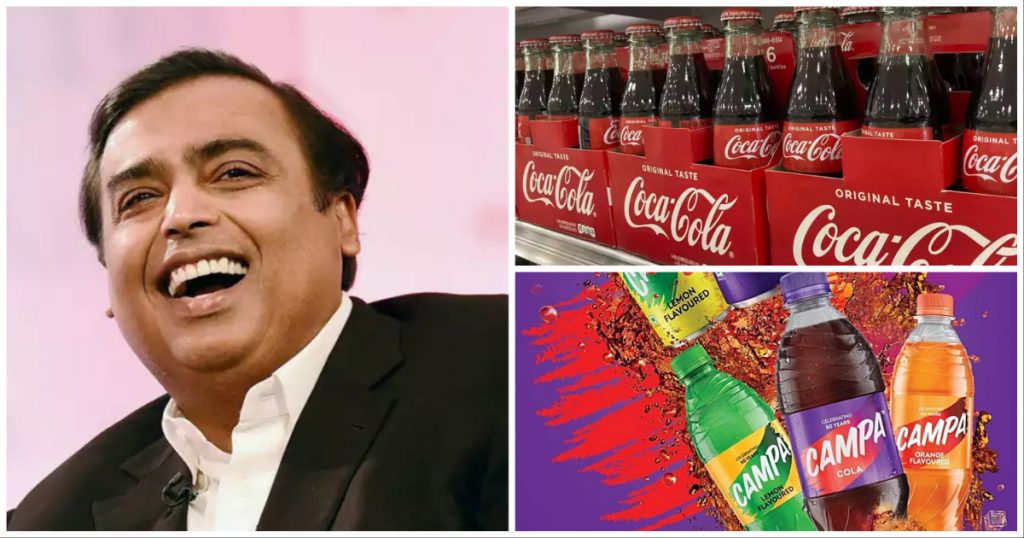 Campa Cola had been relaunched by Reliance last week, and is priced far below competitors Coke and Pepsi. While Campa Cola's 200 ml bottle was priced at Rs. 10, its 500 ml bottles were priced at Rs. 20, the 600 ml bottles at Rs. 30, the 1 liter bottles at Rs. 40, and the 2 liter bottle at Rs. 80. This is cheaper than the prices being charged by Pepsi and Coke, which had priced their 250 ml bottle at Rs. 20 and their 2.25 liter bottles at Rs. 99.
And Reliance isn't just going to price Campa Cola much lower than the competition. It's also reportedly readying a massive ad campaign that it will unveil during the IPL, where it will pit Campa Cola squarely against Pepsi and Coke. Reliance has also strategically launched Campa Cola in the southern states of Telangana and Andhra Pradesh, where it has a strong distribution network.
All this has echoes of what Reliance had done with telecom. In 2016, Reliance had launched Jio, and essentially gave away its services for free for the first few months. As incumbents rushed to slash their own prices, Reliance quickly garnered market share. Within a few years, Reliance Jio become India's largest telecom company, a lead it maintains to this day.
And Reliance could pull off a similar coup in the soft drinks market. The cola market, globally, has been a duopoly for decades, but Reliance could now mount a serious challenge with Campa Cola. Reliance has the deep pockets to engage in bruising price wars, and it also has the distribution heft to make sure its products reach the end consumers. Reliance will also play up Campa Cola's Indian roots against US-based companies like Coke and Pepsi, and also look to evoke nostalgia among middle-aged India that remembers drinking Campa Cola in their childhoods.
And it'll be a sweet homecoming for Campa Cola if it can hold its own against the big boys of the cola world. Campa Cola had its roots in 1949, when Coca Cola had employed Delhi's Pure Drinks group to be its sole distributor in India. In the 1970s, after India's protectionist measures forced foreign brands out of the country, Pure Drinks launched its own drink, which it named Campa Cola. Campa Cola was successful, and became a household name across the country through a series of memorable ad campaigns. But as the economy once again opened up in 1991, Pepsi and Coke returned, and Campa Cola found it hard to compete. The brand eventually fell by the wayside and was discontinued. Three decades later, Campa Cola is back, and in a nice twist of fate, is now is posing a challenge to the very brands that had spawned it in the first place.