Reliance's modern initiatives have hit the incumbents in the industries that it's ventured into — when Jio was announced in 2016, existing telecom operators like Airtel and Idea had lost Rs. 13,800 crore in market value, and shares of cable providers like Hathway and Den Networks had fallen over 20% when it had announced JioGigaFiber. But Reliance isn't quite done — there's another industry that its new JioGigaFiber service is likely to disrupt.
Dish TV's shares have lost over a third of their market value since Reliance's announcement of JioGigaFiber. When Mukesh Ambani had first introduced JioGigaFiber on 5th July, Dish TV's stock traded at Rs. 72.30. It has steadily fallen in value since then, and just three months later, now trades at Rs. 46.85. This represents a 35% erosion in Dish TV's overall market capitalization.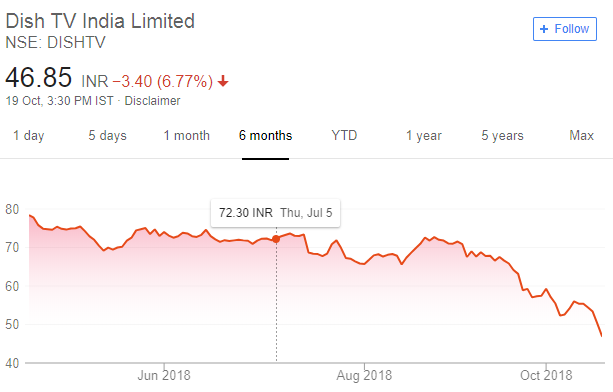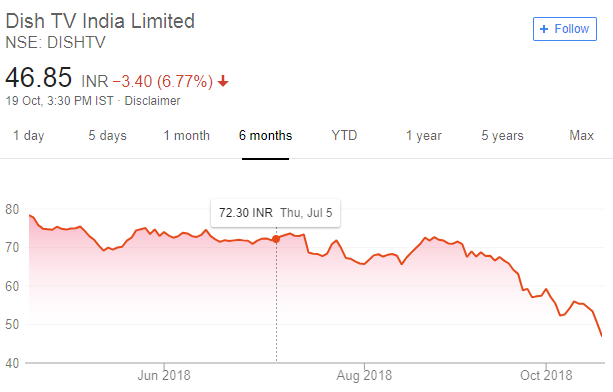 Dish TV's stock is under pressure because JioGigaFiber could be a direct threat to its DTH services. JioGigaFiber will not only bring high-speed internet into homes and become an alternative for broadband connections, but Reliance has said that its fiber lines will also carry TV services. This could pose a direct threat to companies like Dish TV and Tata Sky, which currently corner more than half of India's DTH market.
And Reliance has shown that it's serious about JioGigaFiber. Just this week, Reliance said that it had spent over Rs. 5,000 crore to acquire controlling stakes in Hathway and Den Networks, two of India's largest cable operators. Jio had been having trouble getting JioGigaFiber off the ground — it had begun accepting connection requests on 15th August, but was yet to get live connections into people's homes. It was expected that the cable infrastructure of Hathway and Den Networks would help Jio quickly fix its last-mile connectivity issues.
After the deals with Hathway and Den Networks were announced, Dish TV's stock slid further, falling nearly 7% in a single day. Research firms too said that Dish TV was likely to be impacted — IDFC Securities said acquisition of stake in Den Network and Hathway Cable and Datacom by Reliance will be a negative for broadcasters and direct-to-home players. Dish TV is now India's largest DTH player — after its acquisition of Videocon DTH, it has 43% market share, followed by Tata Sky with 24% and Airtel with 21%. If some proportion of the homes Dish TV is in choose to bundle their TV along with Jio's internet services, it could see a significant erosion of its user base.
It's an experience that several Indian companies have gone through. Jio has already swept through India's telecom sector — before Jio had entered the market, India had more than 10 players in the space, but now only 3 major players remain. It's very likely that JioGigaFiber could do an encore with India's cable and TV industries in the coming years.