For a man who was worked as a diamond sorter in his teenage years, Gautam Adani's story is becoming the stuff the legend.
Gautam Adani has gone past Warren Buffett to become the 5th richest man in the world.  As per the Forbes' real-time billionaires list, Adani has a net worth of $122.3 billion, while Buffett is worth $121.7 billion. Adani is now only behind four people in the Forbes list – Microsoft co-founder Bill Gates ($130.2 billion), LVMH owner Bernard Arnault ($167.9 billion), Amazon founder Jeff Bezos ($170.2 billion), and Tesla chief Elon Musk ($269.7 billion).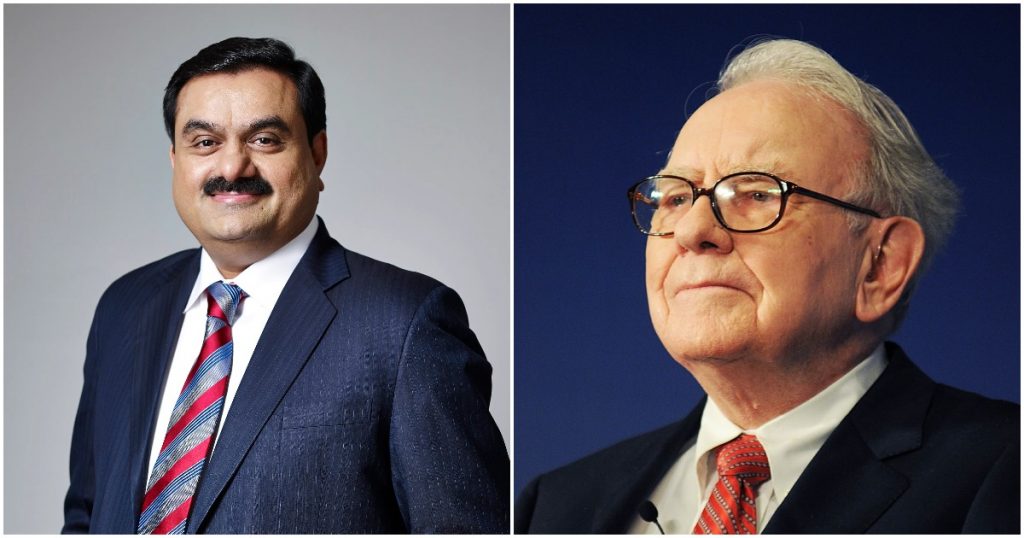 Adani is now richer than Google founders Larry Page and Sergey Brin, who're ranked 8 and 10 respectively. He's also richer than Oracle founder Larry Ellisen, who's ranked number 7. He's also comfortably richer than Mukesh Ambani, who's ranked 9th on the list with a net worth of $101 billion.
Adani's listed companies's stocks have jumped over the last couple of years. Three Adani Group companies have delivered multibagger returns so far in 2022 — Adani Wilmar is up by 235 per cent compared to its issue price, whereas Adani Power has zoomed 170 per cent. Adani Green Energy has also gained 110 per cent. Other companies from his group are up by 17-55 per cent in the current year. Adani's net worth has risen from $50.5 billion in 2021 to $122.3 billion till date.
But Adani hasn't just had a couple of extraordinary years — his life-story is stuff of what entrepreneurial dreams are made of. Gautam Adani was born in 1962 in a Jain family in Ahmedabad, Gujarat. His father, Shantilal Adani, was a small textile merchant, and Gautam had seven other siblings. While he was a teenager, he had moved to Mumbai to work as a diamond sorter for Mahendra Brothers. He'd then followed a path that's familiar to many global billionaires, including Bill Gates and Mark Zuckerberg — he had enrolled for a Bachelor's degree in Commerce at Gujarat University, but dropped out out of the second year.
When Adani was 19, his elder brother Mahasukhbhai Adani bought a plastics unit in Ahmedabad and invited him to manage the operations. This venture turned out to be Adani's gateway to global trading through polyvinyl chloride (PVC) imports. In 1985, he started importing primary polymers for small-scale industries. In 1988, Adani established Adani Exports, now known as Adani Enterprises – the holding company of the Adani Group. Originally, the company dealt in agricultural and power commodities.
As India opened up its economy in 1991, the opportunities for Adani grew. In 1994, the Government of Gujarat announced managerial outsourcing of the Mundra Port and in 1995, Adani got the contract. In 1996, the power business arm of the Adani Group, Adani Power, was founded. Adani also manages the Mumbai airport, which is the second-largest in India in terms of annual passengers.
Adani's companies are now massive behemoths. Mundra Port is the largest private sector port in India, with the capacity of handling close to 210 million tons of cargo per annum. Adani Power holds thermal power plants with a capacity of 4620MW, which is the largest private thermal power producer of the country. In May 2020, Adani also won the world's largest solar bid by the Solar Energy Corporation of India (SECI), which was worth US$6 billion.
Incidentally, it's the green energy space in which Ambani and Adani — the two richest men in India — are slated to lock horns over the next decade. Ambani had said that he's investing Rs. 60,000 crore in building four giga factories to manufacture and integrate all critical components of a new energy ecosystem, and has already acquired a slew of green energy companies to meet his goals. The Adani group is already one of India's largest producers of solar power, and is rapidly scaling up capacity to generate more clean energy. In the US, the two richest men, Elon Musk and Jeff Bezos, are currently competing to taking humanity to space. India's two richest men, on the other hand, seem to be vying to bring cleaner energy right here on earth.