For an app that's called Tez, Google is pretty darned late.
Google has just launched Tez, which it says is its new payments app for India. Google Tez works over UPI, and lets users send money to each other through their bank accounts. Google says it's "making money simple", and offers a pleasant, intuitive interface for people wishing to use UPI. It even has introductory offers where users can win surprise gifts and Play Store credits.
The only problem is that there are literally dozens of apps that perform the same functions. As early as August last year, the first UPI apps had begun making their appearance. Since then, as many as 36 other entities have launched their own UPI apps, ranging from stodgy government entities such as Allahabad Bank and Union Bank, and private players like PhonePe. Even wallet companies, such as Paytm, have integrated themselves with the UPI network.
As such, Google's launch of a payment seems more than a little delayed. Payment apps had found a natural fillip during the demonetization exercise last November, and companies which had launched user friendly apps during that period have now managed to find large audiences. NCPI's BHIM, which was launched in December, now has over 10 million downloads with a rating of 4.1, and Flipkart's PhonePe too has a similar number of downloads, with a rating of 4.4.
Google could've swept into the market a year late and hoped to make a dent with a superior product, but that doesn't seem to be the case. Initial reviews of Tez from users haven't exactly been flattering, and the app's rating stands at 3.2 a few hours after its launch. Users have been complaining that they've been unable to integrate their banks. "Pathetic experience. Tried three times for registring my bank account for UPI payment but it failed everytime," wrote Aakarshit Gupta, who is among the 600 odd people who've rated the app one star. "Expected much much more from Google.. Bad initial experience," wrote Nikhil Jain.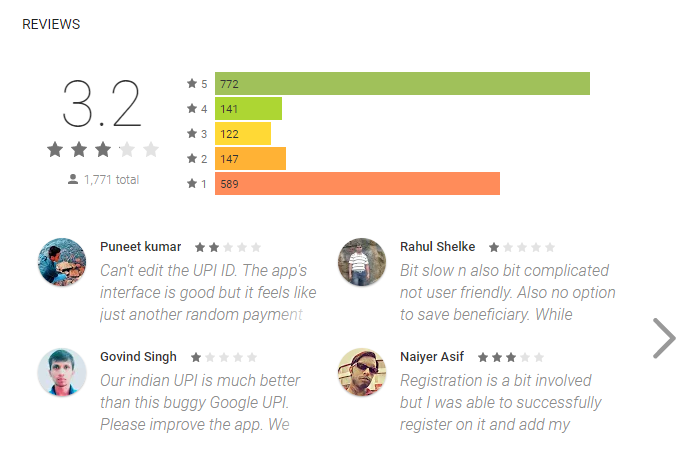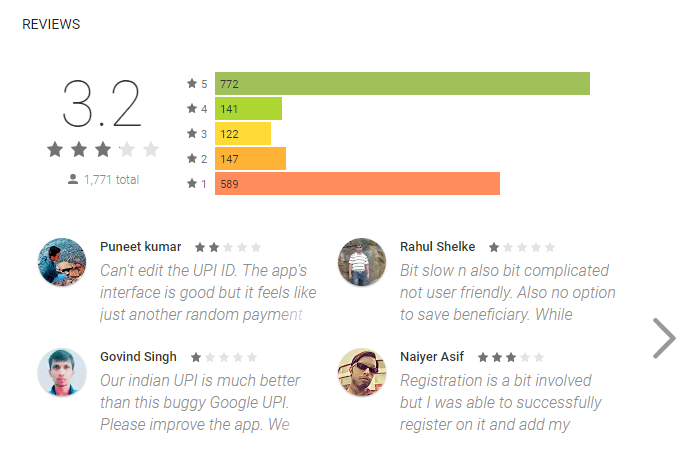 There have also been complaints  that Google Tez doesn't offer the same features that people are used to with other UPI apps. We tried using Tez, and discovered that Google requires users to integrate the app with their Google account, which isn't a requirement for other UPI apps. Google also doesn't allow users to pick their UPI ids — UPI ids on Tez are picked from Gmail ids, which means that people with unusual Gmail ids (everyone's made a koolkid1999 email id at some point in their lives) will be stuck with the same for their UPI id. Users have also been reporting that the app doesn't seem to work on rooted phones.
It's not all doom and gloom though — Tez has a pretty nifty UI, and is available in 8 Indian languages. There's also a feature that lets users transfer funds to those nearby using sound waves. And Google promises that it'll have 24*7 on-call support, which could certainly prove useful for a financial application.
But it might be too little, too late for Tez. Google hasn't been particularly successful when it's been a late entrant into the market. Google Plus was launched years after Facebook, but failed to dislodge it as the world's premier social network. Just this year, Google had launched Allo and Duo to take on Whatsapp, but neither has been able to obtain a fraction of the market that WhatsApp commands. Unless Google changes things around dramatically, it's likely Tez will meet the same fate — releasing a half baked app a year late into the market isn't a recipe for success, even for a tech behemoth like Google.