While India enters into its 6th week of the Coronavirus lockdown, and supply chains and delivery services across the country stand disrupted, there is one unlikely organization that has risen to the call of duty and then some.
The government-owned India Post office has been dedicatedly working during the coronavirus lockdown towards delivery of CoVid essentials and well beyond. Ever since the lockdown began on March 23rd, India Post suspended all its regular operations, and devoted all its resources entirely to pandemic related services. India Post has not only been running regular delivery services to dispatch critical medicines, PPE kits, and now CoVid-19 testing kits across the country, but it has also  been using its manpower and logistics to provide support, special financial services, and even charitable drives for the last two months.
Here's a timeline of some of the special services India Post has undertaken to help with CoViD related services.
India Post has been running its famous Speed Post services to deliver critical medicines and Personal Protective Equipment (PPE) across the country, including far-flung areas in the Northeast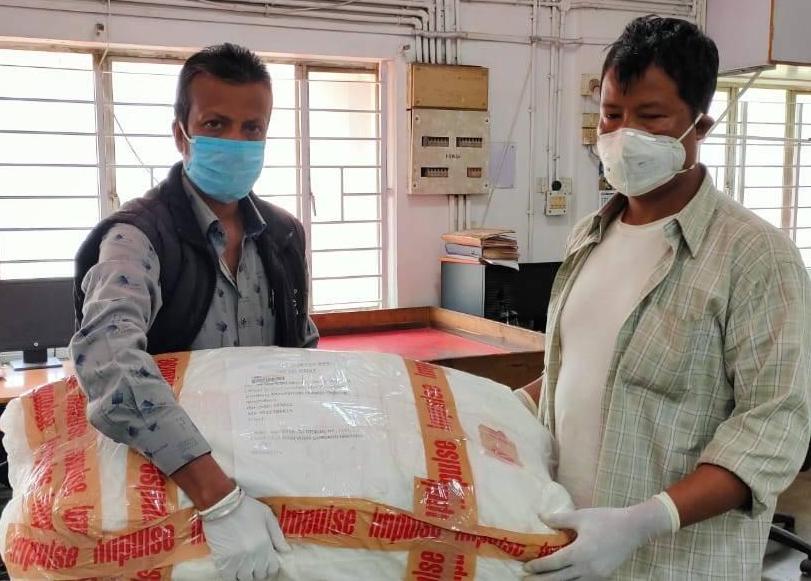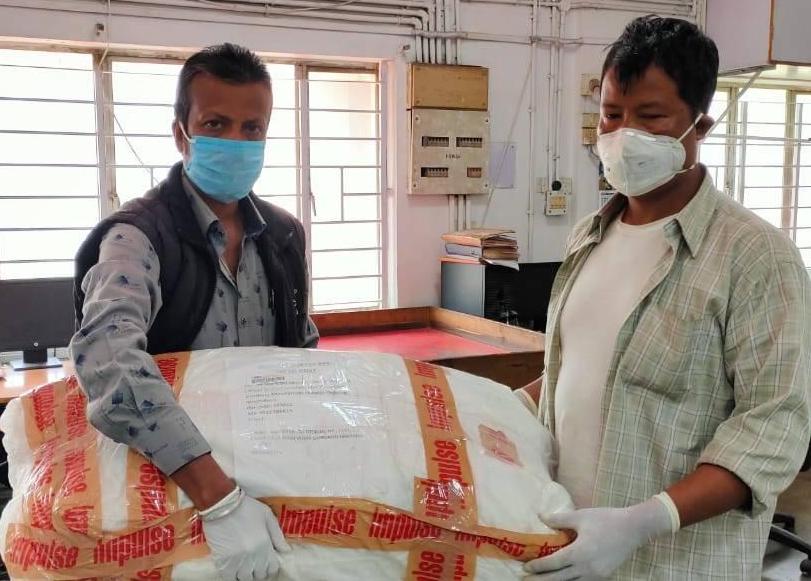 India Post has entered into a tie-up with Indian Council Of Medical Research (ICMR) for delivery of CoViD19 tetsing kits from 16 ICMR regional depots to 200 additional laboratories designated for Covid testing across the country.  Since May 1st, CoViD testing kids are being delivered in special cold-storage vans in unprecedentedly short turnaround times.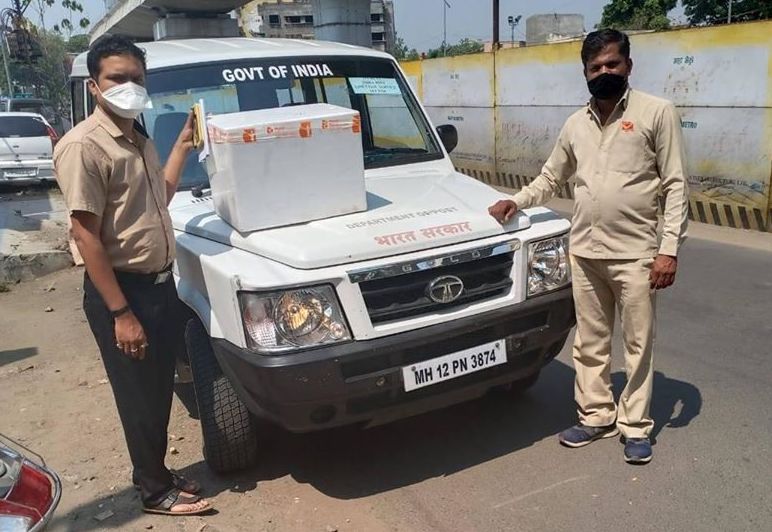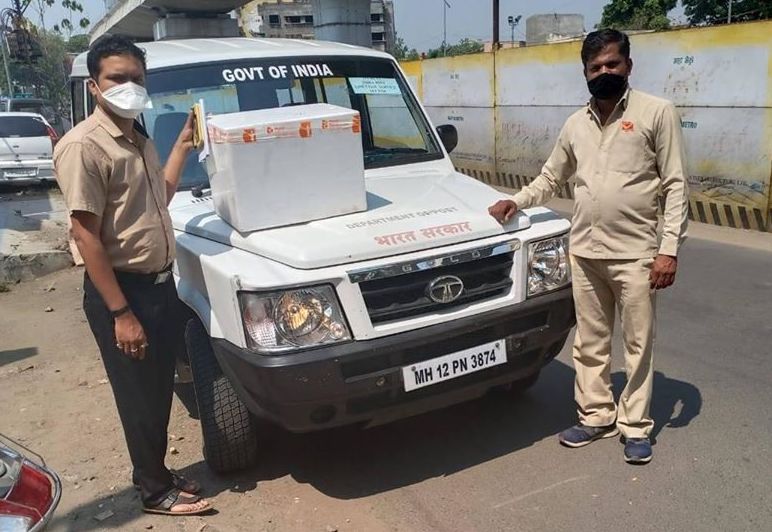 Testing kits made by Mylab were delivered to centres in Nagpur and Bhopal from the company's lab in Pune in under 24 hours.
Post offices across India have undertaken food distribution drives to support the poor and underprivileged.  In Hyderabad, the team arranged food packets for 4500 migrant workers.  Central Postal Ladies' Organization – an NGO by the women employees and wives of India post employees -mobilised fund collection to support 500 families with essential ration supplies. Similar food donation drives are being regularly conducted elsewhere.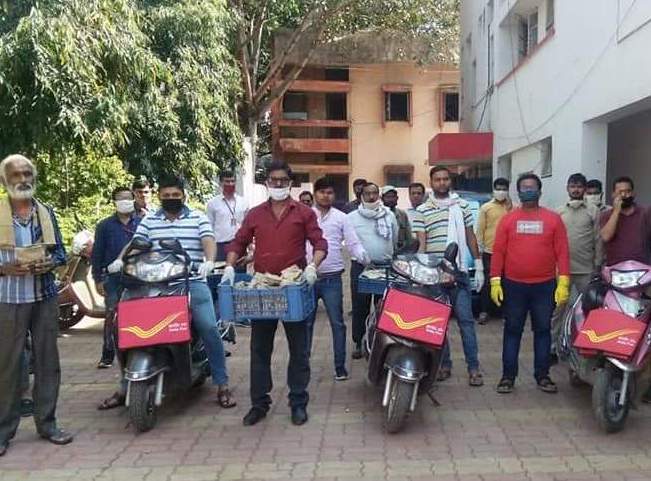 Other than dispatching and delivery services, India Post has launched special operations to assist with banking and insurance services in remote areas of the country. In April it announced that postal Life Insurance and Rural Postal Life Insurance premia for the months from March to May 2020 can be paid by 30.06.2020 without any penalty.
On 26th March, India Post launched a special "Post Office on Wheels" service in Kerala to provide basic postal services  like SB withdrawals and deposits, PLI/RPLI premium payments, booking of mail and e-MOs, etc. Today India Post  is operating 50 such post-office on wheels across the country.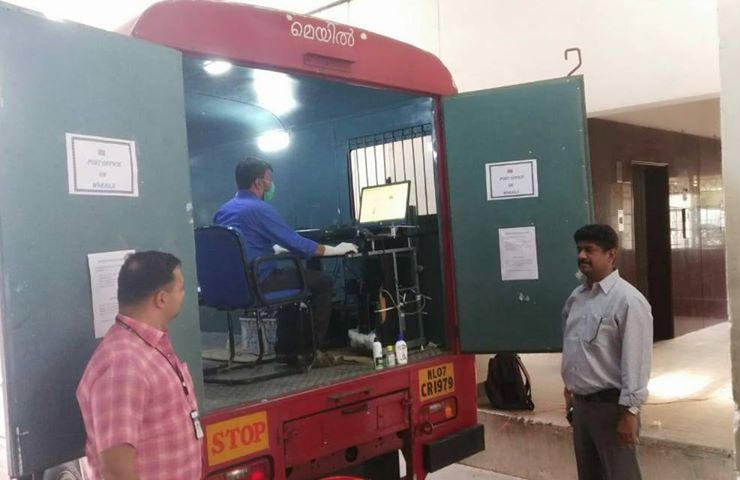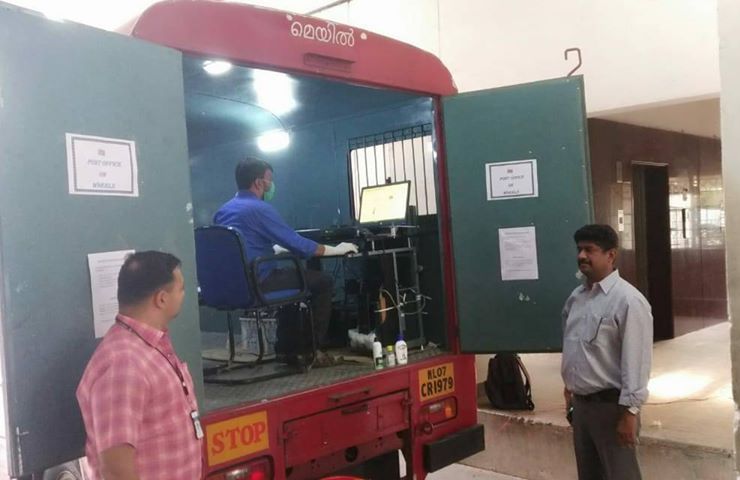 In April, India Post India began home-delivery of pension to senior citizens so that they do not have to step out of their homes during the lockdown.  As of 6th April, the Indian Post delivered over 165 crore of pension in Telangana alone.
For philately-buffs, the organization has put out special Corona related postcards and stamps in time. The post cards have special messages promoting social distancing and can be used to send to Essential Workers or Corona Warriors across the country.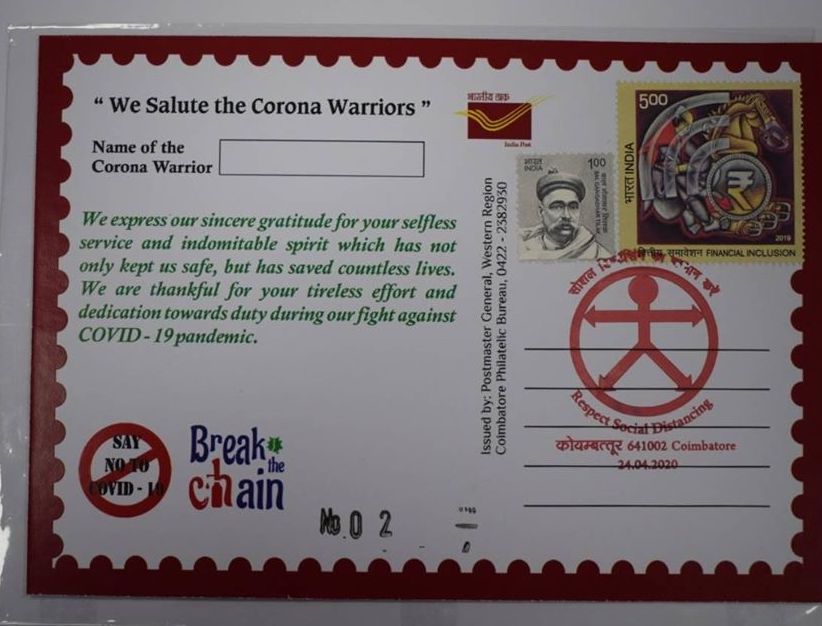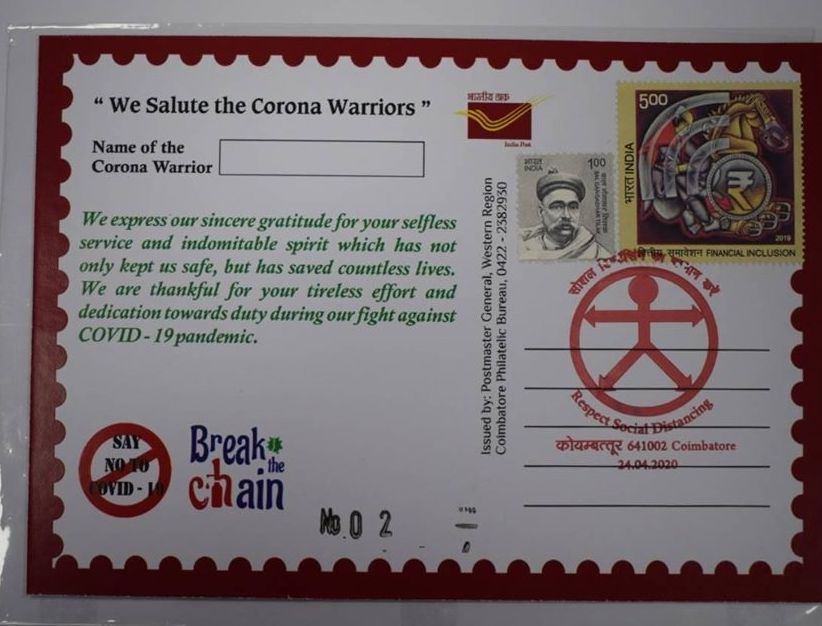 The services undertaken by India Post during the pandemic have truly put the 'seva' in Daak Seva and ones that deserve being called out. PM Modi in one of his addresses had urged the country to appreciate the Corona Warriors including the Indian Post. The country has taken note and appreciation has been forthcoming. "Kudos to Indian Post Office – we were struggling to get Internet dongles out to our staff, very difficult in these days of lockdown! We got in touch with GPO, and 800 delivered and counting in Bengaluru and Hyderabad, within a week! Excellent staff, and high customer service orientation – they even apologised for prioritising medical delivery over ours! Kudos to India Post and your modern avataar is clearly going to give competition a run for their money!", says a review on its Facebook page.
India Post has emerged to be just another shining example of how various organizations, companies, and individuals are coming together to help, pool and repurpose resources in the country's fight against the pandemic. The Indian railways had created history by turning non-running trains as 20,000 mobile isolation wards earlier in the lockdown.  Govt's Arogya Setu broke all records by becoming the largest downloaded app and has been leveraging technology to help detect corona hotpots in cities, and save lives.  And now, in an age of shiny delivery startups, it's heartening to see how the oft-dismissed 166-year old Indian Post has made bureaucracy, inefficiency and delays – trappings usually associated with a government organization – a thing of the past, and emerged more relevant than ever.