They say hustle is important to build a successful company, but it's hard to overestimate how critical it might be.
In 2012, Apoorva Mehta had built a grocery delivery app, but there was a problem. He was already two months late into applying into Y-Combinator, one of the most prestigious startup accelerators in the world. Mehta knew that the chances of success of his startup, Instacart, would be dramatically improved if he managed to get in and raise funds.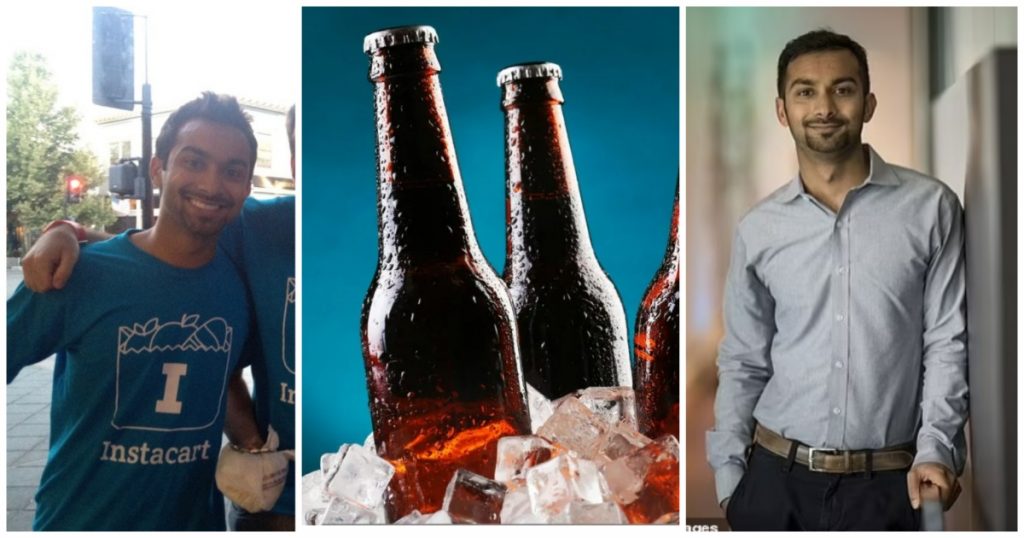 He tried messaging all the partners he knew at Y-Combinator, but he heard the same thing each time — he was too late to apply. But he heard something slightly different back from Y-Combinator partner Garry Tan. "You could submit a late application, but it will be nearly impossible to get you in now," Tan told him.
"That meant it was possible!" Mehta remembers. Mehta quickly wrote an application, made a video describing his product, and waited. But it was in vain. He was rejected yet again.
"As I thought about this final rejection, I realized that so far, no one had seen my product in action. Did they even know what I was doing, and why it was different? I was determined to make one last effort to convince YC that I was worthy," Mehta remembers.
At this point, he thought Y-Combinator partners should see what the Instacart could do. He opened his app, and placed an order for a six pack of beer, and sent it to Garry Tan at his Y-Combinator office.
"Half an hour later I got a call from Garry. "What is this?" Garry asked. "This is Instacart!" Mehta exclaimed. 5 minutes later, Garry Tan had mailed the other Y-Combinator partners. This is the mail, sent on 11th June 2012, in its entirely.
Late app that was interesting—is it too late? (attached)

InstaCart is an iPhone app that lets you order and get delivered to your doorstep anything from Safeway, Walgreens or Walmart. It's like Exec but for buying household items and groceries. 2f Waterloo experienced hackers, one of whom worked on Amazon's logistics/fulfillment optimization system.

I was impressed with the idea, and they sent me beer using their system just 5 minutes ago now, delivered to YC. It was delivered in under an hour or so. They have it operating in the SF Bay Area already. The link to download it to iOS is here: http://instacarcherokuapp.com/apps/step.

I told them it was really late, but it seems so useful and the team seems good.

-g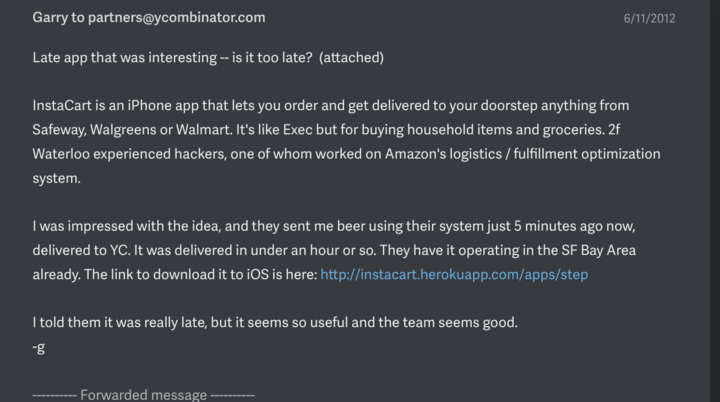 It appears that the other partners responded positively to the mail, because Garry asked Mehta to come to Y-Combinator the very next day to explain about his company in detail. And a few days later, Mehta received a call from a Y-Combinator partner. "Hello, this is Harj from Y-Combinator. I can't believe we're doing this. We haven't let anyone in this late. Ever. But if you're interested, we would love to have you. Call me back," the partner said.
Mehta accepted the offer, and the rest, as they say, is history. Instacart received investment from Y-Combinator, even though it had applied 2 months too late to its program. It slowly grew its offerings over the years, and raised $2.7 billion from other investors. And yesterday — eleven years after being founded — the company went public at a valuation of $14 billion. This made Apoorva Mehta worth $1.3 billion (Rs. 10,000 crore), and turned him into one of the richest Indian-origin entrepreneurs in the US. And all this might've never happened had Mehta not had the hustle of having a pack of beer delivered to his investor's doorstep.