After nearly a year of speculation, Reliance has given a glimpse of what its fiber-broadband JioGigaFiber plans will look like.
Reliance Chairman Mukesh Ambani today announced details around the JioGigaFiber offerings at the company's annual general meeting. True to form, Reliance appears to be competitively pricing its fiber internet service in a bid to quickly acquire new customers. Reliance JioGigaFiber will be officially launched on 5th September.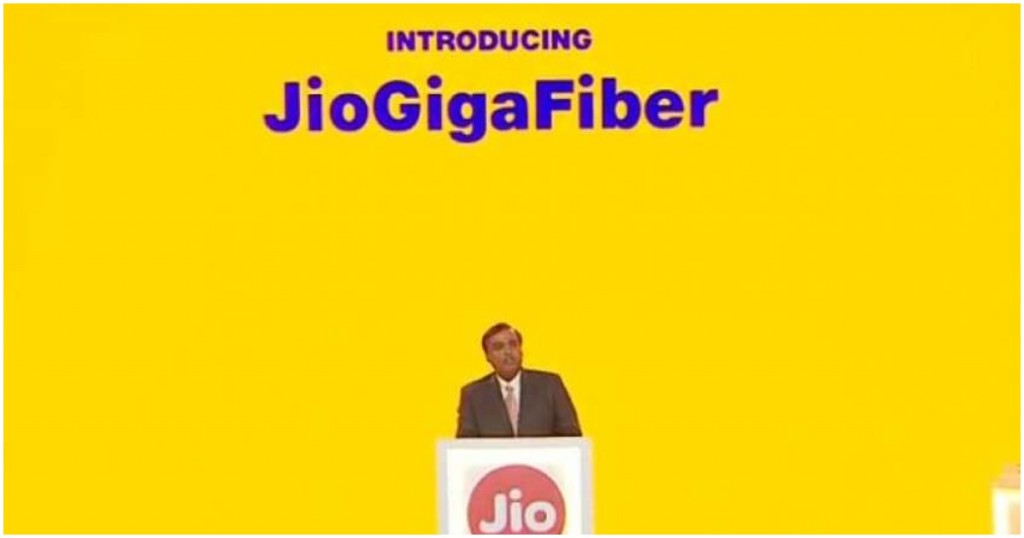 The cheapest plans for JioGigaFiber will start at Rs. 700 a month, while the most expensive ones will go up to Rs. 10,000. The internet speeds for the base plans will be 100 Mbps and will go up to, as GigaFiber's name implies, 1 Gbps. 
But the real benefits might accrue to those customers who choose to avail of Jio's annual plans — Reliance announced that its annual subscribers will not only get a free Set Top Box, but will also get a 4K or HD LED TV. Given how other players, such as Dish TV or Tata Sky, charge around Rs. 2000 for a set top box, and HD and 4K televisions cost in the tens of the thousands, this could be a major draw which could cause customers to switch to JioGigaFiber.
Apart from its competitive pricing, JioGigaFiber will also look to beat traditional DTH platforms in another way — online streaming. JioGigaFiber plans will come bundled with several OTT platforms, but it is expected that Netflix and Amazon Prime will not be in the mix. "We are simplifying the purchase and consumption of content. Keeping track to multiple subscriptions and packs for favourite shows is expensive and cumbersome," said Ambani.
JioGigaFiber will also look to provide customers with another hook — movies. Premium Jio customers will be able to watch movies in their homes on the day of their release. "We call this Jio First Day, First Show," said Ambani. 
And to round off the benefits, Jio's plan will also include unlimited domestic calls from landlines. This might not be a draw anymore, how calls are now essentially free on mobile phones, but Reliance has looked to up the ante here too — for an additional Rs. 500 a month, customers will be able to make unlimited calls to US and Canada. "ISD calling tariffs would be 1/5th to 1/10th of industry rates," said Ambani.
The commercial rollout of JioGigaFiber will start from 5th September, exactly three years after Jio was announced. Jio had disrupted one industry, telecom, but JioGigaFiber could disrupt two — broadband internet and DTH services. Existing players are already scrambling to stay relevant — Tata Sky has begun offering broadband plans, and Dish TV and Airtel TV are looking to merge to be better able to compete with the new upstart. And with Reliance now announcing competitive pricing plans, and free TVs to boot, there might be a storm brewing for India's broadband and DTH industries in the days to come.