After upending India's telecom industry with Jio, Reliance appears to be upending an industry that it hasn't even formally entered — DTH broadcasting.
Airtel Digital TV and Dish TV, which were previously competitors in India's cutthroat DTH market, could be about to merge, reports ET. The two companies have reportedly reached an agreement, and a formal announcement of the merger is expected in four to six weeks. The two companies, if they do come together, they will end up becoming the world's largest TV distribution company, with 3.9 crore subscribers and a 61 percent share of India's DTH market.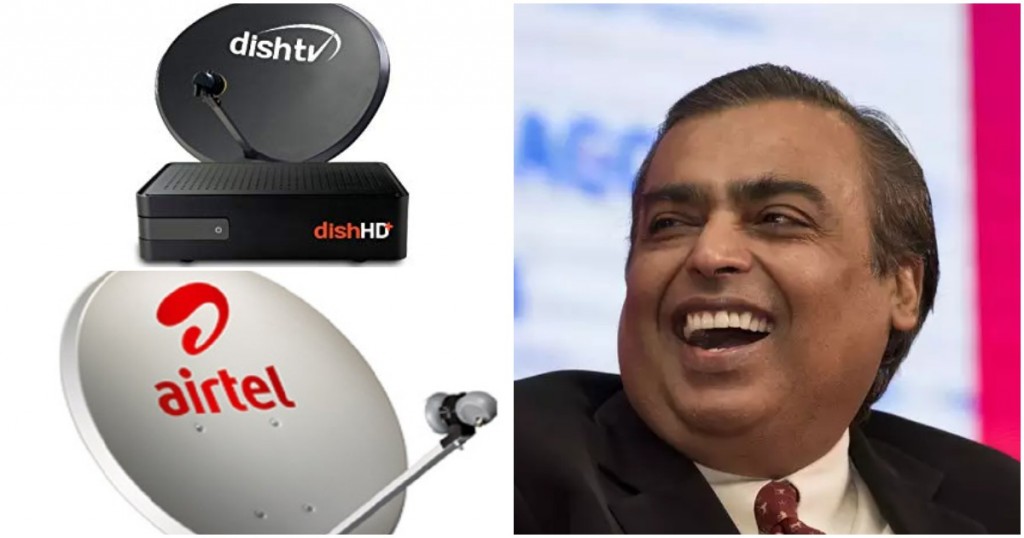 Sources told ET that deal's structure would be complex. "Various options are being worked out, which are tax neutral. Lawyers and advisers at all three ends are working on various options," they said. The deal had been put on the backburner because Zee, which owns Dish TV, was going through a partial stake sale, which it recently concluded. "The talks were on hold because Essel Group promoters were busy with ZEE stake sale. Now that it is done, the three parties gave come back to the table to stitch the deal," a source said.
The incumbents in the DTH space are scrambling to find answers after the announcement of Reliance JioGigaFiber last year. Reliance's JioGigaFiber aims to bring 1 Gbps internet, OTT television, and even smart home devices straight to people's homes in a bundled package. It was expected that its pricing would be competitive — some reports have said that the OTT TV and high speed internet could together cost as little as Rs. 600. With many customers paying that amount for their DTH services alone, there had been speculation that such customers would end up switching to Reliance's offering whenever it went live. And Reliance had signaled that it was serious about JioGigaFiber, acquiring Hathway and DEN, two of India's largest cable operators, in one fell swoop.
All this hasn't helped the incumbents in the space one bit. Dish TV's shares lost a third of their value within six months of the announcement of JioGigaFiber. Tata Sky, on the other hand, has begun offering unlimited broadband services hoping to compete with the impending arrival of JioGigaFiber. And Airtel recently reported its first quarterly loss in 14 years.
All this has, of course, happened before. When Reliance has launched Jio, other players had tried to copy its model — like Tata Sky is now getting into broadband, telecom players had tried to cut their tariffs like Jio. When that hadn't worked, they'd tried to come together — Idea and Vodafone had merged to form what was then India's largest telecom company by subscribers. It didn't matter — just last month, Jio overtook Vodafone Idea to become India's largest telecom operator. It is too early to say if JioGigaFiber would end up going the same way — the service hasn't even been commercially launched yet — but going by how the incumbents in the DTH space appear to be coming together and preparing for battle, it's likely to make quite a splash.