Reliance had announced plans to spend Rs. 60,000 crore to build our giga factories to manufacture and integrate all critical components of a new energy ecosystem last year, and through a slew of foreign acquisitions, seems well on its way to getting there.
Reliance has acquired the assets of Dutch battery maker Lithium Werks for $61 million (Rs. 460 crore). Lithium Werks is a leading provider of cobalt free and high-performance Lithium Iron Phosphate (LFP) batteries. Incorporated in 2017, it has operations in the US, Europe and China and serves customers worldwide. The company has 200 MWh annual production capacity including coating, cell and custom module manufacturing capability.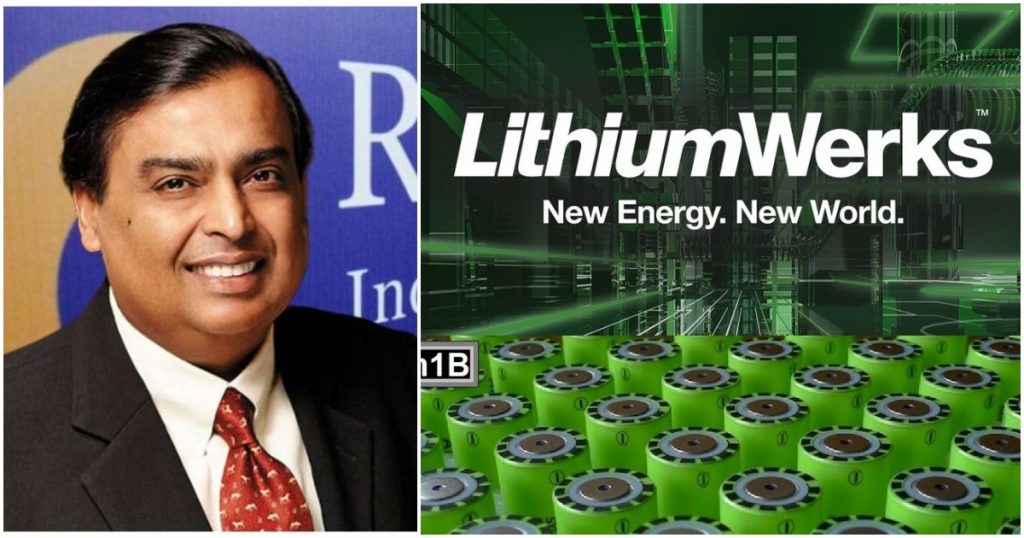 "LFP (Lithium Iron Phosphate) is fast gaining as one of the leading cell chemistries due to its cobalt and nickel free batteries, low cost and longer life compared to NMC and other chemistries," said Reliance Chairman Mukesh Ambani. "Lithium Werks is one of the leading LFP cell manufacturing companies globally and has a vast patent portfolio and a management team which brings tremendous experience of innovation across LFP value chain. We are looking forward to working with the Lithium Werks team," he added.
"Along with Faradion, Lithium Werks will enable us to accelerate our vision of establishing India at the core of developments in global battery chemistries and help us provide a secure, safe and high-performance supply chain to the large and growing Indian EV and Energy Storage markets," he further added. Three months ago, Reliance had acquired UK-based startup Faradion which manufactured sodium-ion batteries for $135 million (Rs. 1000 crore).
These acquisitions are a part of Reliance's grand plans to set up a new energy ecosystem in India. Apart from acquiring battery companies like Lithium Werks and Faradion, Reliance had earlier acquired Norway-based solar tech company REC Solar Holdings, which is one of the largest vendors of solar panels in the world, for Rs. 5,500 crore. It had also acquired a 40% stake in Serling & Wilson Solar, which is on the the leading Solar EPC (Engineering, Procurement, and Construction) companies in the world, for Rs. 2,845 crore.
Reliance will likely integrate these companies and their products into its upcoming giga factories in Jamnagar in Gujarat, and look to become one of the leading global players in the new energy ecosystem. Mukesh Ambani isn't the only Indian tycoon that's rapidly making inroads into the new energy space — the Adani group is already one of India's largest producers of solar power, and is running a series of clean energy initiatives. In the US, the two richest men, Elon Musk and Jeff Bezos, are currently competing to taking humanity to space. India's two richest men, on the other hand, seem to be vying to bring cleaner energy right here on earth.