While Reliance has been looking to integrate India's millions of humble kirana stores into its Jiomart operations, it's also simultaneously stepping into premium grocery space.
Reliance has entered the ultra-premium grocery space with the opening of its first Freshpik store in Mumbai. Freshpik will offer a range of food items comprising fruits and vegetables, with specially curated organic varieties and live microgreens, essential ingredients for international cuisines like Japanese, Italian, Korean, and Thai, breads, ice creams, artisanal cheese, chocolates from local and international producers, and frozen desserts. Apart from this, customers will also be able to choose from exotic varieties of tea and coffee; a wide range of personal care products, including premium Ayurvedic and natural products; a host of kitchen accessories like cooking ware, serveware, and bespoke and ready-to-pick gifting options. The store has been opened at Reliance's premium Jio World Drive Mall.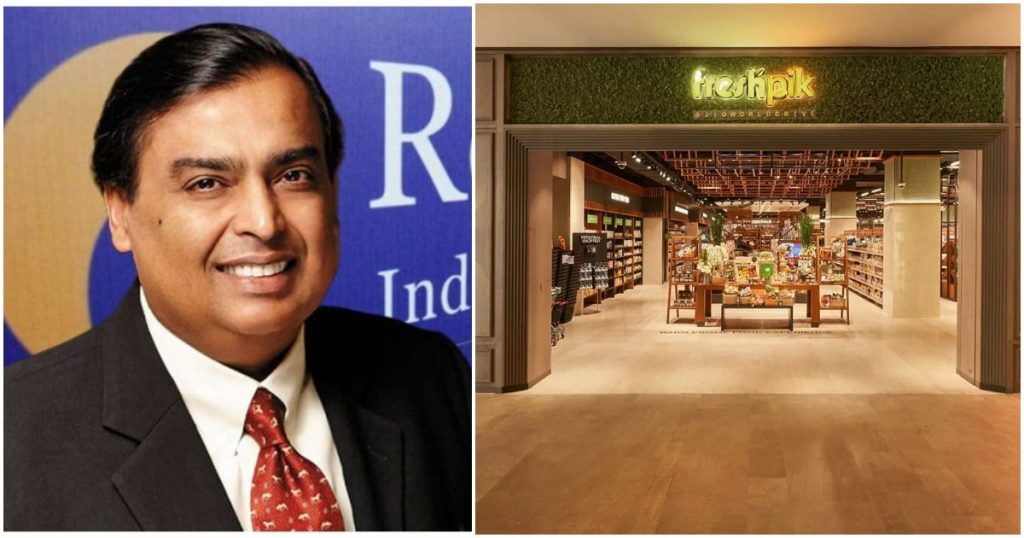 "Designed keeping in mind the refined tastes and delicate aesthetic sensibilities of food connoisseurs and well-travelled gourmands, the Freshpik store offers a melange of the finest food products and beverages sourced from select local and international destinations," Reliance Retail said in a statement.
Reliance adds that Freshpik isn't merely a store, but an entire "food experience". "If good food is your thing, Freshpik is a paradise. It's a playground to delight all our senses, touch, see, smell, hear, taste, enjoy… Freshpik is a food experience, not just a store" said Damodar Mall, CEO Grocery Retail, Reliance Retail.
Freshpik will offer "immersive shopping concepts" created by integrating digital and physical themes. The store stocks renowned wines, and has an inbuilt tasting room where customers can try wines and beers of their choice, and even engage in appreciation and education sessions. Children will be able to get customised 3D printing done on chocolates at the Cadbury Purple room, or indulge themselves at the cheese sauce counter or the live salad and sandwiches counter. The store will also stock premium chocolates including Godiva, Smoor and a host of farm-to-bar brands. Customers will also be able to watch watch nut butter or nut milk being freshly prepared at the store. "Many of these concepts are being implemented for the first time in India," Reliance said.
There certainly is now a market for such a store in India — India's recent startup and tech boom has meant that salaries have rapidly risen in certain industries, and created a new set of upwardly-mobile customers. These customers are usually well-travelled, and likely crave similar gastronomical experiences in India. Also, the experiential aspects of the store could make a visit a fun day out for entire families.
Interestingly, the Future Group, which had been acquired by Reliance, already runs a similar chain of premium grocery stores in FoodHall. It's likely that Reliance could eventually look to utilize supply chain and similar synergies with FoodHall, and use learnings from FoodHall's experience to build its own Freshpik line of stores.
But what Freshpik's launch underscores — once again — is the scale of Reliance's ambition. When it entered telecom with Jio, it didn't rest until it became the top telecom player in the country. Reliance is already India's largest retailer, and its recent moves show that it's looking to have a finger in every aspect of the grocery space, right from mom-and-pop stores through Jiomart, the convenience store segment through 7-Eleven, and now the ultra-premium grocery segment with the newly-launched Freshpik.