Jio had made an amazing marketing splash yesterday. The irresistible trifecta of free calls, free roaming and dirt cheap data had seen stocks of rival telecom giants like Airtel, Vodafone and Idea plummet, and Jio was trending all over social media. SRK had put in a good word too.
But it looks like Reliance Jio was just getting started.
Pulling out its biggest trump card in the Jio blitzkrieg yet, all prominent newspaper dailies today bore full page ads bearing a face familiar to the billion-strong population of India.
Narendra Modi, the Prime Minister.
Brand ambassador? Did @PMOIndia give permission? Can't use the PM's image without it. pic.twitter.com/uK7w0fUyeu

— Swati Chaturvedi (@bainjal) September 2, 2016
(Note: that's the same Swati Chaturvedi from the other day!)
While the intelligentsia seems rattled by the blatant promotion of a private firm by a head of state, Reliance is not exactly justifying itself. And unless someone in the marketing team of Reliance has made the biggest mistake of their lives, Reliance has managed to pull off a bit of a coup.
Because two words — Digital India.
Reliance, in that full-page ad,isn't selling Jio. It's selling the idea of Digital Idea, or a billion Indians on the connectivity bandwagon, as envisioned by the Prime Minister. Mukesh Ambani, before announcing any of Jio's offerings, began his 45 minute speech by dedicating his latest venture to "The Digital India movement and the 1.2 Billion Indians". The movement is the all encompassing, go-to catchphrase under which all internet-related initiatives can be safely bundled. It's the same phrase that Mark Zuckerberg with his controversial "Free Basics" (albeit failed) campaign in India resorted to to curry favour with the Indians.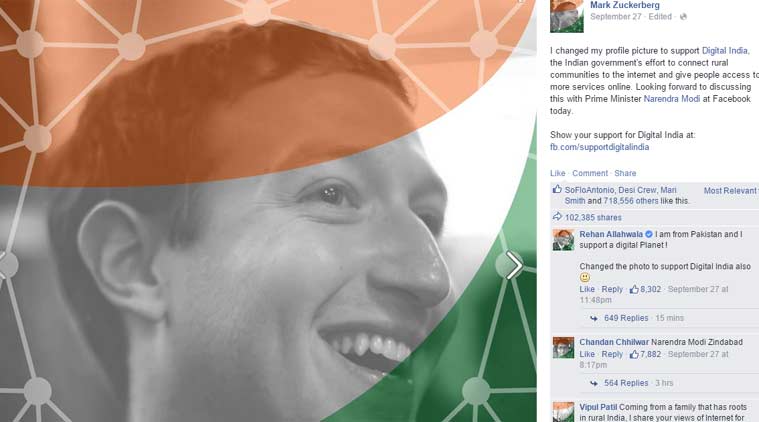 Reliance can safely say that Modi represents all things hope, vision, and digital under his Digital India initiative. And Reliance is merely saying that Reliance Jio helps further and realize Digital India's grand vision.
While there are distinct murmurs that insinuate old friendships and crony capitalism regarding Jio's latest brand ambassador, Reliance has pulled off a bit of a coup. In addition to a product that far outstrips the competition, they've managed to attach the most important face in the land to it.
Deep pockets and connections with the Prime Minister. Reliance's rivals should be very, very afraid.