If BharatPe's Ashneer Grover had minced no words while criticizing Paytm's disastrous IPO, Paytm appears to be getting its own back after Grover has found himself embroiled in controversy.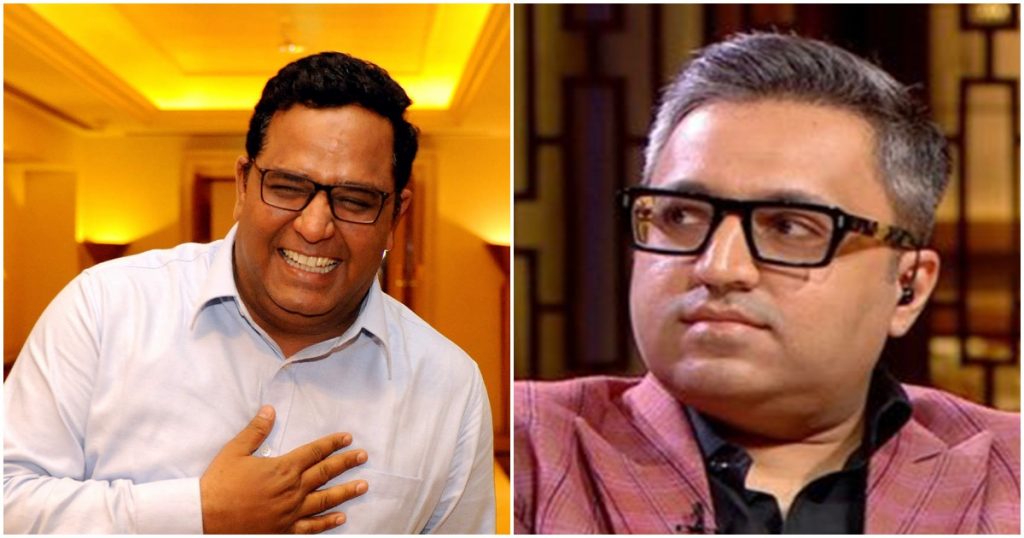 Paytm today appeared to troll BharatPe founder and Shark Tank shark Ashneer Grover with a post shared on Twitter. Paytm shared a spoof screenshot which was promoting its Split Bill feature. The screenshot showed someone asking their friends to pay up for a night out. However, the friends replied with quotes from Shark Tank. One replied saying "Ye mera expertise nahin hai (This is not my expertise)" which is something Emcure MD Namita Thapar often says on the show. Another friend replied with "I'm out," which is what sharks on the show say when they're rejecting a deal. Another person leaves the group, leading the hapless bill payer to say "Ye sab doglapan hai (This isn't fair)," which is something that Grover had said on the show, and subsequently became a meme. "Welcome to Udhaar Tank India," Paytm wrote.
Paytm's tweet came just a day after BharatPe's Ashneer Grover had gone on voluntary leave till the end of March after a leaked audio had appeared to show him using foul language against a Kotak employee, and people didn't miss the timing. The reference to Udhaar (loan) Tank also seemed to fit — Ashneer Grover had landed himself in hot water over a loan from Kotak Bank.
"It's fintech battle. Shots fired by Paytm," wrote a Twitter user, implying that Paytm's rivalry with BharatPe had led to the tweet.
Several people felt that the tweet was directed towards Grover. "Ashneer Grover be like: Gajab bejjati hai yar," wrote another user.
Some people, though, didn't quite appreciate the jibe. "Share price down 54% but still investing in petty personality wars," wrote another user.
While it's not clear if the tweet was indeed directed at Grover, Paytm has enough reasons to be aggrieved at the BharatPe founder. After Paytm's stock had tanked 40% in the first two days after its IPO, Grover had squarely trained his guns at the company. "I used to tell investors that there's going to be two markets — pre-Paytm and post-Paytm because post Paytm is going to tank and that is exactly what has happened. The reason is quite simple, you have mispriced your IPO," he had said.
Grover had even insinuated that Paytm had mispriced its IPO to give its Chinese investors exits in the pre-IPO round, while throwing retail investors under the bus. "You did a Rs 18,300 crore IPO out of which 55 percent was secondary. You did a price optimisation. It's the Chinese investors who sold their shares through this IPO. Indian market ko kharab karke apne Chinese investors ko unka paisa wapas diya hai. (You harmed the Indian market to return Chinese investors' money)," he had alleged.
Things have changed substantially since then. A few weeks ago, an audio clip had gone viral, in which Grover had allegedly threatened to, somewhat in hyperbole, to have a Kotak employee killed in an encounter over the bank not providing him with financing to invest in the Nykaa IPO. While Grover had initially dismissed the audio as fake, it had later transpired that he had sued Kotak Bank for its failure to provide him financing, and the bank had also responded with a notice of its own regarding the language he'd used. Yesterday, Grover had said that he was taking a voluntary break from his role at BharatPe till the end of March.
There's other reasons why there's little love lost between BharatPe and Paytm — Paytm has been around for more than a decade, but still doesn't have a license to run a full-fledged bank, while BharatPe, which was founded in 2018, had partnered with Centrum Financial Services to take over the crisis-ridden PMC Bank. On Shark Tank, Grover has appeared dismissive of first-movers in the payments space, and had claimed that BharatPe had come in at at the end and managed to take away significant market share.
But with Grover now on leave from the company he'd founded, Paytm seems to be losing no time in rubbing it in. BharatPe and Paytm are bitter rivals in the fintech space, and Grover had appeared to start off a public spat against Paytm. With Grover now on "voluntary leave" from BharatPe, Paytm appears — for now — to be having the last laugh.