It's no secret that India's startup stocks haven't had the best few months, but now there's now some sobering evidence to back the claim.
All Indian startup stocks are currently trading below their IPO prices. Until a week ago, Delhivery and Nykaa had been trading above their IPO prices, but have seen their values fall since. As a result, all new-age tech companies including Paytm, Zomato, Policybazaar, CarTrade, Nykaa and Delhivery are now trading below the prices at which they'd gone public.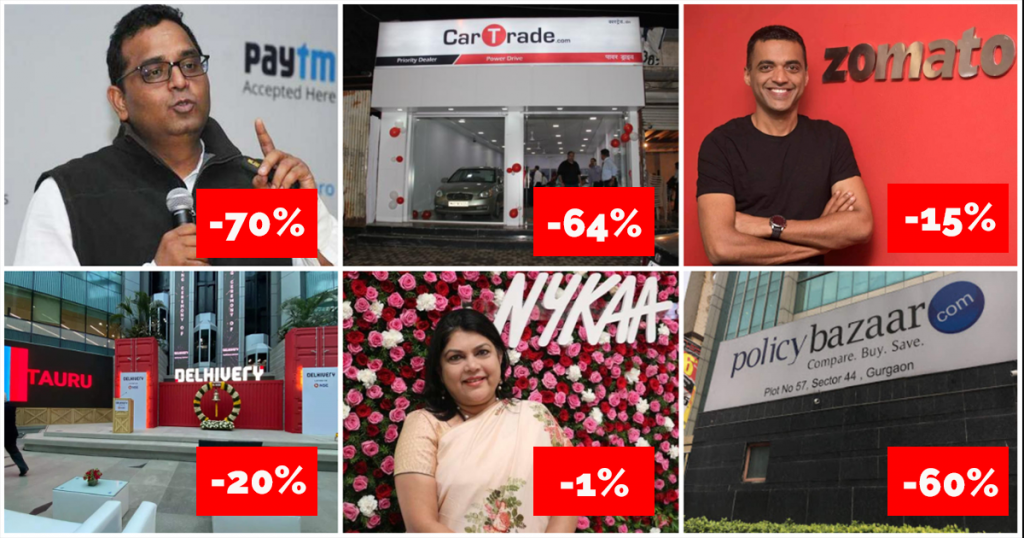 While Zomato, Paytm, Policybazaar and CarTrade have been struggling for a while, the last two dominoes to fall were Nykaa and Delhivery. Delhivery had been priced at Rs. 487 in its IPO when it had gone public in May this year, and had risen strongly in the first few months, even touching a high of Rs. 668 per share. But the company's results last week showed slowing revenue growth — the company reported "high levels of inflation, with average user spends and total active shoppers remaining flat or lower during the ongoing festive season." This did not impress investors, and the company's stock has fallen 37% in the last three weeks. Delhivery now trades at Rs. 382, a full 22% below its IPO price.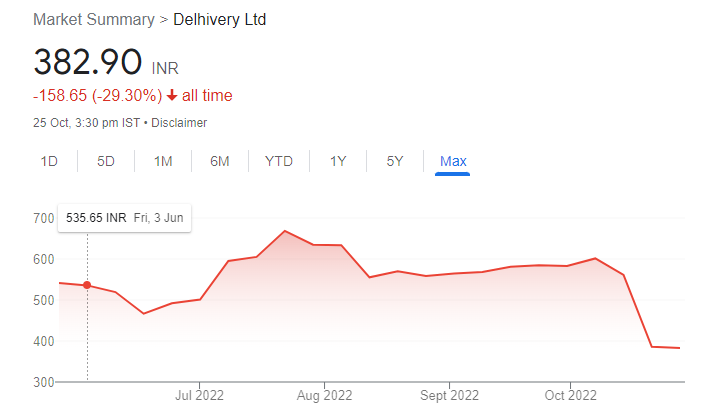 Nykaa had had an even stronger run before it cracked. The company had gone public in November last year, and had begun trading at nearly its IPO price of Rs. 1125. The stock had rallied to a high of Rs. 2437, but has fallen most of this year. The stock currently trades at Rs. 1110, marginally below its IPO price of Rs. 1125. The company's 12-month lock in period is also due to expire next month, which could put further downside pressure its stock price.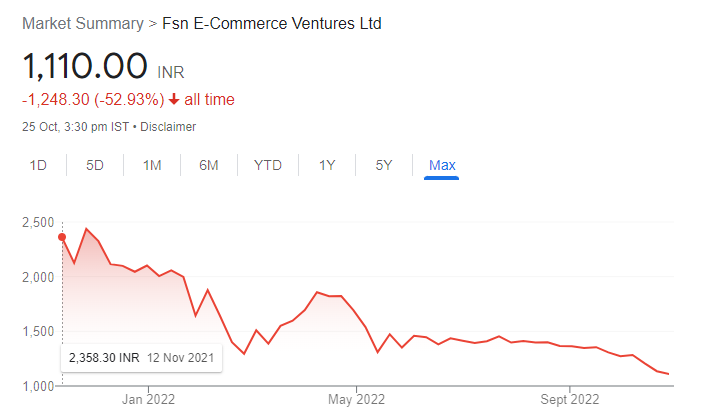 Zomato, Paytm, CarTrade and Policybazaar have now been struggling for a while. Zomato had gone public at a price of Rs. 76 per share, and after touching a high of Rs. 160, currently trades at only Rs. 64. Policybazaar has fared even worse — it had gone public at a price of Rs. 950 per share, but currently trades at Rs. 385 per share. CarTrade's shares were priced at Rs. 1585 at IPO, but currently trade at Rs. 572. Paytm has fared the worst of the lot — after going public at a price of Rs. 2150, its shares are currently languishing at a price of Rs. 656.
And all this is happening while the markets have remained largely robust. The broader Nifty Index is up 0.5% in 2022, while the Sensex is up 0.61% over the same period. This has had knock-on effects on other startups — several companies, which had been planning to go public, including Oyo Rooms, PharmEasy and Mobikwik, appear to have deferred their IPO plans. Unlisted startups have been impacted too, and could find it harder to raise money at the valuations which they had once anticipated. And perhaps the biggest losers are retail investors, who'd eagerly attempted to ride India's startup revolution through these new-age companies, but now find themselves staring at substantial losses in their investments.